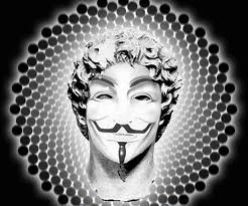 Anonymous, the hacker collective, has taken down the websites of Greece's prime minister, the police and parliament as violence erupted again in Athens against austerity measures approved by parliament.
"TANGO DOWN: Hellenic Republic Ministry of Citizen Protection -ydt.gr #Anonymous #Syntagma #Greece #12fgr," tweeted anon YourAnonnews on Twitter, announcing the defacement.
Lawmakers voted 199 to 74 in favour of the bill that imposes harsh new austerity measures in return for a €130 billion (£110bn) new bailout agreement to shave the country's national debt. A total of 37 lawmakers from the majority Socialists and conservative New Democracy party voted against the party line, abstained or voted present.
More than 100,000 protesters marched to parliament to rally against the cuts and violence broke out in major cities when news of the vote came through. At least 45 businesses were damaged by fire. Fifty police officers were injured and at least 55 protesters were taken to the hospital.
Prime Minister Lucas Papademos urged calm but admitted that imposing austerity measures on Greece's population would be tough.
"Vandalism, violence and destruction have no place in a democratic country and won't be tolerated," he told parliament as it prepared to vote.
"The full, timely and effective implementation of the programme won't be easy. We are fully aware that the economic programme means short-term sacrifices for the Greek people."