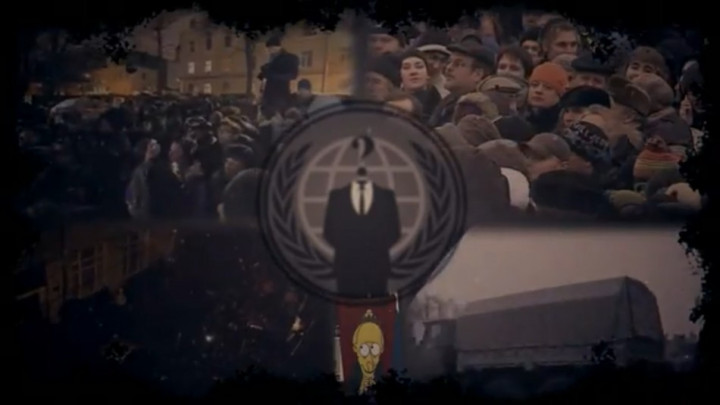 The Anonymous hacking collective has stepped forward in support of Russian opposition that is planning a mass protest in Moscow on 6 May against the results of the parliamentary and presidential elections, which they claim were rigged.
Organised by several opposition movements, the so-called "March of Millions" is expected to bring thousands on to the streets the day before newly-re-elected Vladimir Putin will take the office.
The hacktivists released a video on YouTube and published a statement on Pastebin to announce the attack on the Russian government and on the Prime Minister website.
"We will support this protest by switching off the state websites that are full of lies, and the website of the Russian government will be the first." Anonymous said on statement on Pastebin. "Let these civil servants see the love of the people who elected them at these 'most honest and transparent elections in Russian history'. Just a few simple actions will bring the rotten and corrupt system to the appropriate crash. It will ruin itself."
"These politicians steal from us, imprison random innocent people while using law enforcement authorities as their lapdogs and they get away with it," reads the statement. "These people have completely discredited such words as democracy, law and the freedom of speech."
Putin is expected to be sworn in at a grand ceremony in the Kremlin that will see him return to the office he held from 2000 to 2008. But the outburst of mass protests against the authorities has changed the face of Russia. Outgoing president Dmitry Medvedev is expected to take on Putin's current job as prime minister.
Protests against Putin's domination of Russia and the December parliamentary elections, amid allegations of rigging and stuffing ballet boxes, have brought to the streets at least 100,000 at its peak in January. Internet-savvy figures and bloggers such as the anti-corruption campaigner Alexei Navalny were at the forefront of the protests.
Even Putin's plebiscitary re-election in March with 63.6 per cent of votes was tainted by allegations of vote-rigging.
"Even people loyal to the regime understand that the main problems of Russia - the fall in the population, corruption, destruction of state institutes and oil export dependency - will not be solved after 7 May," liberal opposition leader Boris Nemtsov wrote on his blog for Moscow Echo radio.
Putin promised to resign as leader of the United Russia party after his inauguration, suggesting Medvedev as his successor.
But his spokesman re-ignited polemics with the opposition saying its leaders were "zeroes" because they lacked charisma and original ideas.