Anonymous believes the official recognition of Scientology as a 'religion' will only help give the 'cult' the legitimacy it craves.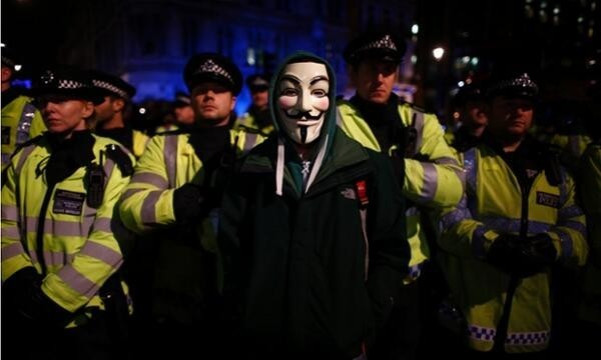 On Wednesday, five Supreme Court Justices redefined the term "religion" in the UK, allowing Scientology to be officially recognised as a religion and allowing a 25-year-old member marry in the Church of Scientology chapel in central London.
The news sparked some controversy with the government understood to be taking legal advise about changing the law, amid fears that it could lead to numerous 'cults' claiming religion status in order to receive tax breaks.
On of the most vociferous opponents of the Church of Scientology in recent years has been Anonymous, the amorphous online collective, whose Project Chanology protest movement has been running since January 2008.
Cult craves legitimacy
Speaking with IBTimes UK a member of the group based in the UK said the ruling this week was bad news:
"The Supreme Court has got it very wrong, and in some ways this is very bad news. The cult craves legitimacy; it makes it easier to trick people into joining, and opens doors for them to infiltrate other institutions such as schools and prisons."
Scientology rose to prominence in recent years through high profile celebrity memebers such as Tom Cruise but Anonymous has been campaigning against what it describes as a "cult" becasue of "control over members, the pressure on members to give increasingly large sums of money, the psychological and physical abuse, the splitting apart of families, the child labour and the hard, underpaid labour."
Anonymous is holding a protest march in Manchester this Saturday against Scientology, which will see members of the online activist group march on the Scientology centre in Deansgate, with protest marches in other cities also now mooted.
Tax breaks
The Anonymous spokesperson pointed out the possibility that the Church of Scientology - which is said to have amassed over $1bn in cash - will be able to now claim more tax breaks "on top of their current UK business rates relief."
The spokesperson claims the Church of Scientology already registers in the UK as a South Australian charity for tax purposes.
Scientology is already recognised as a tax-exempt religion in the US, Italy, South Africa, Australia and Sweden.
Anonymous believes the authorities in Belgium may have the right approach when it comes to dealing with Scientology:
"Federal prosecutors in Belgium intend to prosecute the 'Church of Scientology' as a criminal organisation. We'd say that this is the correct approach."