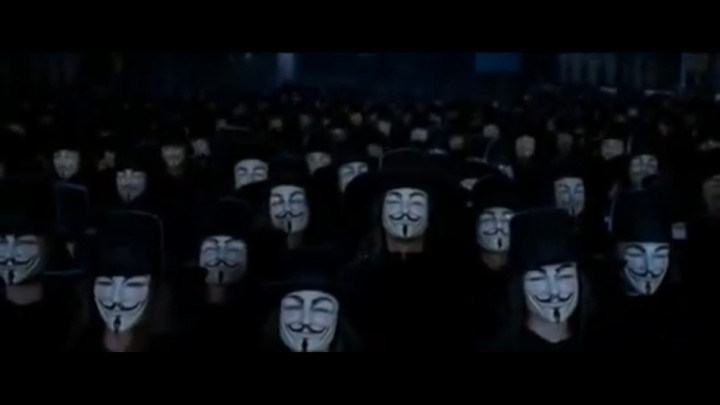 The Anonymous hacking collective will stage a spectacular mass march on Guy Fawkes' Night when an army of protesters will descend on the Houses of Parliament dressed in black cloaks and Guy Fawkes masks, the look adopted from the V for Vendetta graphic novel by the activists.
Disguised supporters of the global hacker movement will gather outside Westminster "to give them a 5 November that shall never be forgetten", said Anonmous.
More than 2,500 people have already signed up for the event on Facebook.
"5 November is a reminder to the government that if they push to far, revolution is inevitable," reads a statement on the Facebook event page.
"More than 400 years ago a great citizen [Guy Fawkes] wished to [put] 5 November forever in our memory. His hope was to remind the world that fairness, justice and freedom are more than words, they are perspectives."
The organisers want supporters in London from around the world and have hinted that coaches will be laid on from major British cities and airports to the capital.
"Our army, police, doctors, nurses, teachers and workers have been let down - sold out to the bankers," says Anonymous in a video on YouTube. "You have to work longer hours for many more years and your pensions have been squandered. Now rise up like lions from your slumber and join us."
In an exclusive interview with IBTimes UK, Anonymous denied that it had declared war on whistleblowing site WikiLeaks following a furious Twitter spat over the disclosure of two million emails from Syria's political elite. It blamed a single Anonymous-related Twitter account for the row.
Prominent members of the global collective explained the nature of their relationship with WikiLeaks. Trouble began in February with the website's publication of more than five million emails hacked by Anonymous from the servers of Stratfor, a US intelligence-gathering company.
"The relationship is complex," the collective told IBTimes UK. "There is a heavy crossover of personnel, with many doing work for both groups. Both groups are first and foremost information activists, so there is a common ground between us.
"There is the relationship that exists between any source of confidential/classified/hidden information and the world's largest publisher of disclosures - WikiLeaks," it continued.