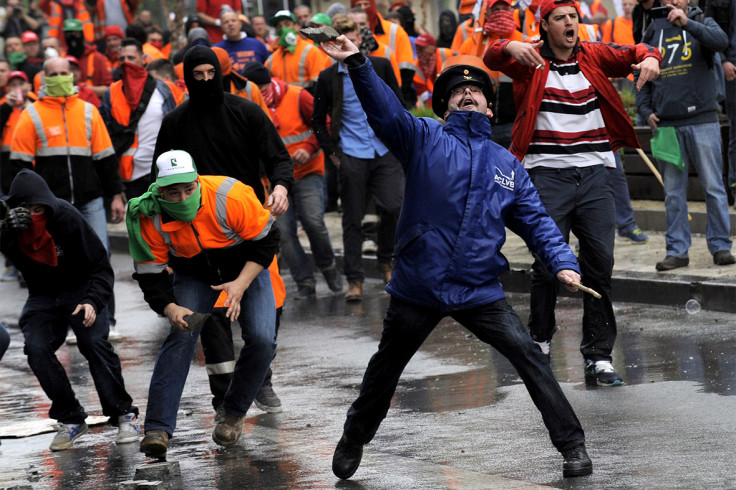 A Belgian MP arrested yesterday for protesting against the Transatlantic Trade and Investment Partnership has told IBTimes UK that the police were in breach of the Belgian Constitution in making the arrest.
Alain Maron also speaks of his fears that the UK will leave the EU, voicing his support for a better run, more transparent union.
More than 200 people were handcuffed and driven off in police buses, after veering out of an authorised protest in Brussels yesterday morning.
Among them were three Belgian MPs, representing the Ecolo party – Belgium's equivalent of the Green Party.
According to Maron, it's against the law in Belgium to arrest a member of parliament for protesting. When police realised that they had arrested Alain Maron and Ahmed Muhsin, the MP says, they quickly uncuffed them and set them free.
Anne Herscovici, a 65-year old MP, however, was not so fortunate and Maron says she was brought into police custody with the hundreds of other prisoners. Herscovici was released after an hour at the police station, says Maron, but some other protestors were held for more than seven hours, according to reports.
In an exclusive interview with IBTimes UK, Alain Maron also said that civilian protestors were "not arrested in the spirit of the law" and that Ecolo is currently taking testimonies to see if police committed any crime.
He says: "We didn't do anything wrong, I was walking down the street talking to a protestor that was already arrested. I knew a lot of them from NGOs and political parties and unions. I was asking them how they are, one minute later the police arrested me and put me in the handcuffs, my hands behind my back and made me sit on the ground for an hour.
"More than 200 people were arrested, which is a lot considering there were less than 1,000 in total. In Brussels you need to have authorisation [to protest] and that was granted, but only in a specific area. But some people were outside the area. Anybody who was outside the area was arrested, even though they did nothing wrong.
"There were a huge number of riot police with water cannons, it was really comfortable and easy for them to lead people to the right area, but they decided to arrest the people – even people that were on their way into the good area. They split the group and drove them into corners, surrounded by the police. Then it took them 10 minutes to arrest more than 200 people."
Opposition to TTIP
Maron says that his party opposes the TTIP as it fears "an erosion of consumer and human rights" will happen as a result of the treaty. He fears that companies will be immune to regulation, particularly on social and environmental issues.
Maron denies that the party is opposed to the free market, but says there are some areas of regulation that can only be performed by government and says that the EU must resist the lobbying efforts of big business.
"Belgium is a small country and a lot of our business is abroad. We are not against the free market, but we don't want a market without any regulation. It's important on a social and environmental level for the state and EU to be able to make laws and keep some protection... even to go further with the regulation in some cases. We know that the large corporations have intense lobbying so it's also important for us to put pressure on the EU to say no to some things. We don't want huge companies to decide for us," he says.
View on Ukip
Ecolo is, despite its quibbles with the EU, staunchly pro-Europe. Maron says it saddens him to see such waves of anti-EU sentiment all over Europe.
"It's really sad to see that in many European countries, because the UK is not an exception, parties that are anti-Europe growing. In France you have Front National, in Belgium the Flemish Nationalists were pro-EU in the beginning but more and more are against Europe."
In 2011, Belgium was the UK's sixth largest export partner – adding almost £13bn to the Treasury's coffers. Belgians generally hope the UK remains a part of the EU, says Maron, who says bilateral trade would suffer as a result of its secession.
"Of course it's a problem to see that many people in the UK don't want to be in Europe anymore because they think the EU rules are too strict... they want more autonomy and to control their country. But if you want to be in Europe you have to respect the rules of play," Maron says.
He hopes that the 28 member states will build a more democratic and transparent Europe that represents its people better than the current edition.
Ecolo currently has two of Belgium's 22 MEPs, 16 of 89 MPs and five of 71 senators, according to Maron. It's stock has been generally rising in the European Parliament, winning a higher share of 2009's vote than ever before, while its popularity on home soil has stagnated in recent years.
The latest predictions from pollster Electio2014, however, forecast the party to win just one seat in the forthcoming European Parliamentary Election.