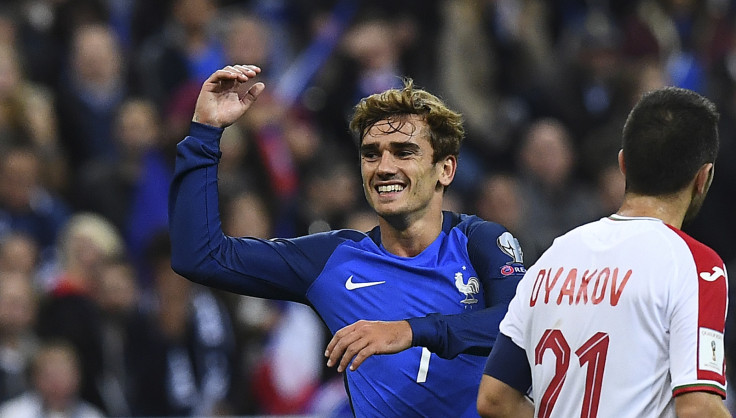 Antoine Griezmann has offered Chelsea and Manchester United renewed hope he could yet leave Atletico Madrid, after stating he has no plans to move to Paris Saint-Germain. The 25-year-old held talks with the big-spending Ligue 1 champions during the summer transfer window, but having signed a new contract his future appears set to take place at the Vicente Calderon.
Griezmann has picked up from where he left off at the European Championships, where he finished as the top scorer for runners-up France, netting six times in as many games for Atletico. The ex-Real Sociedad hitman enjoyed a stellar 2015-16 campaign, scoring 32 times – though he missed a penalty in the Champions League final defeat to Real Madrid.
In June, Griezmann penned a new deal with Atletico until 2021 to warn off interest from rival clubs. The player's mentor Eric Olhats later revealed that PSG met with Griezmann to discuss a potential return to France, but he opted to remain in Spain having recently become a father for the first time.
Chelsea and United have both been heavily linked with a move for Griezmann in recent months. The Blues are ready to rival any move made by Jose Mourinho for Griezmann, according to The Daily Telegraph, as United prepare to break the transfer record for a second time in a year. The Old Trafford club paid £89m to sign Paul Pogba from Juventus and know they must smash that barrier to land Griezmann, say The Mirror.
The Premier League pair have been offered faint hope they will feature in the race to lure Griezmann from La Liga, after the forward said he had no plans to move to Paris. The Atletico talisman has reiterated that PSG were interested in the summer but he insists his attention was firmly on France's campaign at Euro 2016.
"You never know what will happen in the future but for the moment, PSG are not in my plans," he told France 3. "Maybe someday but right now, Atletico Madrid are my team. I concentrate on Atletico Madrid, I am well at my team and my desire is to win something important at my club. I know [PSG] were interested. It's a great club that aspires to be getting bigger. But I told my agent I did not want to know anything. My mind was only on the European Championship."
Though Atletico won the league title in the 2014-15 season, last season again highlighted how they continue to play second fiddle to Barcelona and Real Madrid both domestically and in Europe. There remains a glass ceiling to Griezmann's ambitions, which gives Chelsea and United hope that the challenge of the Premier League can act as a worthwhile carrot.
Chelsea and United underwent major overhauls in the summer both on and off the field, with a raft of signings accompanying their respective changes of manager. Antonio Conte made eight new additions in all, while Mourinho welcomed four new faces to the club including the marquee arrival of Zlatan Ibrahimovic.