Strong iPhone 5 sales have put Apple back at the top of the smartphone charts in the US with iOS and Android combined now taking a huge 95 percent share of the market.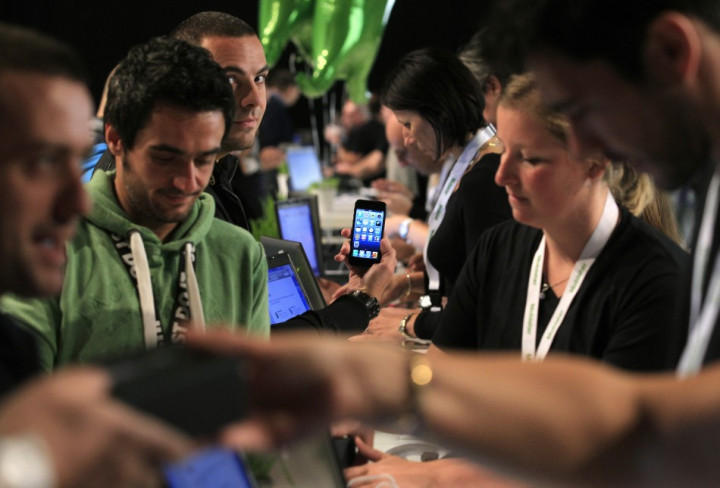 New data released today by research group Kantar Worldpanel ComTech for the 12 weeks to the end of October show that iOS is once again the most popular mobile phone operating system in the US with 48.1 percent market share, just piping Android by 1.4 percent.
The boost has been attributed to the launch of the iPhone 5 on 20 September with Apple recording five million sales in just five days. It means that Apple's share of the smartphone market has doubled when compared to this time last year - though it is still not as high as it was earlier this year when it hit 49.3 percent.
Google's Android operating system is now on 46.7 percent of smartphones in the US, having fallen sharply from a dominant position of 63.3 percent at the beginning of 2012.
Dominic Sunnebo, global consumer insight director at Kantar said this is just the beginning of another Apple surge:
"The last time we saw iOS overtake Android in the US was when the iPhone 4S was released and Apple managed to retain its lead for three consecutive periods. This time we predict that Apple will beat its previous high of 49.3 percent and achieve its highest ever share of the US smartphone market within the next two periods."
Looking more closely at the iPhone 5 sales figures, 13 percent of those purchasing the new smartphone were switching from Android while 6 percent were switching from BlackBerry devices.
Loyalty
A huge percentage of customers (62 percent) were returning Apple customers upgrading to the latest phone. "Apple has always managed to maintain loyalty levels far above the competition, and this has clearly played a part in driving sales of its new device. An impressive 92 percent of existing Apple owners in the US said they will choose an iPhone the next time they upgrade," Sunnebo said.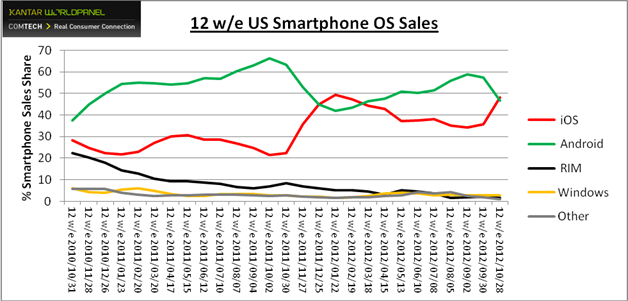 However, maintaining the current level of sales is not enough and Apple also needs to attract new customers according to Sunnebo: " While loyalty is clearly key, it is also important to make sure that new customers are attracted to your brand. With roughly 60 percent of US iPhone 5 sales coming from existing customers and 40% from new consumers, Apple is achieving this at the moment - a clear sign of the strength of the brand in the US marketplace."
Europe
Kantar also revealed some details of smartphone sales in Europe with Android remaining in top position in Germany (73.9 percent) and Spain (81.7 percent). However the company also pointed out that iOS had made share gains in four of the five major European countries, with a particularly strong performance in the UK where it holds a 32.7 percent market share.
In the UK, the largest change came for RIM, who lost 11 percent of its market share. Android remains the most dominant operating system here however with 46.6 percent of the market. Microsoft's Windows Phone holds just 1.8 percent of the market currently.
However in Italy, Microsoft is doing much better, tripling its market share in the last 12 months, with Windows Phone now on 11.7 percent of all smartphones, just 8 percent behind Apple.
What all this means is that in pretty much every market, Apple and Android are dominating to a huge extent. These figures show that in the US, just 5.2 percent of the smartphone market is left for Windows Phone and BlackBerry to fight over - meaning they will both struggle to gain enough traction to survive in this most competitive of environments.