Apple is expected to unveil the iPhone 5S and iPhone 5C at an event confirmed for 10 September in San Francisco.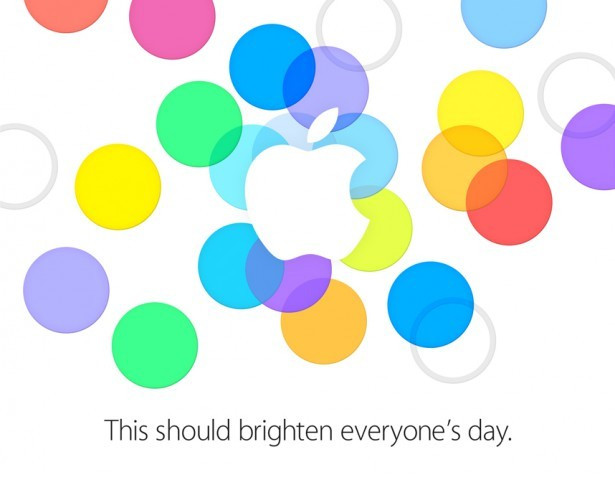 Apple has just issued invites to the press to an event on 10 September as had been widely speculated in recent weeks. The invites come with the tagline "this should brighten everyone's day" hinting at the widely speculated multi-coloured iPhone 5C which is set to be launched.
The confirmation comes directly from Apple who have sent out invitations to media outlets around the world for the event which will take place in the company's headquaters in Cupertino on 10 September at 10am local time (6pm GMT).
The event comes almost one year to the day when Apple announced the iPhone 5, and in keeping with this timing we expect to see Apple unveil its latest iPhone models next week.
And unlike last year - and indeed all other years - this time around we expect Apple to expand its iPhone line-up with two completely new models.
The first is set to be the new flagship model called the iPhone 5S which will retain the look and feel of the current flagship model but upgrade the camera, processor, storage options and could even include a fingerprint scanner on the home button.
Bling
And for fans of bling out there, it is also expected to come in a gold option.
The other model set to be released will be known as the iPhone 5C and rather than featuring the premium aluminium finish of recent iPhones, it is set to come with a plastic case. That case will be available in a variety of 'fun' colours similar to the iPod nano.
While the phone will feature lower spec hardware than the iPhone 5S, it is not expected to be the ultra-budget model some are expecting. Renowned Apple analyst Ming-Chi Kuo from KGI Securities has predicted the iPhone 5C will actually replace the iPhone 5 in Apple's smartphone line-up (by Q4 of this year) and Apple will then continue selling the iPhone 4S and the iPhone 4 at discounted prices.
Running on both these devices will be Apple's radical update to its software, iOS 7 - the first update to be overseen by UK's Jony Ive.
The redesign will see visual metaphors and skeuomorphism - such as the green felt table of Games Center and the wooden bookshelves of iBooks - replaced by a cleaner and more simplistic interface.
While Apple could potentially announce news on its iWatch, iTV, new iPad and iPad mini models as well as updates to the MacBook Pro, we expect next week's event to be all about iPhone and iOS 7.
Read More