Apple has just rolled out the latest firmware, iOS 7.1 Beta, with build number 11D5099e to its developers via iOS Developer Program. The new beta update is now available for download across all iOS 7 compatible devices.
The complete list of supported iOS devices is given below:
iPhone 5s, iPhone 5c, iPhone 5, iPhone 4S, iPhone 4
iPad Air, iPad mini, iPad 4, iPad 3, iPad 2 and iPad mini
Here are the direct download links for iOS 7.1 Beta (for Registered Developers only):
iPad
iPhone
iPod touch
The iOS 7.1 Beta update brings support for developing iOS apps via iOS SDK 7.1. The other developer features packed into the development kit include X code tools, compilers, and frameworks for creating apps iOS and OS X.
The development tools include Xcode IDE and the Instruments analysis tool, which come in handy for apps development for iPhone, iPad or iPod touch running iOS 7. Apps testing can also be done via iOS Simulator included with this update.
NOTE: The iOS 7.1 Beta update works only on devices registered with the Apple Developer Program. Do not attempt installing this firmware on unregistered devices, as it may inadvertently brick the device.
New Features and Bug-Fixes Ported to iOS 7.1 Beta
iOS 7.1 Beta features several bug-fixes which are listed below:
Bluetooth connectivity issues
Multipeer connectivity and
iOS 7.1 Beta brings a host of new features for enhanced user-experience and productivity. Check out the full list of features ported into the new firmware below, courtesy of iPhone Hacks:
Upload Burst Photos: Enable this option via Settings > Photos & Camera. This option allows burst photos to be uploaded to your Photo Stream, which will be available for importing.
Use Dark Keyboard: You can now enable this option via new accessibility setting from Settings > General > Accessibility > Use Dark Keyboard.
Reduce Transparency: Reduce Transparency and Darken Colours options are now accessible from Settings > General > Accessibility > Increase Contrast. This feature allows the user to turn the dock and folders background to dark grey and improve readability as shown in the screenshot below: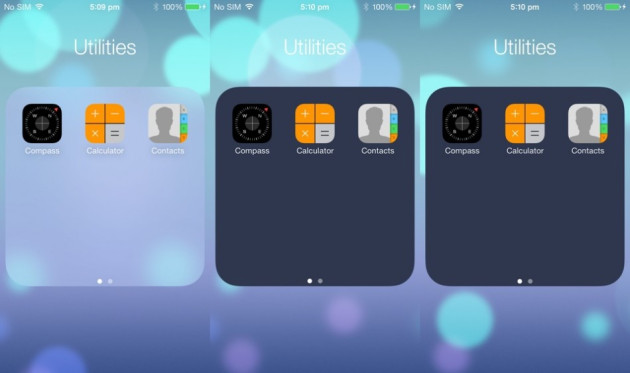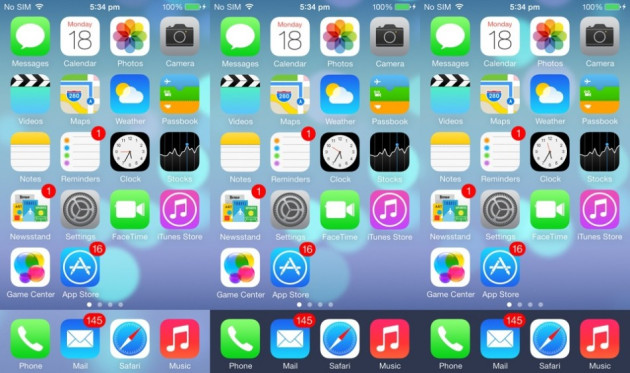 Auto HDR Mode: A new Auto HDR mode for camera is now available on the iPhone 5s, thanks to this new update. This feature enables automatic selection of best photo from the HDR photo collection. Switch off the Auto toggle in the HDR mode camera options if you want to save all three exposures.
App Closing Animation: The app closing animation with multitasking gestures on the iPad has been tweaked.
Larger Accessibility Sizes: Larger Dynamic Type toggle is now renamed as Larger Accessibility Sizes under Accessibility settings.
Change Font Type to Bold without Reboot: iOS 7.1 Beta allows you to enable or disable bold text without rebooting the device.
New Notification Centre Messages: Whenever all the notifications are cleared from the Notification Centre, a new status message appears on screen saying "No Notifications". Another message reading "No Missed Notifications" appears under missed section.
Yahoo's Logo Revamped in Notification Centre: Yahoo's logo gets a revamped look in Notification Centre, Stocks, Weather and Mail.
Flickr Icon Changes: Flickr icon is now changed in the Settings app, and appears without a gradient.
Dynamic or Panoramic Wallpapers unsupported: iOS 7.1 Beta does not include Dynamic or Panoramic wallpapers and Apple is unlikely to add them in future upgrades either.