Apple caused something of a stir when it announced the first iPad Pro. Aesthetically identical to the regular iPad Air 2 (and mini 3), but with an enormous 12.9in screen, the Pro was certainly attention grabbing, but it was vastly expensive and, well, vast generally.
But Apple knew it was onto something good with the Pro. It has more power than the rest of the 2015/16 iPad lineup, a second port for connecting to a keyboard dock, and support for a new stylus called Apple Pencil. For the latest iPad Pro, Apple has taken these standout features and squashed them into a tablet with the same 9.7in screen size as the iPad Air 2. Smaller than the massive original Pro, but with the same laptop-bothering performance, the same features, and a new screen not used by any Apple product before.
That concoction should make for one hell of a tablet...
Apple iPad Pro 9.7in: Design and hardware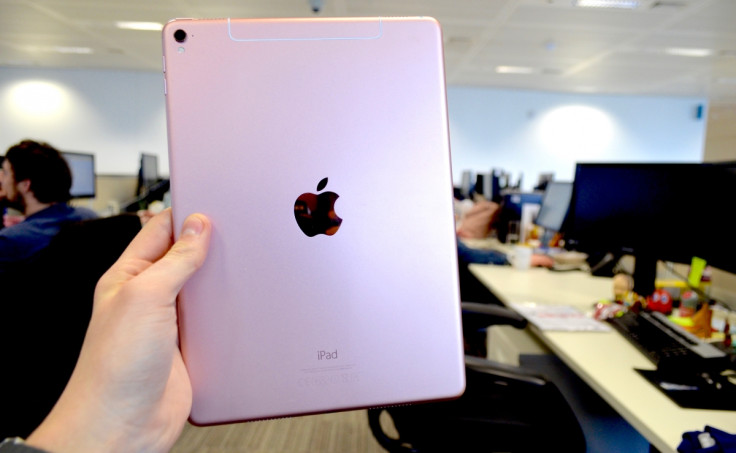 At first glance the iPad Pro looks identical to the iPad Air. This might make you wonder why Apple is charging £499 for the entry-level Pro and £349 for the cheapest Air. Look closer and the differences become clear. The Pro has the same four-speaker layout as its bigger brother and the rear camera has an LED flash for the first time on any iPad. The rear camera also protrudes slightly from the body, just as it does on the iPhone 6S, and there is a second port on the side of the tablet for connecting it to the optional keyboard dock. Finally, a new Rose Gold colour option completes the design difference between Air and Pro.
These changes are so small that the Pro is exactly the same size and weight as the Air 2. This means a footprint of 240 x 169.5mm, a thickness of 6.1mm and a weight of 437g (or 444g if you spec either iPad with a 4G SIM card tray).
There isn't much to say about the iPad's design that hasn't already had praise lavished all over it. The tablet is made from a gorgeous single piece of aluminium. The front is all glass and the sides have polished and chamfered edges cut into them. It feels incredibly well made with zero flex in the body and a weight which says premium without being too heavy.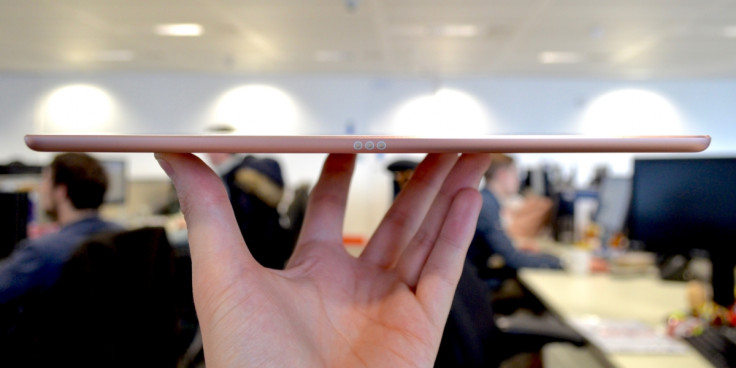 Our iPad Air sent for review is finished in the new Rose Gold colour option. In some light it is metallic pink, but also switches to copper and bronze depending on where you are and how you're holding it. In my opinion it's an interesting and eye-catch colour which has greater universal appeal than regular pink would.
Samsung, Microsoft and Sony are all producing some great tablets at the moment, each with unique and excellent design. For me, the iPad just about wins this round because it feels more premium than the Androids and more compact and usable every day than the Microsoft Surface.
Apple iPad Pro 9.7in: Display
The new Pro's screen may look just like that of the equally sized iPad Air 2, and it even has the same resolution and pixel density of 1536 x 2048 and 264 per inch. But this new tablet has a trick up its sleeve, one which no other Apple product has; True Tone.
True Tone automatically adjusts the colour, brightness and temperature of the screen based on its environment. It does this to help save your eyes by measuring the light in the rest of the room (or outdoors) with four-channel ambient light sensors, then mimicking this with the display. You can see the True Tone technology working as the light in the room changes and a lack of eye strain, even when using the iPad Pro for several hours at a time, suggests the system works.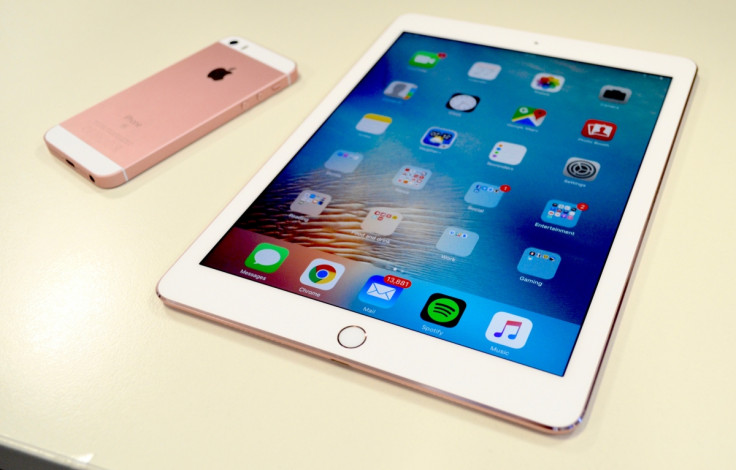 Aside from this, the Pro produces 25% more colour saturation than the iPad Air 2 and uses the same, wide P3 colour gamut as the 5K Retina iMac. This, plus being 25% brighter and 40% less reflective, helps to make the iPad Pro a simply lovely device to use in any situation. That second point is really noticeable; comparing the iPad to an iPhone SE shows how light and objects are reflectively less harshly by the tablet.
Along with all other iOS 9 devices, the new iPad Pro uses Apple's new Night Shift feature to reduce blue light after a user-defined time of time. This means you can read in bed without blue light tricking your brain into thinking it is daylight. Reducing this light intake in the evenings is said to help you sleep better.
Where the 11.9in Pro felt comically huge and only comfortable when on a desk, the 7.9in version can be picked up and held like a notepad or magazine.
Apple iPad Pro 9.7in: Software and Performance
The 9.7in iPad Pro runs iOS 9.3 on an A9X processor, the fastest Apple currently installs in its mobile devices and the same as what powers the larger iPad Pro. Apple claims the new tablet is 1.7 times faster than the iPad Air 2 and can use iMovie to edit three streams of 4K (Ultra HD) video at once. This kind of performance is expected from high-end laptops, but from a tablet it is truly impressive.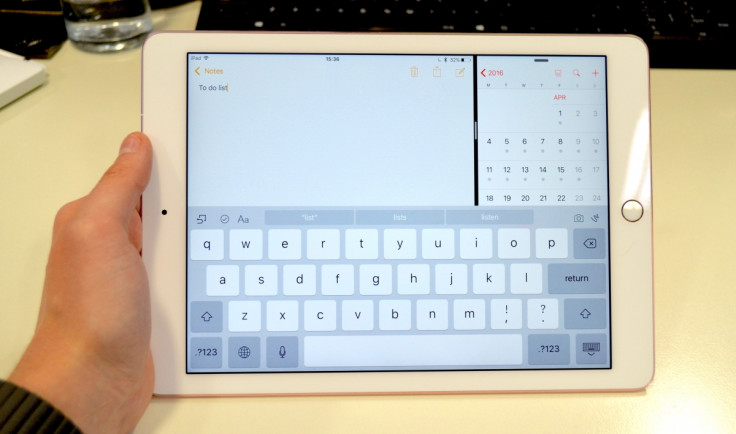 In day-to-day use it's fairly hard to spot where Apple could make this iPad any quicker. Every input I made felt like it was reacted to and dealt with immediately, making the iPad Pro a real joy to use. But, despite this tablet being undeniably fast, I encountered a couple of problems. The iPad randomly rebooted while I was using it one evening, and the Photos app often causes photos to be massively exposed (almost entirely white) when making some minor edits. A software update will likely fix this, but not being able to edit some photos, seemingly at random, is annoying.
Apple has improved iOS every year for almost a decade now, but I feel the general home screen layout is feeling a bit tired. The very act of organising apps into folders is a pain when they're spread across many pages after downloading, and although I know the home screen is a big part of the iPhone and iPad's identity, a fresh new look would be welcome. Having said that, the recent addition of true multitasking with some applications (having two on screen and active at once) is welcome and well implemented.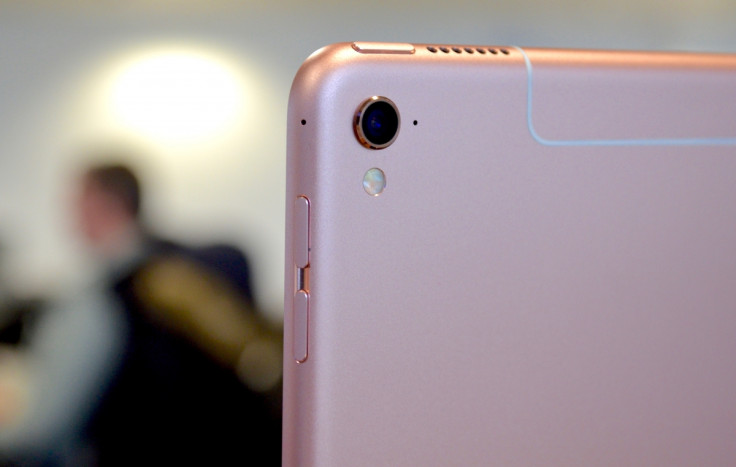 The iPad battery life is always impressive, and this model is no different. Apple's claimed 10 hours feels about right. It might even be more than this, as I regularly got a full nine-hour working day out of the Pro with the screen and Wi-Fi constantly on, with enough left for the evening. There is no wireless charging – a fact which remains sadly true across the entire Apple range.
Apple iPad Pro 9.7in: Cameras
Try as I might to convince readers not to take photos with a tablet, Apple isn't helping my cause with the new iPad Pro. It has the best camera of any iPad to date, at 12 megapixels and, for the first time, it has a flash. The front camera has a 5MP sensor, also impressive for a tablet, and uses 'retina flash' (a flash of white from the screen) to help illuminate your face.
Our verdict
The 9.7in iPad Pro is the best tablet on sale right now. It is a thoroughly excellent device which outperforms the competition is just about every area, from hardware and design to the screen and camera.
It is a much more usable and convenient size than the jumbo 12.9in iPad Pro, which feels like a niche product in comparison, yet it has the same laptop-baiting performance. It has quickly become my go-to device for social media and short-term web browsing, and typing on the screen isn\'t as uncomfortable as you might imagine.
What is uncomfortable, however, is the price. Starting at £499 for 32GB and running up to £739 for 256GB (plus an extra £100 for a 4G SIM card slot), it is a very expensive product which cannot fully replace your laptop.
But there are two key accessories missing from this review.
For an extra £79 and £129 respectively, Apple sells a stylus and keyboard dock which claim to turn the iPad Pro into a real laptop replacement. Look out for a review of these coming to IBTimes UK very soon.
Scores:
Screen: 10/10 - Outstanding in every way. New True Tone feature really helps to reduce eye strain
Design: 10/10 - The perfect size for a personal tablet, with excellent built quality
Performance: 9/10 - Very good indeed, but the occasional crash and software bug take a point away
Software: 8/10 - iOS is still very good, but after almost a decade is starting to feel dated
Value: 7/10 - Not as wallet-crippling as the larger Pro, but still £150 more than the iPad Air 2
The Good:
A display to die for

Gorgeous looks

Excellent performance
The Bad:
Expensive

iOS starting to feel dated

Only extra money of stylus and keyboard make it a true laptop replacement