Having seen challengers take a slice of its market share in 2011, Apple's iPad has retaken control of the worldwide tablet market.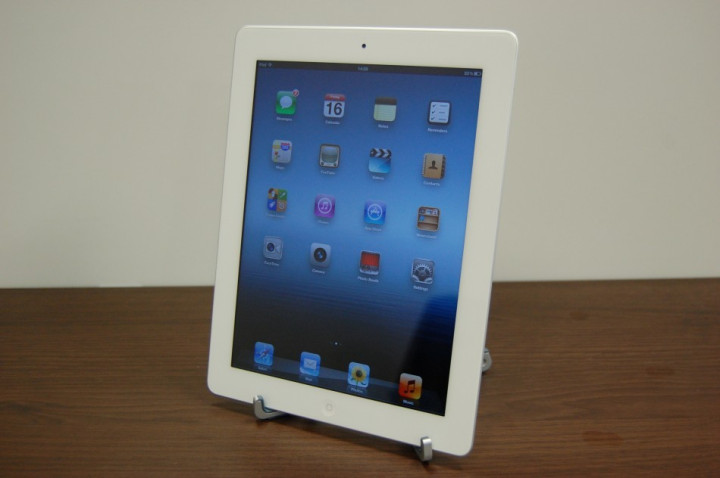 It is fairly safe to say that Apple's original iPad, launched in 2010, created the current tablet computer market. Apple got the jump on every other manufacturer by launching a tablet that actually worked the way it was meant to.
Since then, manufacturers like Samsung, Acer, Amazon and Asus have been playing catch-up. For a year or so, no one could come close to challenging Apple, but in the last 12 months, we've seen Apple's dominant position in the tablet market eroded somewhat, with Samsung's Galaxy Tabs, Asus' Transformer range and Amazon's Kindle Fire tablet all challenging for consumer attention.
In the first quarter of 2012, Apple's share of the tablet market 'slipped' to less than 60 percent for the first time, and people began to talk about a more even playing field, and that Android tablets were on the way up and could soon dominate in a similar way to the smartphone market.
But the latest figures released by information and analytics provider IHS show that Apple has regained most of that market share and once again has almost 70 percent of the tablet market.
According to the figures, Apple shipped 17 million iPads in the three months to the end of June. This is out of a total of just over 24 million tablets shipped worldwide. Samsung, Apple's closest competitor shipped just over 2 million tablets in the same period.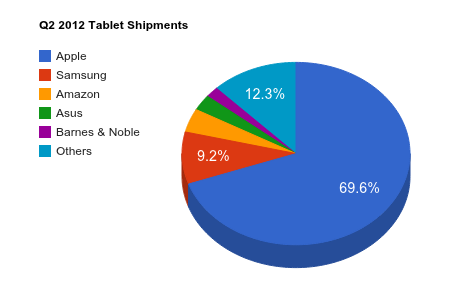 While Amazon and its rival Barnes & Noble both make the top five, Android tablets have simply been unable to make the impact the iPad has in customers minds. For most consumers the words tablet and iPad are interchangeable, a situation Apple will want to protect and take full advantage of.
"Apple is making all the right moves to rebuild its dominant position in the tablet space," said Rhoda Alexander, director, tablet and monitor research for IHS. "The company is pushing visual performance boundaries with the new iPad, while providing value customers with a lower-priced alternative, the iPad 2."
iPad Mini
Apple is set to launch its latest iPhone at an event in San Francisco on 12 September and there are strong rumours that the company will also launch a smaller iPad, currently being called the iPad Mini.
This is seen as Apple's attempt to fend off competition from the likes of Amazon and Google, which launched the £159 Nexus 7 last month, which is seen as a strong new entrant into the market.
However we won't know how strong until results for the third quarter of 2012 are released, and more likely not until results for the following quarter are known.
If Apple does launch a smaller iPad, then it is unlikely to compete with Google and Amazon on price but will offer potential iPad customers a cheaper entry point to the Apple tablet eco-system than the 9.7in iPad.
Microsoft is also set to launch its own tablets, the Surface range, in a couple of months but this is unlikely to impact too much on Apple's bottom line in the short term, as potential customers are still in the dark regarding price - with rumours stretching from $200 to $2,000. The truth no doubt lies somewhere in-between.
Apple has now sold more than 85 million iPads since launching the original tablet back in 2010. With a huge amount of customer satisfaction among its loyal fans, it looks like Apple is creating an unrivalled customer base which should ensure tablet domination for a lot of years to come.