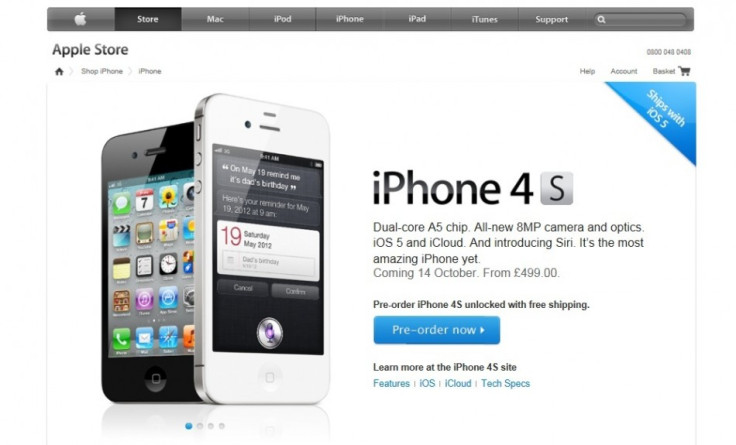 Apple has made its newest iPhone, the iPhone 4S, available for pre-order in Britain with a 14 October release date.
Apple has already applied a new banner to its Web site's homepage confirming the device is available for pre-order. It is currently offering the 16GB version of the device sim-free for £499, the 64GB for £599 and the 64GB for a whopping £699.
The device has also appeared as available for pre-order on a number of mobile carriers' sites, including Vodafone and Orange.
The providers prices are pretty equitable in general, offering the iPhone 4S free on two-year contracts ranging from around £40 to £60 per month. Cheaper contracts reduce the monthly fee to around £25 per month but ask customers to shell out £380 for even the most basic model of the 4S.
A number of 12-month and 18-month contracts are also currently being offered for the iPhone 4S, though the shorter deals all ask consumers to pay in excess of £100 for even the 16GB version of the device.
The iPhone 4S offer follows a similar announcement made by a number of U.S. mobile carriers on Thursday.
The news follows the iPhone 4S unveiling on Tuesday. Since being revealed the device has met with a tepid reaction by Apple fans'. The main criticism steming from fans desire to see the rumoured -- though never confirmed -- next-generation iPhone 5.