HTC One X vs Apple iPhone 4S: Introduction
Once the undisputed king of smartphones, the iPhone 4S is starting to look small and somewhat underpowered compared to its most recent rivals from Samsung and HTC.
With the HTC One X and the Samsung Galaxy S3 both boasting large screens (4.7in and 4.8in respectively), the 3.5in iPhone is looking a little on the small side, and while iOS has remained unchallenged since it arrived in 2007, Android has closed the gap with Ice Cream Sandwich and Jelly Bean.
We've already decided that the Samsung Galaxy S3 has taken the smartphone crown away from Apple's iPhone, so can the equally large and almost equally powerful HTC One X knock the iPhone down to third place? Let's find out:
Key Features:
HTC One X
4.7in Super IPS 720 x 1280 pixel display
1.5GHz quad-core Tegra 3 processor
Android 4.0 (Ice Cream Sandwich) with HTC Sense 4.0
32GB internal storage
Price: Free from £26 per month or around £440 SIM-free
Apple iPhone 4S
3.5in Retina display
Dual-core 1GHz processor
8 megapixel camera with HD video
iOS 5
Price: Free from £31 per month, or £499 SIM-free

HTC One X vs Apple iPhone 4S: Design and Build Quality
With the 4S, Apple has stuck with an almost identical design to the iPhone 4, save for the relocation of its antennas to prevent a repeat of the 'antennagate' issues the previous iPhone suffered soon after its 2010 launch.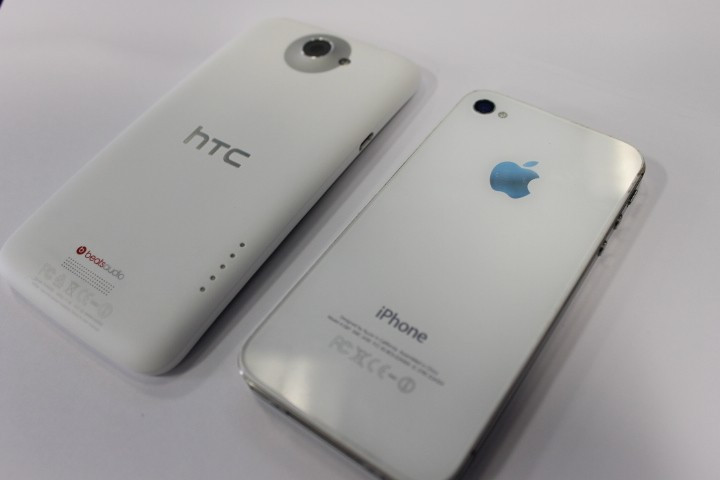 This means Gorilla glass on the front and back, and an aluminium chassis wrapping around the edge and holding everything together.
In the other corner, HTC has opted for a polycarbonate unibody design that, while claiming to be tough, also means that like the iPhone - there's no SD card slot or access to the battery.
The plastic isn't glossy like the Samsung Galaxy S3, but instead has a matte finish that feels good to hold and resists scratches and fingerprints well, but it picked up dirt pretty easily, meaning our sparkling new white HTC One X looked quite grubby after only a few hours of handling. These smudges are easily wiped away with a damp cloth.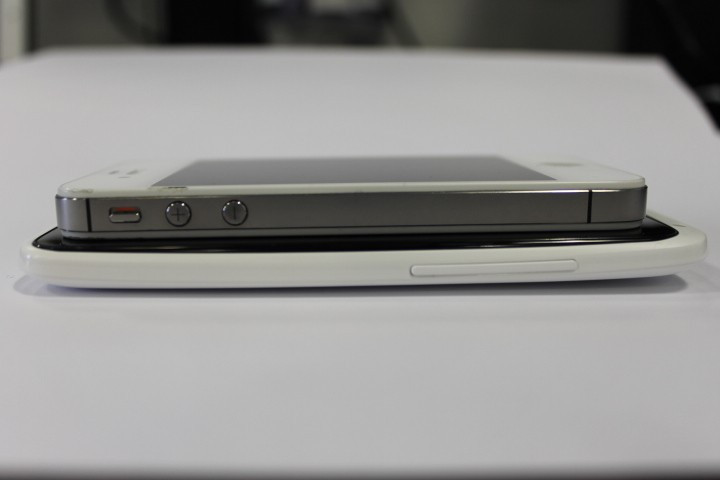 Despite its massive screen, the One X is surprisingly thin, measuring just 8.9mm thick, compared to the iPhone at 9.3mm. This thin design and use of plastic instead of glass and aluminium means the HTC tips the scales at 130g, 10g lighter than the iPhone.
The two phones go about physical buttons in completely different ways; the One X relies on three capacitive touch sensitive buttons below the screen, a volume rocker on the right and screen lock/power button at the top.
Apple also locate the iPhone power/lock button at the top, with a headphone jack on the left, but after that it's completely different. Volume controls are on the left, below a mute switch - something the HTC doesn't have - and there's a physical home button, meaning the iPhone does without any capacitive controls.
Verdict
Both phones have an air of quality to them - as you might expect for between £400 and £500 each - but it's the iPhone with its aluminium bezel and industrial feel that wins this round. Sure, the screen isn't as big as we would like, but in terms of design and build quality, Apple just takes the points.
HTC One X vs Apple iPhone 4S: Screen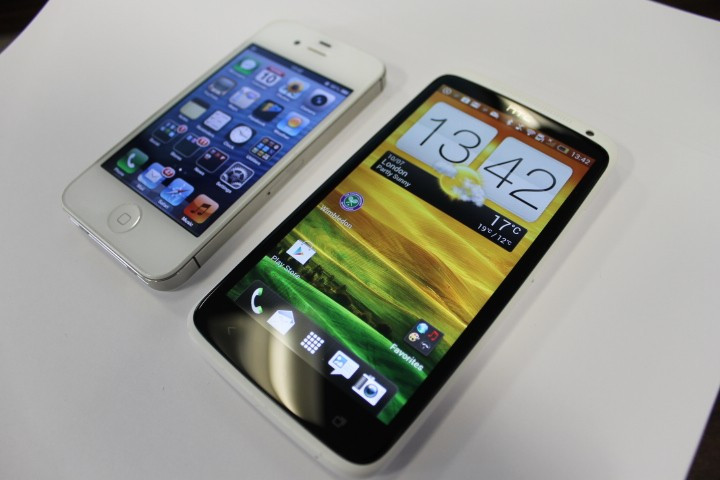 We said in the introduction that the iPhone feels too small compared to the current competition, but there's no escaping the quality and sharpness of the Retina display.
First seen on the iPhone 4, and then on the 4S, the new iPad, and most recently on the new MacBook Pro, Apple's Retina displays are superb, offering an evenly lit screen and market-leading pixel density of 326 per inch - and the One X simply can't live with that.
Apple said when launching the first Retina screen that individual pixels cannot be seen by the human eye, and it's true, but the One X's screen can also perform this trick, even if its density isn't quite of Retina levels.
The One X's screen is evenly-lit with good saturation and clarity - and both screens are as responsive to touch inputs as you would ever need - but it's the size of the HTC that makes all the difference here.
As we said in our comparison between the Samsung Galaxy S3 and iPhone 4S, Apple's smartphone is just too small and going back to it after a week with either the Samsung or HTC One X feels like stepping back in time and to an older generation of phone.
Verdict
Picking a winner here is tough but, as we found when comparing the Samsung Galaxy S3 and iPhone 4S, the iPhone's 3.5in screen is simply too small to compete with larger phones.
Both the S3 and One X are more than 1.5in larger and it really shows, but, as we first thought, the larger size doesn't make them any harder to use
HTC One X vs Apple iPhone 4S: Camera
Both phones use eight-megapixel rear cameras with LED flash and autofocus, and both produce good results. But, while good for smartphones, they're never going to rival a purpose-built digital camera.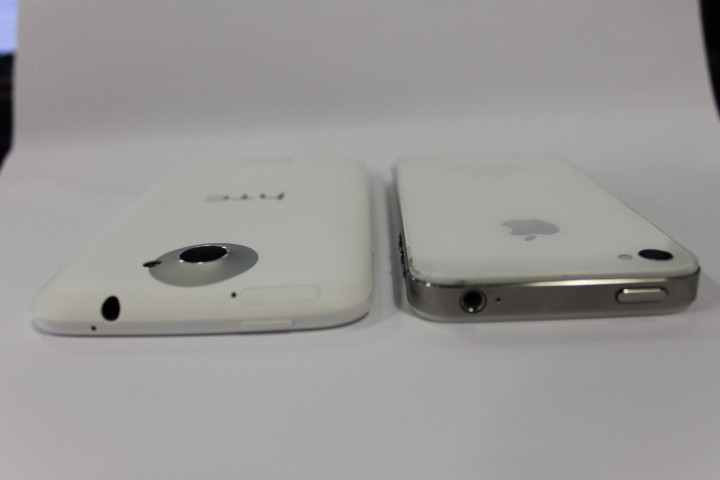 The Nokia 808 PureView can claim to do this, but as we found in our review recently, the rest of the phone is let down by its Symbian operating system.
Back to the One X and iPhone, and it's the HTC with its Android 4.0 operating system that offers far and away more features and customisation than with iOS.
Apple has kept things very simple with iOS 5 and offers nothing more than to show a grid overlay and shoot in HDR (high dynamic range).
There's pinch-to-zoom, the ability to turn the flash on or off, and volume up acts as a shutter button - but that's about it.
The HTC, on the other hand, has a comprehensive range of options, filters and customisable settings catering for most users from amateur photographers to professionals.
When it launched back in February, HTC said that the One X's camera was a game-changer, and while this is sadly not quite the case, the photos it takes look very good for a smartphone.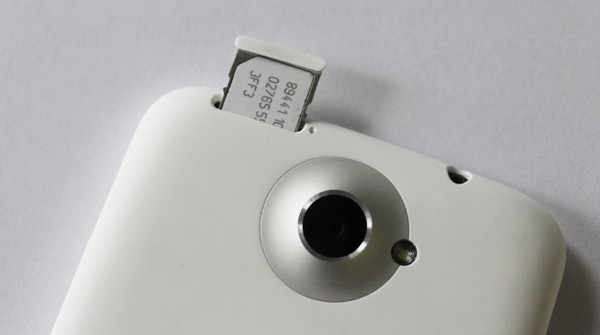 They're not going to worry your dedicated point-and-shoot digital camera, but for a smartphone we were suitably impressed
The One X camera delivers clear, sharp pictures, as you can see below, but they fall just short of the quality we might expect from a decent point-and-shoot. Low light performance in particular wasn't great.
We must give credit, however, to HTC for the One X's camera interface. The company's ImageSense app is a joy to use and combines video and still recording in one view, and you can ever take photos while shooting video at the same time - though not at the highest resolution.
Another plus point for the camera is the almost complete eradication of shutter lag, meaning you can take pictures quickly without a gap - something we also saw with the Samsung Galaxy S3.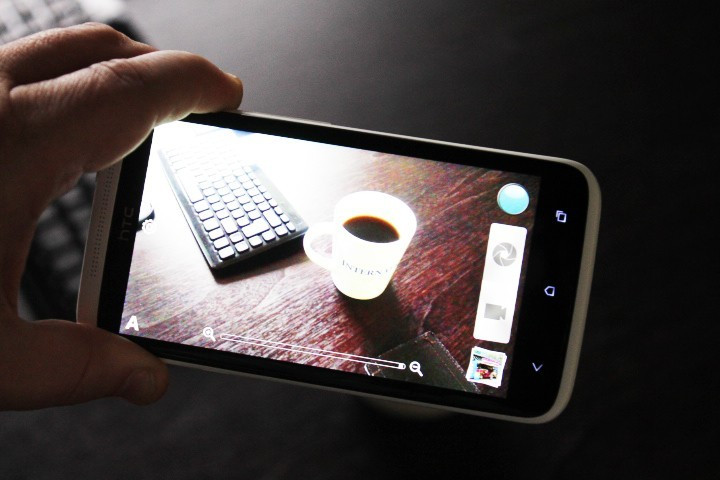 As for options, there is a range of filters such as Distortion, Vignette, Dots or Country to let you shoot some creative stills - which you can see samples of at the end of the review.
While the iPhone offers almost no features, options or filters at all, it must be remembered that there's a huge range of photography applications available on the AppStore to do that job for Apple.
For the 4S, Apple introduced a larger f/2.4 aperture that lets in more light to make photos look brighter. There's also a filter to help keep out IR light, which helps to keep colours more uniform and accurate.
Both phones over tap-to-focus, so you can touch any part of the screen to focus the camera there, and both offer a decent zoom, although of course good photos are harder to take when zoomed in and some quality is lost.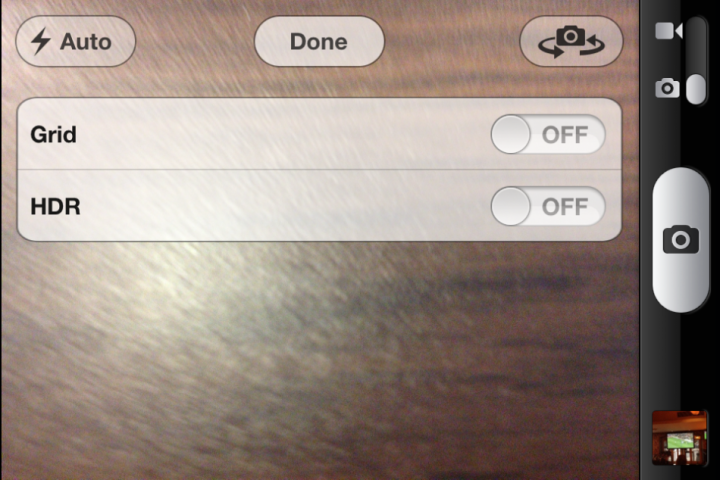 The iPhone offers red eye removal, cropping and an auto-enhance feature to boost colours is photos you've taken.
Both phones can full 1080p high definition video, with the HTC offering 24 frames per second, and the iPhone shooting in 30fps.
Finally, both phones have front-facing cameras for self portraits and video calls. The HTC offers 1.3-megapixel quality, while the iPhone can only manage a less impressive VGA (around 0.3mp) resolution.
Verdict
Overall, it's the HTC One X that gets our vote. Physically the cameras are similar, but it's the One X's comprehensive range of customisation that wins this round. There are plenty of iOS photography apps out there, but the iPhone's offering is very basic straight out of the box.
HTC One X vs Apple iPhone 4S: Connectivity
As usual, Apple has locked down physical connections on the iPhone to nothing more than a 30-pin dock connector and headphone jack - there's no SD card slot, no industry-standard micro USB and connecting an HDMI device requires a £15 cable.
There's a micro SIM card slot on the right edge and the battery is - as has always been the case with iOS devices - not accessible by the user without the use of a screwdriver and voiding the warranty.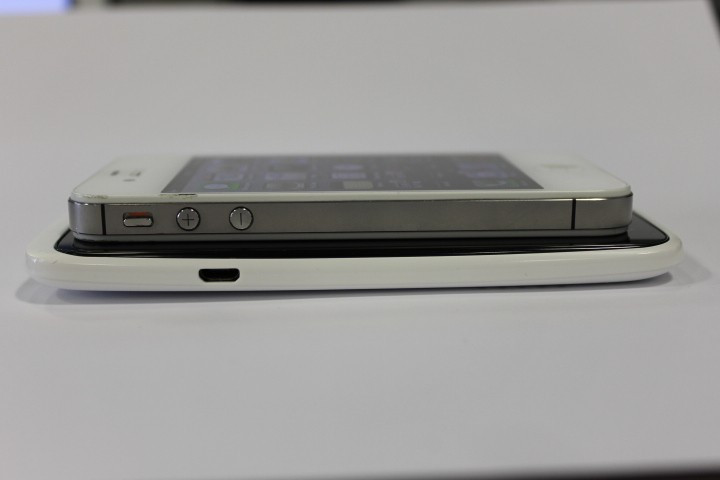 HTC has taken a similar locked-down approach with the One X. Due to its unibody design there is no access to the battery and no SD card slot, meaning that, as with the iPhone, you're stuck with just the internal storage.
The One X comes with 32GB, while the iPhone can be bought with 16GB, 32GB or 64GB.
Opting for a closed design, Apple and HTC may have bought themselves more flexibility inside to create a more compact phone, and the construction is undoubtedly more sturdy as a result, but consumers are left with phones that cannot use a spare battery or be given extra storage.
Inside, both phones offer Wi-Fi is all b/g/n formats, Bluetooth 4.0 with A2DP for streaming music to wireless speakers and headphones, the ability to operate as a Wi-Fi hotspot, and the One X has NFC for contactless payments.
Finally, the One X has Beats Audio included, which claims to improve sound quality, but we found to be not much more than a setting in the music app to increase bass and volume. Thankfully, it can be turned off if you so choose.
Verdict
Separating these phones in terms of connectivity is difficult as they are both pretty much the same, although Apple compensates for the lack of an SD card slot by offering three three storage sizes, while HTC has gone for the middle ground and offered a single 32GB model.
HTC One X vs Apple iPhone 4S: Performance and Operating System
Apple is reluctant to reveal much about its dual-core A5 processor, as used in the iPhone 4S and iPad 2, so while we know of the two cores, the speed that it runs at is unknown, although the clever money says around 1GHz and there's 512MB of RAM.
HTC is much more open about the One X's internals, and states that its flagship smartphone has a quad-core 1.5GHz Tegra 3 processor from Nvidia and 1GB of RAM.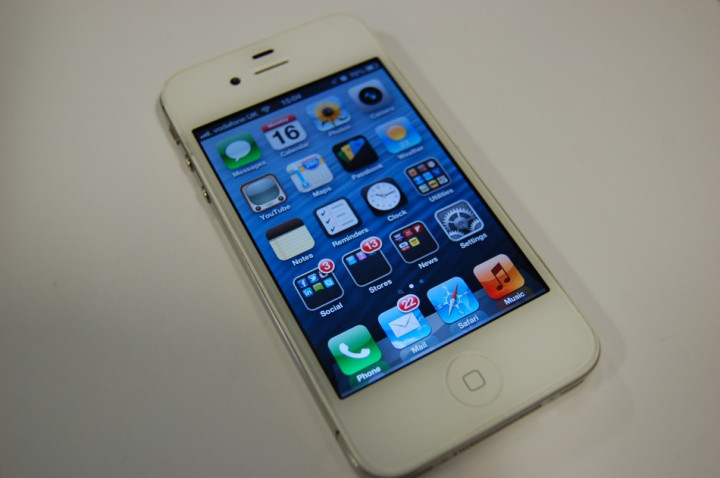 Although beaten comprehensively on paper, the iPhone 4S holds up well against the more powerful S3 in the real world, with both phones able to keep up with whatever we throw at them.
HTC is promoting Tegra 3 as having 4-PLUS-1 architecture. The PLUS-1 in this case is a low-power, fifth companion core to the main four processing cores, which is put to use when the phone is idle to take care of less power-intensive actions.
In theory, this means that the One X can offer market-leading performance when you need it, but resort back to using just the one core when the phone is idling or asleep.
Using that quad-core power, the HTC flies along with no problems at all. The user interface is a joy to use and everything from 1080p video to intense 3D gaming is handled with ease.
While not stacking up on paper, it's much the same story with the iPhone 4S, as it deals effortlessly with just about everything you could care to throw at it.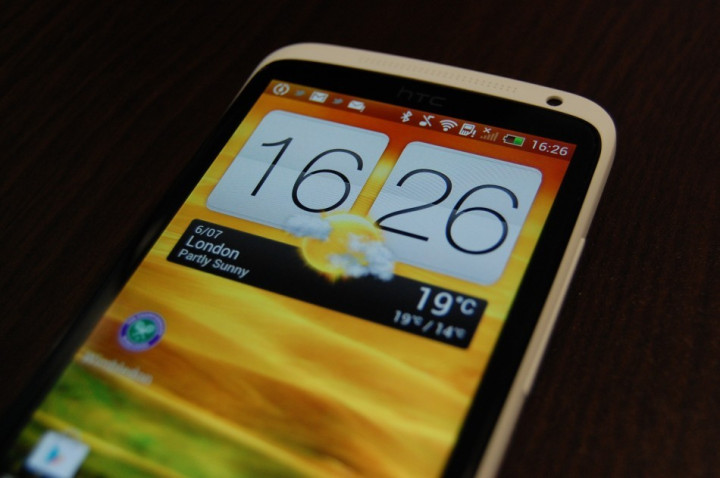 As for software, the One X uses Android 4.0 Ice Cream Sandwich garnished with HTC's Sense 4.0 user interface.
First up, there's a new lock screen, which has been tweaked by HTC to allow you to jump straight into one of four apps. This involves dragging the app into the ring at the bottom of the screen, and works well. You can put whatever app you want on the lockscreen, customisable through the Settings menu.
Other features include an attractive carousel of your recently used applications, accessed from tapping the right-hand capacitive button below the screen.
Some users won't like HTC Sense, preferring instead the standard version of Ice Cream Sandwich (as seen on the Galaxy Nexus) but we haven't got anything bad to say about the One X's operating system - it's slick, responsive and mostly intuitive to use.
Apple used the iPhone 4S to launch iOS 5 back in October 2011 and the smartphone is due to get upgraded to iOS 6 this autumn, so while we've been getting to grips with iOS 6 since the developer build was announced, for this comparison we're sticking to iOS 5.
As for comparing Ice Cream Sandwich with iOS 5, it will always come down to personal preference; they both offer just about everything you could want from a smartphone.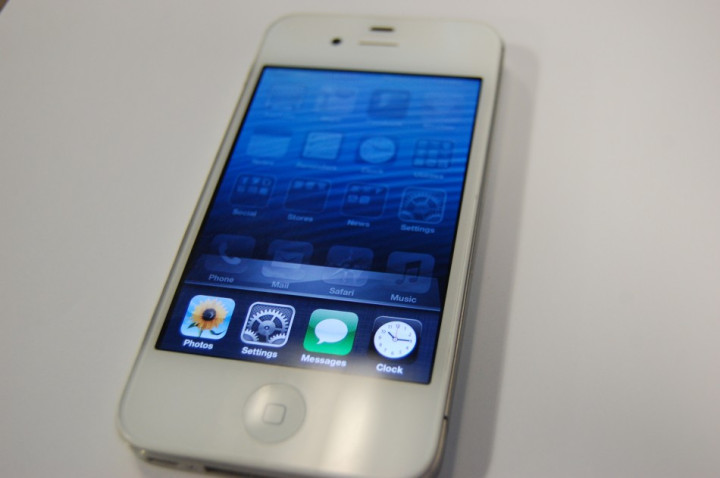 The old story of Android being more open and accessible than iOS still rings true, and the counter argument that Apple's offering appeals to those who want all their tech under the same umbrella and to work together with minimal fuss is also true.
Both operating systems share some features - such as the drop down notification bar - and the number of apps available on Android is, while still behind Apple's App Store, ever increasing, with apps from major developers usually appearing on both platforms.
Verdict
This one comes down to personal preference, with some people loving the simplicity and "it just works" aspect of iOS, while others love the ability to tinker with aspects of the OS which the open Android platform offers.
HTC One X vs Apple iPhone 4S: Battery life
Battery life is, as with most smartphones with the performance of the iPhone and Galaxy S3, limited to not much more than a day of average use.
Samsung claims that the S3's 2,100mAh battery is good for more than 200 hours of standby time and ten hours of talk time over 3G, but in the real world of calls, texts, Facebook and iPlayer, we'd suggest you charge it every night like any other smartphone.
Apple also claims 200 hours of standby time for the iPhone 4S, with a slightly less 3G talk time of eight hours. Again, you'll be lucky to see two full days out of the iPhone, so nightly charging is a must.
Verdict
In both cases we would have liked a battery life pushing two days normal use, but unfortunately battery tech is still playing catch-up to large high-res screens and powerful processors in the smartphone world.
We neither phone realistically able of lasting for two days, we'll call this round a draw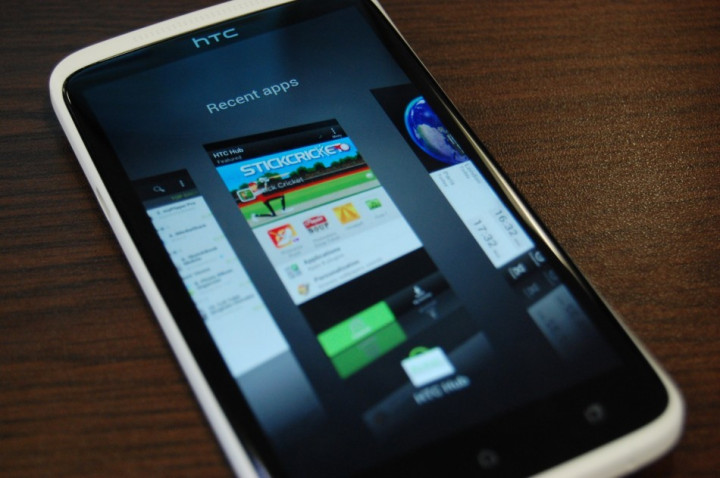 HTC One X vs Apple iPhone 4S: Value
Both smartphones can be had for free on deals of between £26 to £31 per month, but SIM-free the HTC is cheaper than the iPhone.
The 32GB One X can be bought without a contract for around £435, whereas the 16GB iPhone 4S is £499, with the 32GB model priced at £599 and finally the 64GB iPhone costs £699.
While contract prices are largely the same on both phones, the SIM-free price may be something to consider, with the iPhone - in 32GB form at least - costing some £165 more than the HTC.
HTC One X vs Apple iPhone 4S: Verdict
Picking one of these phones over the other is a difficult thing to do, as both offer an excellent user experience with powerful and easy-to-use operating systems, decent cameras and great quality screens.
The argument boils down to two things - if you prefer Android and Google or iOS and Apple, and the screen size.
When we compared the iPhone to the Samsung Galaxy S3 recently, it was the 4.8in screen of the S3 that won us over and made it - in our eyes - the best smartphone currently on the market.
Having given it some thought, we've decided that the HTC One X is also better than the iPhone 4S. The lower SIM-free price is one reason, Android is another, but again it's the screen that does most of the work and makes the iPhone feel undersized.
As for picking between the HTC One X and the Samsung Galaxy S3, we compared those two recently, as well.
Of course, all this is said while ignoring the possibility of a new, larger iPhone with iOS 6 that is due out before the end of the year, but whether this will be enough to see Apple reclaim the top step of the smartphone podium remains to be seen.
Scores:
HTC One X
Overall: 9/10
Battery: 7/10
Screen: 10/10
Design: 10/10
Value: 8/10
Apple iPhone 4S
Overall 9/10
Battery 7/10
Screen 9/10
Design 9/10
Value 8/10
Sample Shots
HTC One X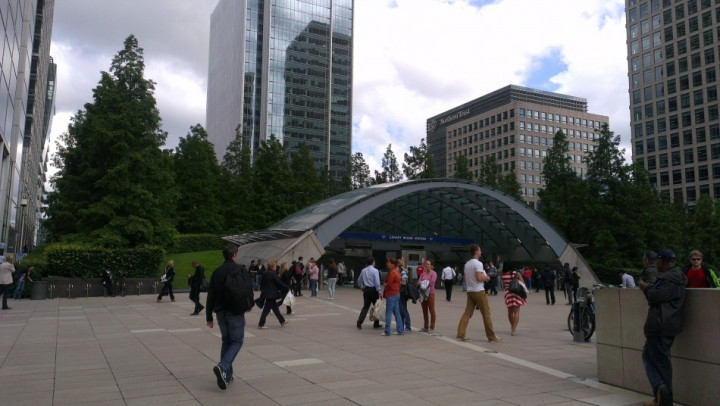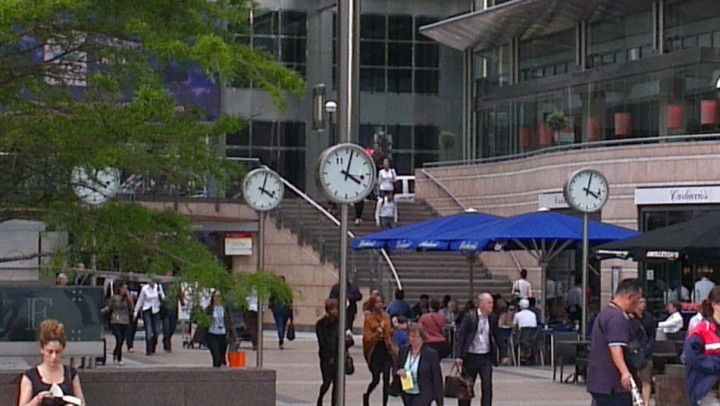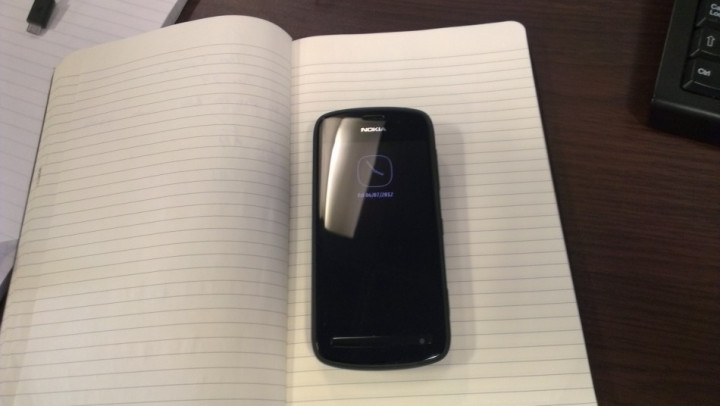 Apple iPhone 4S