Japanese blog Macotakara has reported that an executive from China Unicom apparently confired that the iPhone 5 - due to be announced by Apple next Tuesday - will support HSPA+, also known as 4G technology.
The report is surprising, given that 4G is not available from any mobile carriers, and Apple has historically not given the iPhone cutting edge mobile technology. The original iPhone is 2007 only supported EDGE and it wasn't until the iPhone 3G came out that the device supported the much quicker 3G network.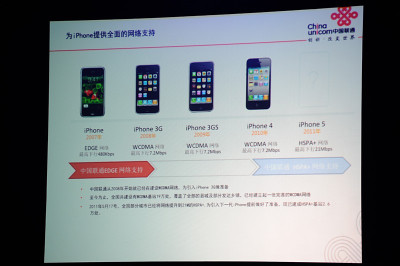 This rumour that the iPhone 5 will have 4G is unexpected and would mean data transfer speeds of up to 21Mbps. Currently the iPhone 4, which has 3G, can manage just 7.2Mbps.
Although it may seem like good news, describing a connection as '4G' is somewhere ambiguous. AT&T offers what it calls a "4G" network, which is in fact an upgrade to the existing 3G network. iPhone 4 users who have upgraded to the "4G" service will notice a speed increase, but nothing compared to 'true' 4G - fourth generation - mobile technology, better known as LTE, which offers a significant increase in data transfer speed.
LTE - or long term evolution - is being rolled out amongst some American carriers, but it is not expected to become the worldwide standard for many years, with Ofcom saying this week that the UK will only have a "partial" LTE coverage by 2014.
The information appeared on a slideshow that was shown at Macworld Asia, which took place this week. Claims that the iPhone 5 would support HSPA+ surfaced earlier this year, but it was pointed out that in America AT&T offers what it calls "4G", but it is widely regarded to be more of a '3.5G' service, due to providing slightly slower data transfer speeds.
MacRumors notes that the Qualcomm chip found in the CDMA iPhone 4 sold by Verizon already supports 14.4 Mbps HSPA+, but the device itself is limited to CDMA networks, and their slower speeds.
Apple is holding a media event on Tuesday October 4 with the tagline "Let's talk iPhone", when the iPhone 5 is due to be announced, along with iCloud, iOS 5 and a white iPod touch.