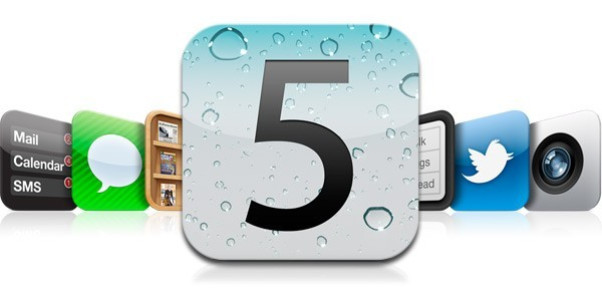 The newest operating system update to the iPhone, the iPad and the iPod touch, called iOS 5, will be available to download on Oct. 12. iOS 5 brings an entirely new notifications system, a BlackBerry Messenger-rivalling free messaging app and system-wide Twitter integration.
iOS 5 is a free software update bringing over 200 new features to the iPhone, the iPad and the iPod touch, including a location-aware reminders app, newsstand and wireless syncing.The update aims to separate the iDevice from the personal computer, with what Apple is calling "PC Free," meaning any iOS 5 device can be operated entirely without a computer, finally making the iPad a true netbook competitor.
iOS 5 is compatible with iPhone 3GS, iPhone, iPad, iPad 2, iPod touch 3rd generation and iPod touch 4th generation.
Notification Centre
Notifications have been pushed to iOS devices for a few years now, but they provided little information, forcing the user to quit what they're doing and go to the relevant app requesting attention. Now, though, all notifications are displayed in a panel that can be accessed by swiping down from the status bar, whether you're at the home screen, or in an app already.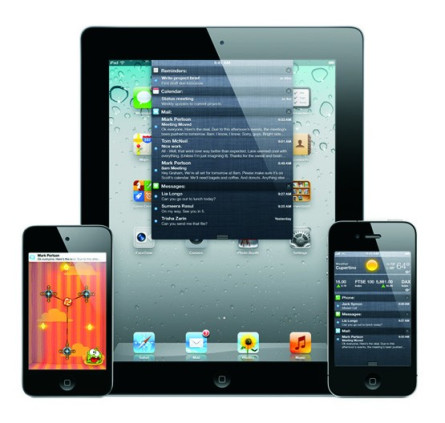 Notification Centre can be customised to show a ticker of your share prices, the local weather and, of course, notifications from the phone, mail, messages, Facebook, Twitter and any other apps that demand your attention. Previews of messages and e-mails are shown, and the notification can be acted upon by tapping it.
Before, notifications always appeared in the same way -- an SMS-style box in the centre of the screen that had to be dismissed before being able to do anything else. Now, though, notifications can be set to appear as a small message at the top of the screen, which doesn't interrupt what you're doing. Games don't pause, for example, and the box disappears after a few seconds.
The lock screen has also been tinkered with, showing a clearer list of any calls, messages, and emails that have been received while the phone has been locked. Swiping over a text or email takes you right to the relevant app.
iMessage
BlackBerry owners are all familiar with BlackBerry Messenger (BBM), the free messaging service that lets users sent text messages to each other for free. The service works well and more comprehensively than regular texts because messages are encrypted through the BB servers.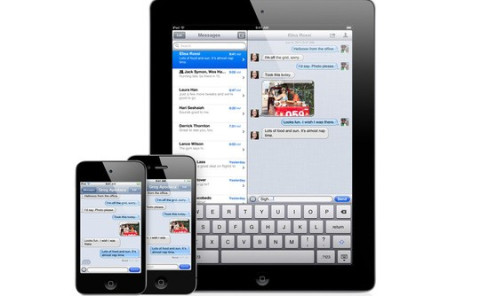 iMessage is available exclusively to iOS 5 users and is built right into the current messaging app. Text messages from users who have iOS 5 (and a data connection) will appear in blue instead of the usual green for text messages. Choosing between a text message and an iMessage requires no input from the user at all; if the phone has a data connection -- be it GPRS, EDGE or 3G -- and the recipient has iOS 5, then text messages will be sent as free iMessages.
Delivery reports are included and an icon appears on screen to show when the recipient is typing a new message.
Reminders
There's a whole range of to do list apps available for the iPhone, but Apple has decided to make their own and include it with iOS 5.
Simply add something to be reminded of -- buy some milk, for example -- set a time, and you're done. A notification just like any other will appear - along with an alarm if you so wish - at the time the user sets.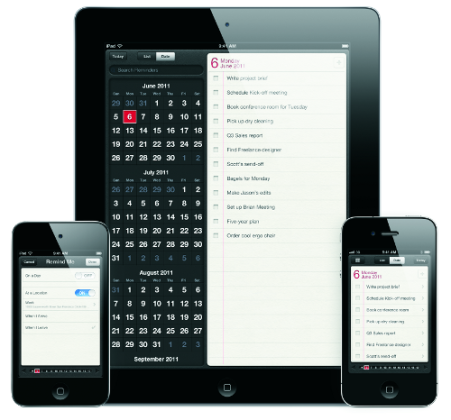 The Reminders app is also location-aware. If you want to get that milk after work you can set Reminders to remind you when you leave work -- providing you have GPS turned on and you have work set as a contact in your address book. Having to set a location from the address book is a pain; hopefully the ability to drop a pin on a map and select that as a location to be reminded at will be available in a future update.
Twitter integration
While Android offers great Facebook integration, Apple has gone down the other social networking group and got into bed with Twitter. The result is that, once signed into the micro-blogging service once, Twitter is available system-wide, letting you tweet links and photos from anywhere in the iDevice, and attach your current location, too.
Safari
Reader is a new feature of Safari, which lets users save webpages to read later, offline. Your reading list is kept up to date between all iOS devices. Fully-tabbed browsing is coming to the iPad, so navigating between tabs takes just one tap instead of two.
Volume up as camera shutter
The iPhone has always been criticised for having an on-screen shutter button for the camera app. The button is awkwardly placed and difficult to press while holding the phone still. Apple has finally noticed this and has given users the option to take a photo using the volume up button, which is located roughly where the shutter button would be. The only downside is now the lens isn't where it would be in a camera. It's under your hand. Not ideal, but at least now users have the option, and in testing we found that clicking a physical button is better than tapping the screen.
Ability to access camera app from lock screen
Apple want more people to take photos with the iPhone 4 - despite it already being the most popular smartphone on Flickr - and to aid this along they've made it possible to access the camera app from the lock screen.
Click the home button twice when the iPhone is locked and an icon appears next to the slider, tapping this opens the camera app. This even works if your iPhone is locked with a passcode, but don't worry, nothing else can be viewed apart from the photos taken at that moment, the passcode is still needed to access any other app and the home screen.
Wi-Fi Sync
iOS 5 lets devices sync wirelessly with the computer that they're paired with. So just plug your iPhone into its charger at night and Wi-Fi sync does the rest, keeping your music, photos, contact and everything else up-to-date on your phone and computer - providing they're both turned on, obviously.
Devices with iOS 5 do not lock themselves while syncing, meaning that incoming text messages can be read, and the device works as normal, as syncing is done entirely in the background.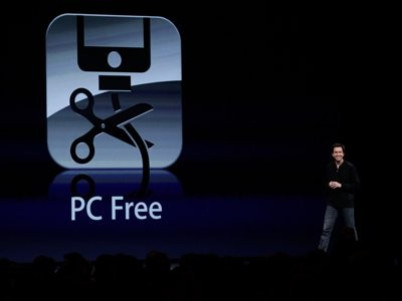 Over-the-air updates have finally made their way to iOS, meaning that the iPhone, iPad and iPod touch can receive software updates wirelessly, without the need to be plugged into the computer with which they sync. Over-the-air updates are also significantly smaller due to only replacing updated elements of the device's firmware, not the entire operating system.
Photo editing
Photos taken with the camera app can now be edited, with the ability to crop, apply red-eye reduction and auto-enhance photos, providing a quick and easy way to tidy up snap shots before sharing them.