Key Features:
Plastic design available in five colours
4in Retina Display
iOS 7
8 megapixel camera
A6 processor
8.97mm thick, 132 grams
Price as reviewed: £469 SIM-free or Free on £47-a-month 4G contract with Vodafone
iPhone 5c Review
At it's iPhone event on 10 September, Apple didn't announce the cheap iPhone everyone was hoping for. Instead we have the iPhone 5c, which takes the internals of the year-old iPhone 5, adds a colourful plastic shell, and knocks £60 off the lowest SIM-free price.
Previously Apple would discount the year-old iPhone and sell it alongside the new model, but now its can sell the 5c as an entirely new product with its own TV adverts - treatment the older models never received.
iPhone 5c: Design
Described by Jony Ive as "unapologetically plastic" the iPhone 5c is certainly that and doesn't attempt to hide its plastic construction by colouring it chrome or silver, as Samsung is often guilty of.
Instead, its piercing colours remind me a lot of the bright and glossy plastics from Nokia's Lumia range, especially combined with the matching default wallpapers - a point not lost on the Finnish company, which tweeted "You're welcome" at Apple during the 5c announcement.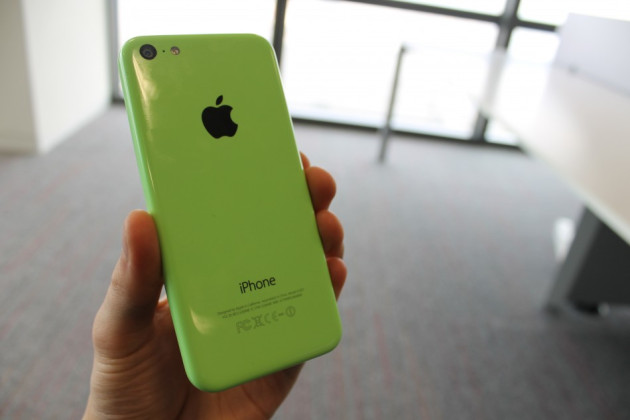 However, unlike Nokia, Apple hasn't been brave enough to wrap the 5c entirely in the new colours, instead leaving the front black - even on the white model.
Any iPhone 5 user picking up the 5c will immediately notice the extra weight and thickness. It's not much - an extra 1.37mm and 20g - but it's still there, perhaps due to the phone's metal-reinforced chassis beneath the plastic case.
Ditching aluminium and glass for plastic makes the 5c much warmer in the hand - although the screen is still protected by glass - and those metal internals help to keep the phone remarkably solid and flex-free; applying pressure to the plastic rear reveals just the slightest amount of give.
After a week, my review unit has started to show some faint scratches, but they can only really be seen under direct light; I'd expect the 5c to hold up better than the chamfered edges of the aluminium 5 and 5s, which show damage more easily.
Overall, the 5c is what you'd expect from Apple design. Shiny and plastic, yes, but still maintaining a premium feel while appealing to consumers more interested in colour and personality than the cool, refined and understated aluminium of the 5 and 5s.
iPhone 5c: Software, Performance and Battery
Given the 5c has exactly the same A6 processor as the iPhone 5, the performance here is identical.
The real difference is the iOS 7 operating system. It's been six years since iOS first arrived on the original iPhone, and in that time little has changed aesthetically. For its seventh generation iOS has had a major redesign, removing real-world metaphors and skeuomorphic design (wooden bookshelves, torn Notes pages and the like) in favour of a simpler design.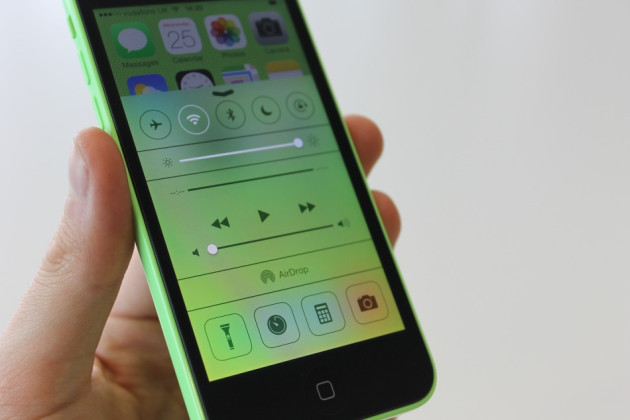 I've already looked at iOS 7 in more detail here, so I'll try to keep this short. Apart from the visual redesign, flattening and simplifying every icon, button and background, iOS 7 includes an overhaul to Notification Center and introduces a new Control Center (shown above), accessible with an upwards swipe from the foot of the screen.
There's also a new multitasking interface showing thumbnails of all apps you have open, and now the system learns when you use certain applications. Say you open news and social network apps at the same time every morning; iOS 7 learns this and starts to refresh the apps' content shortly beforehand, so everything is already updated when you open them.
For such a major update, iOS 7 is remarkably bug-free. There are a handful of design inconsistencies which need addressing - font sizes, location of buttons etc - but overall the system is slick, smooth and as fast as ever.
One of the few hardware upgrades from the iPhone 5 is a slightly larger battery, up from 1,440mAh to 1,510mAh in the iPhone 5c. In reality this doesn't mean much, but every little helps and I found the 5c to comfortably get me through a day of average use, including Wi-Fi, push email, music playback and a couple of hours of 4G browsing.
Surviving a second day was just about possible with limited use, but in reality nightly charging is still a must.
This £469 model has 16GB of storage and Apple sells a 32GB version for £549 - sadly both miss out on a microSD card slot for expandable storage.
One final note on 4G - where the iPhone 5 only worked with 4G from EE due to hardware limitations, the 5c and 5s work with 4G from Vodafone, O2, EE and, when it launches in December, Three.
iPhone 5c: Screen
Having upped the iPhone's screen from 3.5in to 4in last year, Apple has left its Retina displays alone for 2013, giving both the iPhone 5s and 5c the same 1136 x 640 resolution and 326 pixels per inch.
Although a year old, this is still an excellent display, and while it can't match the full HD resolutions of the HTC One and Samsung Galaxy S4, on a phone this size it doesn't need to - and in the equally important areas of contrast, saturation and backlighting, the iPhone 5c performs admirably.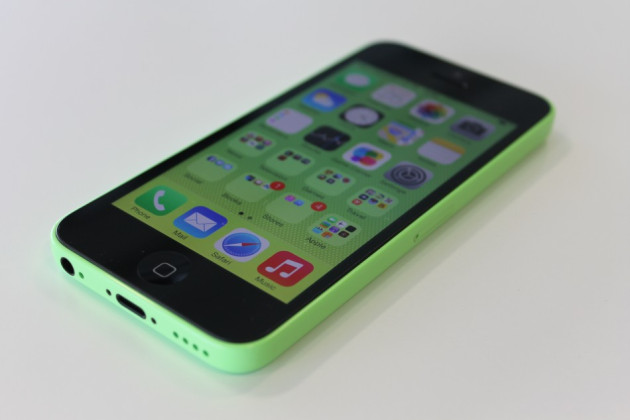 Compared to the display of a Samsung Galaxy S4 Active I reviewed last, the iPhone is noticeably warmer, its whites leaning towards the yellow end of the spectrum, while the Samsung displayed a cooler blue tinge. Neither is right nor wrong, and viewed individually you'll struggle to spot the difference.
Quality aside, the iPhone range is starting to look quite small. When the Mini versions of the HTC One and Galaxy S4 are both bigger than both of Apple's offerings, questions will no doubt be asked about larger screen sizes for the iPhone 6 next year.
Switching from the S4 Active, I found myself struggling to adjust to the iPhone's smaller screen - especially when using the keyboard, where iOS's normally excellent autocorrect found my clumsy efforts unintelligible.
The iOS 7 keyboard does not display a comma, full stop or numbers alongside the Qwerty keys. I know a double-tap of the space bar adds a full stop and capitalises the next letter, but having to dig into the second character set to find a comma became annoying after I was used to the extra keys a larger screen can offer.
Apple may claim 4in to be the optimal size, but it can't ignore the surging popularity in 5in+ smartphones for much longer.
iPhone 5c: Cameras
Identical to the iPhone 5, the 5c has an 8-megapixel rear camera with LED flash, autofocus and full HD video recording.
It's a very good camera when used in natural light, but now rivals Samsung, Sony, Nokia and HTC have improved their low-light performance - and so has Apple with the iPhone 5s - this 5c starts to show its limitations.
In low light the camera produces average results, and when used with the flash my photos were blighted by harsh light in the middle and dark, noisy areas at the edges, as the flash struggled to illuminate the scene evenly.
If you want iOS with a better camera, you need to pay more for the iPhone 5s, but for everyday point-and-shoot photos, the 5c is perfectly respectable in decent light.
Finally, the front-facing 1.2-megapixel camera has improved low-light sensitivity over the iPhone 5.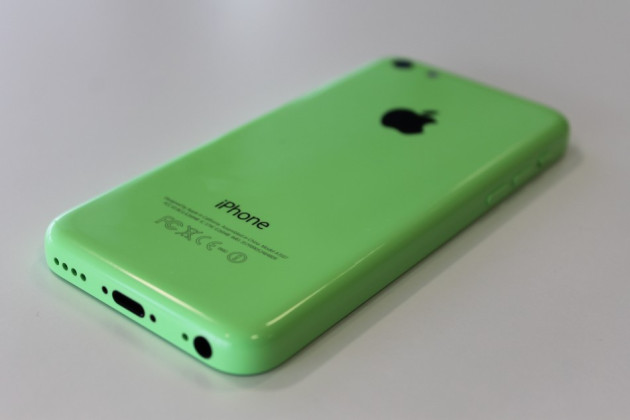 iPhone 5c: Value
At £469 SIM-free and from around £40 to £47 per month on a 4G contract with no upfront cost, the 5c isn't any cheaper than the HTC One or Samsung Galaxy S4, and that makes things difficult. I had hoped the 5c would compete with the Mini versions of these two Android flagships, but it's undercut by both of them.
Apple has given its iPhone range more breadth and I'm sure some consumers will be swayed from iPhone 5s to iPhone 5c by the choice of colours alone, but I'm struggling to get 'iPhone 5c' and 'good value' into the same sentence.
iPhone 5c: Verdict
The iPhone 5c is not for iPhone 5 owners - unless you absolutely must have an iPhone in a new colour, this isn't an upgrade from what you already have. However, those with an iPhone 4s and below would certainly benefit from the larger screen, faster processor, improved camera and those bright colours.
Anyone getting into iOS for the first time will be pleased to see Apple treat its cheaper model to the same TV ad campaigns as the flagship model. While Apple has sold cheaper iPhones for years now, marketing them was left down to the networks while Apple focused on shifting the newer version.
Now, those looking for a (slightly) cheaper option can buy a brand new iPhone without feeling like they've opted for the year-old hand-me-down.
The 5c is a very good phone, and the additional colours are exactly what Apple needed to broaden its iPhone range, but the price is higher than it should be. Apple had the chance to make a real mark in the mid-range smartphone market here, but opted to preserve its premium brand image instead.
Scores:
Screen: 9/10 - Excellent quality, but starting to feel small
Camera: 8/10 - Impressive in good light, but low light performance shows its age
Operating System - 9/10 - A much-needed revamp improves on iOS 6, but may take some getting used to
Design: 9/10 - Plastic and fun without feeling cheap
Build Quality: 9/10 - Solid construction with no flex; plastic tough but will scratch
Value: 8/10 - Not cheap, but at least gives buyers an option
Overall: 8/10 - Renowned iPhone design and quality in a more playful and less serious body - just not the budget iPhone you were hoping for
The Good:
Excellent design and build quality
Great quality screen
Class-leading operating system
Now works with all 4G networks
The Bad:
iOS 7 changes might not appeal to all
Camera is good, but competition has moved on
No expandable storage
Camera Samples