Key Features:
13.3in LED-backlit Retina display with 2560x1600 native resolution and 227 pixels per inch
2.5GHz Intel Core i5 processor
8GB RAM
Intel HD Graphics 4000
256GB SSD
Price as reviewed: £1,699
Introduction
When we first set eyes on the 15in MacBook Pro with Retina screen earlier this year, we wasted no time in claiming it to be the best laptop we had ever used, and it wasn't long before we thought of Apple's other MacBooks getting the Retina treatment too.
This 13in model blends performance with portability, reminding us of the hugely popular 12in PowerBook G4 of the early 2000's, and of course it boasts that Retina display with a pixel density that puts many smartphones to shame.
On the face of it, the MacBook Pro 13in with Retina display is looking strong, but with prices starting from £1,449, no dedicated Nvidia graphics and no way of upgrading the RAM or storage after purchase, is this still the ultimate portable laptop? Let's find out.
MacBook Pro 13in with Retina Display: Design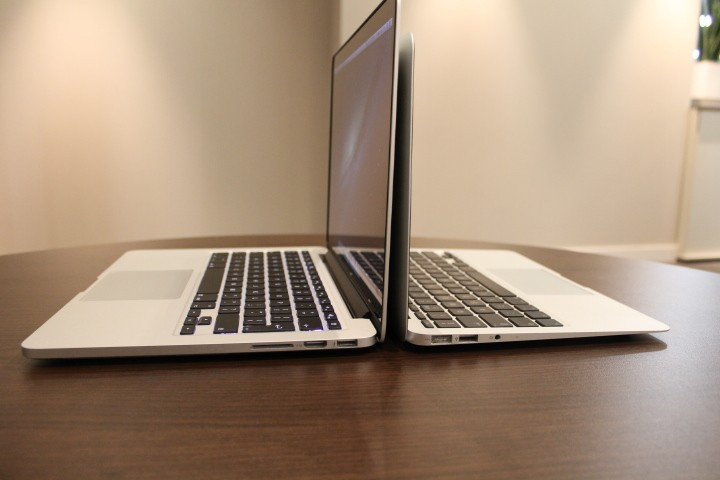 Apple has had its industrial design pretty much nailed for years now. After the plastic MacBooks were ditched in favour of an all-aluminium laptop lineup there was no looking back.
The unibody construction, which means the entire chassis is machined from a single slab of aluminium, makes the MacBook Pro feel incredibly solid; there's absolutely no flex at all, even if you pick it up from one corner.
A lack of seams and seals help to further create the effect that this laptop is one solid piece of metal. It's a level of fit and finish that leaves almost all competitors leagues behind, and while the iPhone 5 feels like a fine piece of jewellery with its glistening chamfered edges, the MacBook Pro reminds us of a chunky watch.
Closed, the 13in MacBook Pro Retina is 19mm thick - that's one millimetre thicker than its 15in brother, not that you'd notice, and 6mm thinner than the regular 13in Pro.
At 1.62kg the 13in model is 400g lighter than the 15in Retina and 440g lighter than the regular 13in Pro. This isn't a featherweight like the MacBook Air and you'll certainly notice the difference in your bag if upgrading from the Air.
As with the rest of Apple's Pro range, the 13in Retina gets a glass-fronted and LED-backlit screen with a black bezel, a black chiclet-style keyboard and a large glass trackpad with integrated button.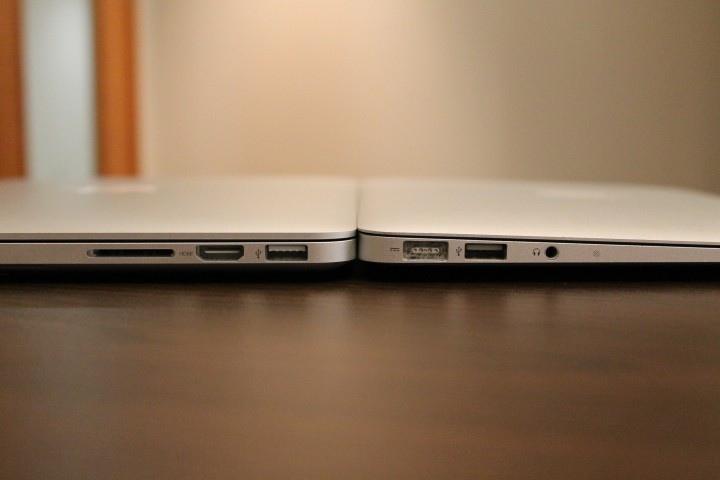 Unlike the non-Retina version, this laptop forgoes the 'MacBook Pro' logo written below the screen, leaving the bezel completely blank and with nothing at all to distract you from its beyond-HD resolution.
Above the screen is a 720p HD FaceTime camera, next to a green light to signal when the camera is on, and an ambient light sensor to automatically adjust the brightness of the screen and keyboard backlight.
If any evidence were needed, this laptop proves Jony Ive and his team at Apple are still leading the way when it comes to computer design.
MacBook Pro 13in with Retina Display: Connectivity
Aside from the Retina display, the biggest change between this model and the regular 13in Pro is the removal of the DVD drive.
After being described as a "big bag of hurt" by Steve Jobs, Apple never quite saw eye-to-eye with Blu-ray discs, instead opting to make its computers thinner and offer HD films and TV programmes to download instead.
Naturally, removing the disc drive is going to upset some users - photographers, for example, who sell their work on CD while out on location, or those who want playlists on CDs in the car - but as the post-PC era continues and more of our data is stored in the cloud, we can learn to live without discs.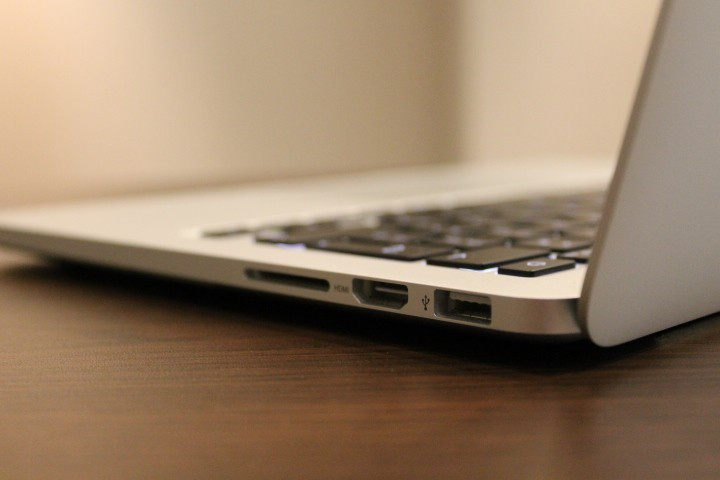 For those users who absolutely need a disc drive, Apple sells a portable USB one for £65.
In the disc drive's absence there is a USB 3.0 and full-size HDMI port on the right, next to a full-size SD card slot. On the left there is another USB 3.0 port, two Thunderbolt ports, a 3.5mm headphone jack, MagSafe 2 socket and a dual microphone setup.
We would like to have seen an extra USB port, as with just two it doesn't take long to run out of options. While setting up the laptop, for example, we had our iPhone and an external hard drive attached, leaving no space to copy something onto a thumb drive for a friend.
Of course Apple would tell us to wirelessly sync our phone from a network-attached hard drive, but not everyone has a setup like that yet, so another USB would be helpful.
It's a small complaint, perhaps, but if you work off an external USB drive all day and use the laptop to charge your phone, then there's nothing more you can do.
The two Thunderbolt ports can be used to hook up an external drive, but there aren't yet many on the market and they are expensive.
With a 10Gbps transfer rate, the Thunderbolt posts can be used to attach two of Apple's 27in displays, and once the technology has been adopted by more manufacturers we hope to see more Thunderbolt accessories on the market soon.
There's no Ethernet or FireWire ports on the 13in Retina Pro, so you'll need to fork out £25 each for the corresponding Thunderbolt adaptors.
Inside, the MacBook Pro 13in Retina has Wi-Fi N and Bluetooth 4.0.
MacBook Pro 13in with Retina Display: Hardware and Performance
Our review unit came with the basic 2.5GHz dual-core Intel Core i5 processor (with Turbo Boost up to 3.1GHz), 8GB of RAM and an upgraded 256GB solid state drive - the cheapest model gets 128GB of storage.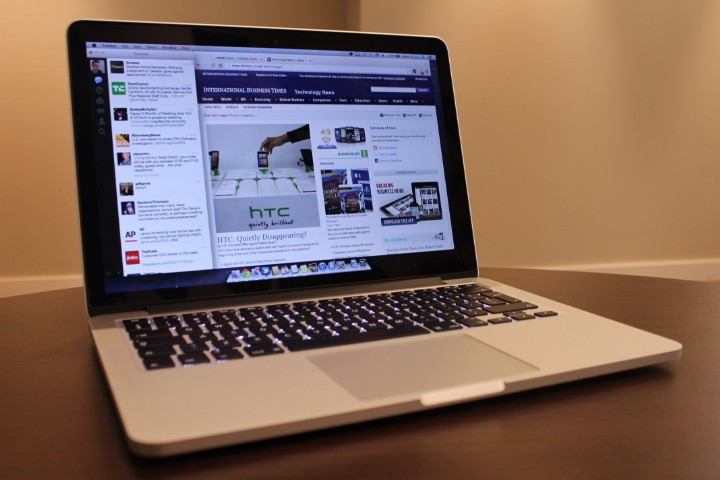 Both models of the 13in Retina Pro can be ordered with a 2.9GHz dual-core Intel Core i7 processor (Turbo Boost to 3.6GHz) for an extra £160, storage can be increased from the standard 128GB to 256GB (£250), 512GB (£650) and 768GB for an extra £1,050 if you have pockets deep enough.
Unlike the 15in Retina, RAM in this 13in model cannot be increased from the 8GB standard - this will be ample for most users, but those wanting 16GB with a 13.3in screen will have to look elsewhere.
Due to how the MacBook is manufactured, RAM and storage cannot be changed once you've bought the laptop, so if you're having doubts about whether 128GB of storage will be enough, the upgrade to 256GB could be worth the £250 investment.
Having said that, a further £350 on top of the basic 13in Retina Pro gets you the 15in Retina Pro, which has 256GB of storage as standard, an Intel Core i7 processor, discrete Nvidia graphics and of course the larger screen.
Back to the 13in model we have here, and the one glaring omission that caught reviewers' attention from the start is the lack of a dedicated graphics card. Instead, the laptop relies on the same Intel HD Graphics 4000 that the MacBook Airs have, but tremember this needs drive a far higher resolution display than the 13.3in Air's resolution is 1440 x 900.
In an attempt to make the MacBook trip up over itself, we played Real Racing 2 full screen, while streaming an HD trailer off the Apple website and watching an HD film off local storage in the background, importing and processing our 45,000-image iPhoto library and downloading in iTunes - and only then did the local HD film start to drop frames, accompanied with a loud hum from the fans.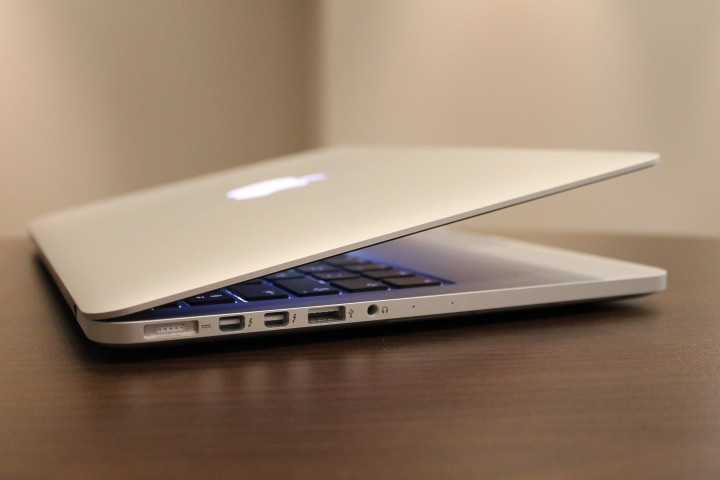 Repeating this process once iPhoto had finished processing resulted in everything running fine, leading us to be very impressed with how the Intel graphics coped, especially bearing in mind that Real Racing 2 is a Retina-optimised game designed to make use of all four million pixels the screen has to offer.
Sure, the 13in model here can't keep up with the 15in and its Nvidia graphics when it comes to intensive 3D gaming, but this isn't intended to be a hardcore gaming laptop, and for most other tasks it's flawless.
Away from graphic-intensive use, the 13in Pro Retina is an excellent machine, easily capable of keeping up with just about anything you throw at it, while still returning an impressive battery life.
We're sure the MacBook would match Apple's claim of seven hours on a single charge, although in a more realistic test environment - using the laptop at work for a day - we saw five hours and 40 minutes.
This was achieved with the screen at 75 percent brightness and around 10 tabs in Chrome open, along with Twitter, Mail and some other, less demanding apps.
One final note on performance; during our week with the MacBook Pro it would more often than not wake up instantly when we opened it, but sometimes the screen would flicker and go dark for three or four seconds.
It's not a major problem, as after this pause the laptop wakes up as normal, but there seems to be a small issue that needs to be ironed out, hopefully with a future firmware update.
MacBook Pro 13in with Retina Display: Retina Display
A slim design and reduced weight is all fine, but of course the selling-point of this MacBook is its Retina display, with a native resolution of 2560 x 1600 and pixel density of 227 pixels per inch.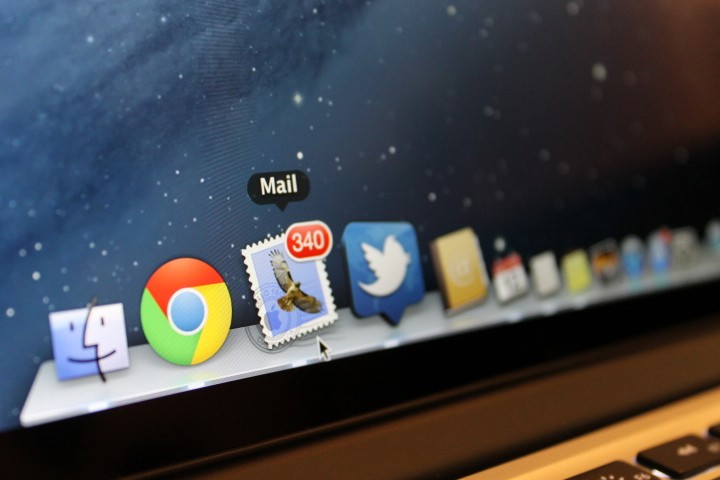 Because a resolution of 2560 x 1600 on a 13.3in laptop sounds absurd, Apple recommends 1280 x 800 as its 'best for Retina display' resolution. In this setting the user interface looks nothing short of incredible - just as it does with the 15in model - with text and icons having a roundness to them that you don't see on any other computer screen.
It's hard to put into words just how good this screen looks, and it's not just the number of pixels that is outstanding, colours are also excellent, with good saturation and deep blacks that aren't far off the display's black border.
But there is a problem, and that is applications and websites which not optimised for a Retina screen look blurry.
The official Twitter application, for example: While the text you write into a new tweet looks pin-sharp, the rest of the application - including your timeline, menu icons and everyone's profile pictures - is blurred.
It's not a catastrophe - everything is still readable - but in contrast to the surrounding operating system the Twitter app looks like it is out of focus.
The same is true for any website that don't have very high quality images and icons, but thankfully OS X does a good job of upscaling text so that it appears crisp. The problem is most noticeable on websites where the company's logo isn't high resolution, while the surrounding text is.
We've including a screenshot below of the Telegraph website to help explain the problem.
A bigger issue than websites appearing in mixed quality is that professional apps like Adobe's Create Suite are not yet Retina-optimised. Adobe said recently that updating Photoshop alone means replacing 2,500 icons and other engineering work that it hopes will be released as an update to customers before the end of the year.
RetinaMacApps.com has a full list of applications that have been updated to support MacBook Pros with Retina screens. The list includes Apple's pro apps like Aperture and Final Cut Pro, along with iWork, Microsoft Office and many more.
Like we said, blurry non-Retina apps are annoying, but unless it is impacting on your profession (as a non-optimised Photoshop may do) then it isn't a huge problem, and will be one that goes away soon, once Adobe and others release their updates.
As mentioned above, Apple recommends a resolution of 1280 x 900 for the best Retina experience, but we found 1440 x 900 to be better, as it offered almost the same sharpness but with extra screen space.
A resolution of 1680 x 1050 is also possible from the Displays section of System Preferences, but to our eyes this made text too small to be read comfortably, although two documents can be read side-by-side, which might be useful for some users.
As a test, we used the QuickRes app to take the screen all the way up to 3360 x 2100, but at this size regular text is just about impossible to read - if nothing else, it's a neat trick to show just how far a Retina screen can go, see below.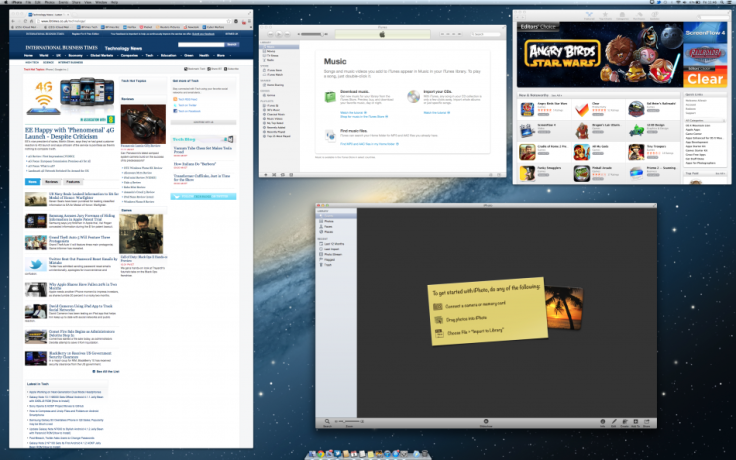 Finally, Apple has worked on reducing reflections and glare, so while the screen is still behind glass, you don't need to crank the brightness right up to overcome seeing yourself reflected in it.
MacBook Pro 13in with Retina Display: Keyboard and Trackpad
The 13in Retina Pro gets the same chiclet keyboard as every other MacBook, with its black plastic keys backlit and each sitting in their own hole in the aluminium chassis.
We found the keys to provide excellent tactile feedback - although slightly more travel would be nice - and they are very quiet, so typing in a meeting, for example, will be no problem.
Keyboard backlighting is automatic, thanks to the ambient light sensor hidden above the screen, or the F5 and F6 function keys can be used to increase or lower the brightness.
The trackpad is large, glass and incredibly quick to respond, while also being very accurate. As with all other modern MacBooks, there is multitouch so you can swipe between desktops with three fingers, or bring in your notifications panel by moving two fingers onto the trackpad from the right.
You can either tap the trackpad to click (adjustable in System Preferences), or the lower three-quarters of the glass surface physically clicks, and you can set the pad to recognise right-clicks in the lower-right corner, too.
MacBook Pro 13in with Retina Display: Verdict
If we're being honest, this is the laptop we really wanted to see when Apple announced it would be bringing its Retina technology to a bigger screen earlier this year.
We hoped that a 13in MacBook Pro with a slim aluminium chassis, jaw-dropping display and performance to match would be the perfect portable notebook, and it comes so very close.
But it's expensive. If you take the regular 13.3in MacBook Pro and give it the same processor, RAM and 256GB solid state drive as our Retina review unit, then the model with the better screen, no DVD drive and slightly less weight will cost you an extra £220.
Give the regular 13in Pro a larger but slower 500GB hard disk drive and that difference increases to an eye-watering £620 - that's the price you pay for the better screen, and smaller but faster solid-state drive of the Retina model.
Both of these technologies are still in their infancy and are, as such, hideously expensive - but this is merely a taster of what computers will be like in years to come. They'll have super-fast SSDs, more RAM than your iPhone has storage, and screen resolutions that make your new television look a decade out of date.
All of these technologies can be had today, with either of the Retina-screen MacBook Pros, but only if you're prepared to stump up the cash.
And if you do, then you'll have what is undeniably one of the best laptops on sale today. It may be lacking the graphical clout of the 15in model, but the extra portability makes it a worthy successor to the 12in PowerBook of a decade ago - and that was more than £1,500 too.
The 13in MacBook Pro with Retina display: Astonishing screen, beautiful design, powerful, portable and with a good battery life - the blueprint of what all future laptops should be like.
Scores:
Battery Life: 8/10
Design: 10/10
Performance: 9/10
Screen Quality: 10/10
Value: 7/10
Overall: 8/10
The Good:
Market-leading screen
Beautiful design
Good performance and battery life
The Bad:
Expensive
Not all apps or websites Retina-optimised
Heavier than expected