Apple 15in MacBook Pro with Retina Display Review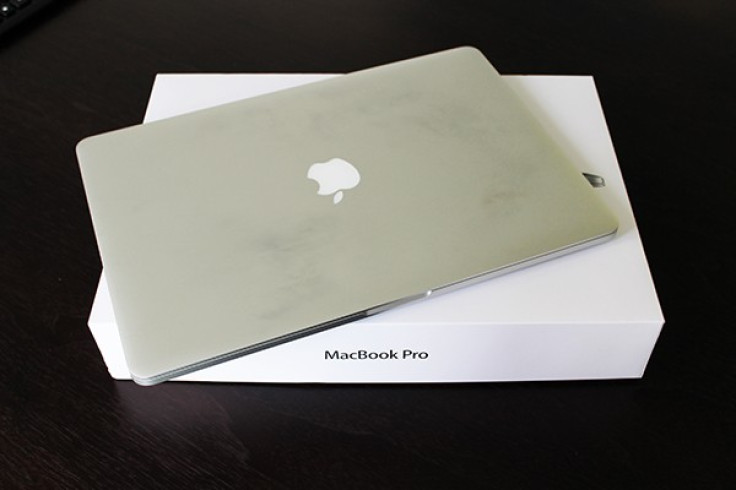 Key Features
15.4in Retina Display screen (2,880 x 1,800 resolution)

2.3GHz quad-core Intel Core i7 processor w/ 8GB RAM

Intel HD 4000 Graphics w/ 512MB RAM
Nvidia GeForce 650M
USB 3.0/Thunderbolt/SD Card

256GB SSD

Price as Reviewed: £1,799
Introduction
There is no point beating about the bush. The MacBook Pro (MBP) with Retina Display is simply the best laptop I have ever seen. It is beautiful, really well built, powerful and has a screen which is the best available anywhere on a laptop.
Apple changed the face of laptops with the MacBook Air and since then everyone else has been trying to play catch-up, with Ultrabooks only now managing to compete. Unveiling the MacBook Pro with Retina Display at WWDC in June, the technology giant has done it again, this time for more powerful, professional-level laptops.
Simply put, this is the best laptop money can buy. The problem is, you'll need quite a bit of that money to buy one.
£1,800 for the basic model is not an outlay most people will be willing to make, but for graphic designers, photographers or video production professionals, once they use the Retina Display, going back to a regular laptop screen will feel like regressing to the 19th century.
MacBook Pro: Design
To call Apple's MacBook Pro line-up of recent years bloated or heavy, would be crazy, but when you put them side-by-side with its line-up of ultraportable Airs, then they do look a little on the chunky side.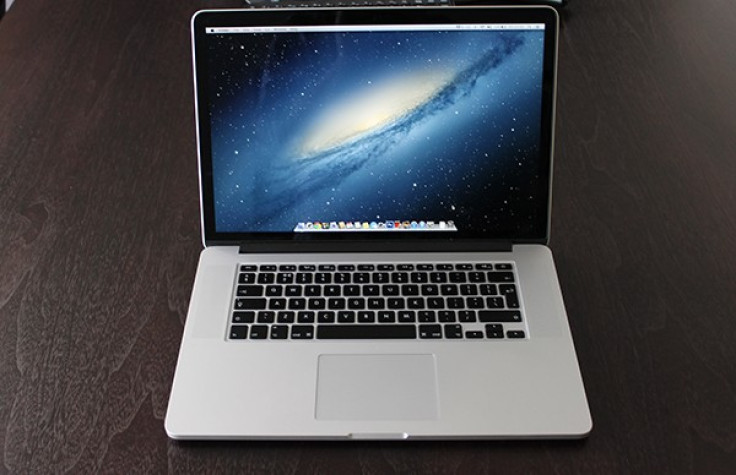 To remedy this, Apple has completely redesigned the chassis of this 15in MacBook Pro making it as thin as the thickest point of an Air and shedding half a kilogram from its weight.
This results in a beautifully slim, yet powerful, 15in laptop which has been hewn out of a single piece of aluminium and has the build quality we have come to expect from Apple.
Unlike the wedge-shaped Airs, the new MBP features a fully-flat design with a consistent 18mm thickness, which is the same as the thcikest part of a MacBook Air. The laptop's footprint is 359 x 247mm which is identical to the footprint of a 2011 17in MacBook Pro, all of which means that Apple has managed to slim down this new MBP by expanding its overall footprint.
Don't be fooled however into thing this is as portable as an Air. While I had no problem fitting the 15in MBP into my bag, you immediately notice how much heavier it is, compared to the lighter Apple laptop and prolonged carrying won't do your back any favours..
MacBook Pro: Connectivity
Another reason Apple has been able to slim down the new MBP is the omission of an optical drive and while some may bemoan its loss, you won't hear any complaints here. I can't even remember the last time I used a DVD or Blu-ray with a laptop.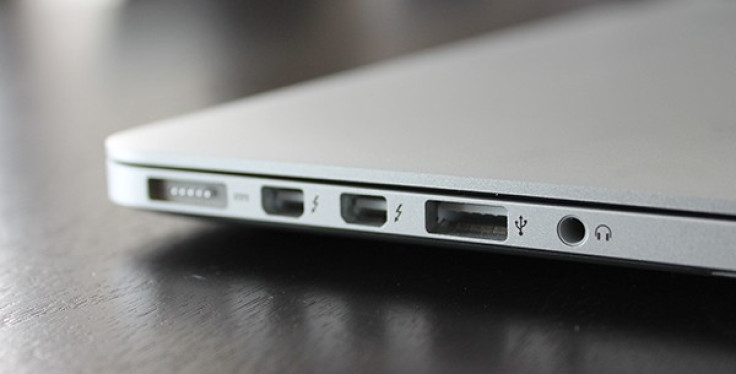 The slot-loading disc drive may be gone, but in its place are a couple of USB 3.0 and Thunderbolt drives - with one of each, on either side of the laptop. On the right-hand side you'll also find an SD card slot, while the left-hand side features a headphone jack and the redesigned MagSafe 2 port connection.
Apple said it redesigned the MagSafe connector in order to make the laptop slimmer, and it means you won't be able to use any old power bricks with these new laptops. But fret not, as Apple has an answer in the shape of the MagSafe to MagSafe 2 convertor, which can be bought for £9.
There have been reports online from some users that the MagSafe2 connection is not as secure as the original, but I found no problems in the time I was using the laptop and indeed found it to charge the 95-watt hour battery a lot quicker than we are used to.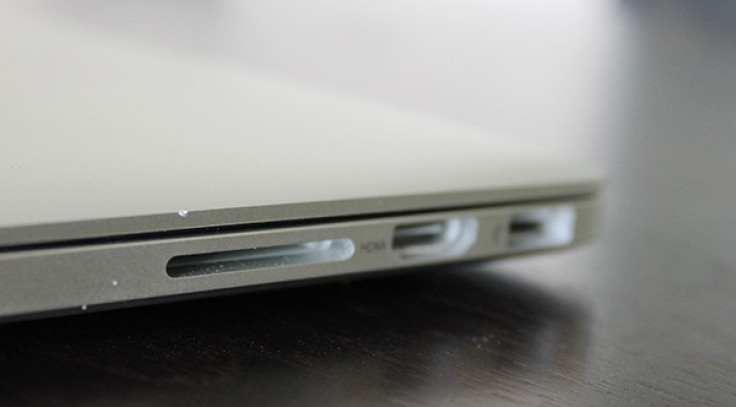 In terms of wirelss connectivity, the new Pro comes with the ususal combination of Wi-Fi N and Bluetooth 4.0.
MacBook Pro: Hardware
Apple is seen by some as being all style and no substance, running older hardware in its shiny laptops compared to some of its Windows-powered competitors. With the new MBP however, Apple is at the cutting edge, offering the latest, third generation Intel Core chips, codenamed Ivy Bridge.
My review model came with a quad-core 2.3GHz Core i7 chip, backed up with 8GB of RAM. In terms of graphics, this model features Intel's in-built HD 4000 Graphics which has 512MB of dedicated RAM and when more grunt is needed, Nvidia's GeForce 650M card with 1GB of RAM kicks in.
Apple has included the GeForce 650M as standard across all its MacBook Pro range, making sure you can handle pretty much anything you can throw at it.
However as this is a professional standard laptop, those looking to carry out some CPU and graphically intensive work, will want to upgrade and Apple offers a decent selection of power boosts - though at a high price.
You new MBP is upgradeable to a quad-core 2.7GHz Ivy Bridge processor and 16GB of RAM.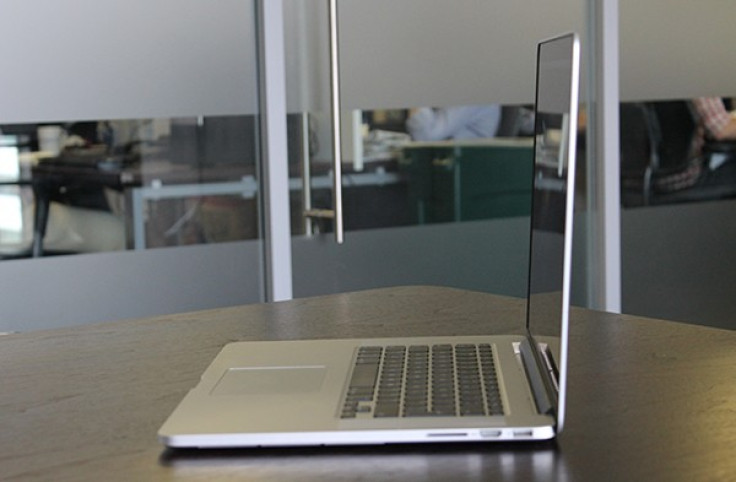 Which of these upgrades, if any, you need, will depend entirely on what you will be using the MBP for.
The keyboard and touchpad are areas where Apple has previously excelled and there is no change here. The touchpad is among the best available, and the multi-touch gestures make navigating the sytem a breeze.
The backlit, chicket keyboard is also a delight. The key are well spaced, and offer sufficient travel and feedback to allow you to touch type at speed. Apple has decided to integrate the power button into the keybard, instead of having it sitting alone on the top right-hand edge as in previous models.
MacBook Pro: Performance
The review model I was looking at comes with the basic configuration and, for the most part, this was more than adequate.
Everyday work like web browsing, word processing and light photo-editing presented no problems to this powerful machine. Navigating around the system feel seamless, thanks in part to the touch gestures which were first seen in Mac OS X Lion.
Multi-fingered swiping and pinching lets you switch between full-screen apps and bring up LaunchPad quickly and easily. While it can be confusing at the beginning, once you are used to the system it works brilliantly.
I tested out the gaming credentials of this machine using Diablo 3. The reason I chose this game was it is one of the few which has been optimised for the Retina Display (that and the fact I wanted a legitimate excuse to play it at work.)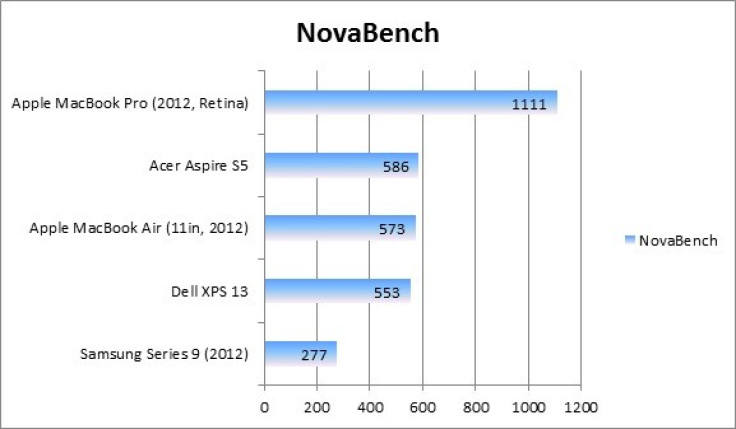 Obviously when playing a game like Diablo 3, the MBP automatically switches to using the dedicated Nvidia graphics card, especially after setting the resolution to 2880 x 1800 and the rest of the settings to high.
Everything played smoothly and without a glitch - and it is safe to say that Diablo 3 on the Retina Display makes playing it on any other screen a huge let down.
That said, powering up Diablo 3 with these settings is likely to annoy anyone sitting within a 50m radius of you, as the laptop's fans whirr into action almost immediately and stay that way as long as you are playing.
And the fans don't help much with keeping the Macbook Pro cool, as it heats up considerably when churning out the huge amount of pixels needed, and even in more sedate states, we noticed a definite warming of the aluminium casing.
Of course, pushing that many pixels will do horrible things to your battery life and I was lucky to get much over 90 minutes of gaming away from a socket.
In general, battery life was decent if nothing spectacular. You will just about get through a working day of light use, but doing anything more intense will bring the battery life down to around five hours - which given the quality of the screen and reduced chassis size is what is to be expected.
MacBook Pro: Retina Display
While Apple's achievement in slimming down the MBP and shedding some pounds is to be applauded, all the headlines have gone to the Retina Display - and rightly so.
I couldn't wait to see this new Retina Display, so ahead of getting the review unit into the office I headed to the Convent Garden Apple Store to get a look at this ground breaking screen. I was expecting to be blown away, expecting a quantum leap in screen technology that would render my eyes useless for every other screen.
This didn't happen. I wanted to see the difference but it wasn't immediately obvious to my eyes. I left the store a little deflated and so when the MBP landed on my desk I wasn't as excited as I expected to be.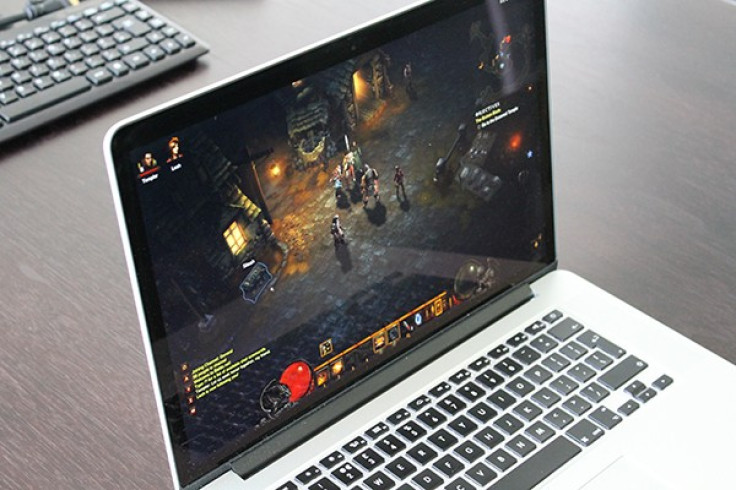 However, the minute I put the Retina Display next to the regular screen of my 17in MacBook Pro the difference was immediately obvious. Everything is ridiculously sharp, and even the smallest of fonts are legible.
With a resolution of 2,880 x 1,800 and a pixel density of 220ppi (compared to 264ppi on the iPad 3) it is virtually impossible to discern individual pixels, making the screen look like a glossy printed page of a magazine.
The problem however, is the lack of support at the moment for the Retina Display resolution. Only a handful of Mac OS apps have been configured for it (such as Final Cut and the aforementioned Diablo 3) but more are coming and its hardly Apple's fault for developer's playing catching up.
What is Apple's fault however is failing to provide native Retina Display resolution for Mac OS X. No, you didn't read that wrong, Mac OS X will not display at 2,880 x 1,800. The highest you can go in the settings is 1,920 x 1,200 with Apple defaulting to a "Best for Retina" setting of 1,440 x 900.
This "Best for Retina" setting is half the full resolution of the screen, meaning everything doubles nicely to the Retina resolution. This is a shame and made all the worse when you realise that Microsoft has enabled this resolution in Windows 7.
Another issue, again not Apple's fault as such, is that the internet now looks terrible on a 15in Retina Display. Website images which look great on a traditional screen, are now blurry and fuzzy. While zooming out will help this, that makes reading text a nightmare.
This will in time change, particularly for the bigger sites, but we can't see website going back to retro fit Retina-quality images to older pages, meaning the problem will remain for some time to come.
MacBook Pro: Verdict
As I said at the top, this is the best laptop I have ever used. It is beautiful, immaculately designed and has a phenomenal screen.
Yes the base model does cost £1,800 but you can touch and feel every single pound of that - in the construction, the quality of materials used, the design and when using the laptop.
That said, I would not recommend anyone buy one of these laptops unless: A - they have more money than they know what to do with or B - they need a powerful laptop for work, for the likes of photo- or video-editing.
Logically, everyone else should look at a Samsung Series 9, Dell XPS 13 or a MacBook Air as these all offer decent power and portability, for a lot less money.
The problem for some people is, when it comes to Apple products, all logical thought goes out the window and the MacBook Pro with Retina Display is unlikely to change this behaviour.;
Scores:
Overall: 10/10
Battery Life: 8/10
Design: 10/10
Performance: 10/10
Features: 9/10
Screen Quality: 10/10
Value: 8/10
The Good
Beautiful design
Sensational screen
Great keyboard/touchpad
The Bad
Expensive
Mac OS X not Retina-optimised
© Copyright IBTimes 2023. All rights reserved.