Con artists have found a new way of making money – tricking Apple's artificially intelligent assistant Siri into playing 'scam' songs on Apple Music that are named after common Siri search requests.
Jon Bottarini, an information science and technology student at the University of Arizona in the US, has said in a post on Medium that he was using his iPhone to ask Siri how to write a letter of recommendation. He said the words "Play how to write a letter of recommendation", we assume hoping that Siri would locate a related YouTube video tutorial.
As Bottarini has Apple Music enabled on his iPhone, instead of bringing up search results for his request, to his surprise Siri opened the music app and started playing a two-minute-long house music track it had found on iTunes entitled How to Write a Letter of Recommendation credited to 'Average electronic producer & DJ Pulsar'.
Apple Music is a monthly subscription music-streaming service costing £9.99 a month ($9.99 in the US) that aims to combine your own MP3s with tracks you've purchased on iTunes, as well as offering internet radio stations, offline listening, expert-curated playlists, and a social network and blog platform for artists to communicate with their fans.
Every time an iTunes track is streamed over Apple Music, the artist is paid 71.5% of the revenue earned in the US and around 73% of the revenue outside the US, Apple executive Robert Kondrk explained to Re/code in June 2015. Rival streaming service Spotify gives artists around 70% of the revenue earned from each track streamed, it was stated in the same article.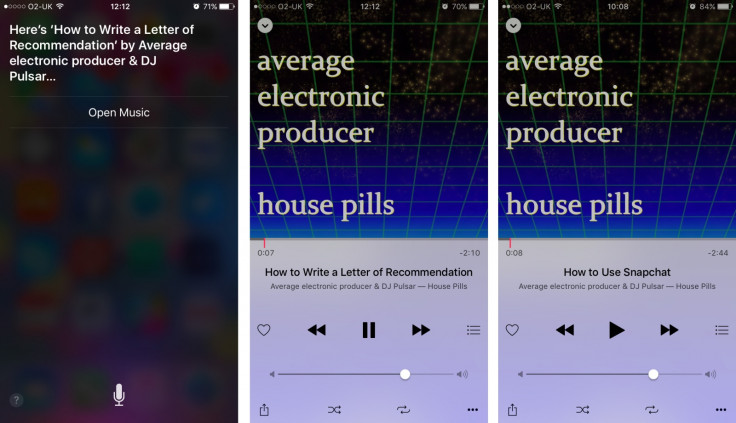 Strange track names designed to be picked up by Siri
IBTimes UK carried out its own investigation, and we were able to replicate the results. It turns out that 'Average electronic producer' has two music albums available on iTunes: House Pills and Canada Dark, each costing £7.99 to download the album or £0.79 for each track.
House Pills contains 17 mp3 tracks of house music with titles such as How to Use Snapchat, How to Upgrade to Windows 10, How to Get Rid of Stress and the aforementioned How to Write a Letter of Recommendation, as well as titles themed after commonly searched-for movies such as Zoolander and Deadpool.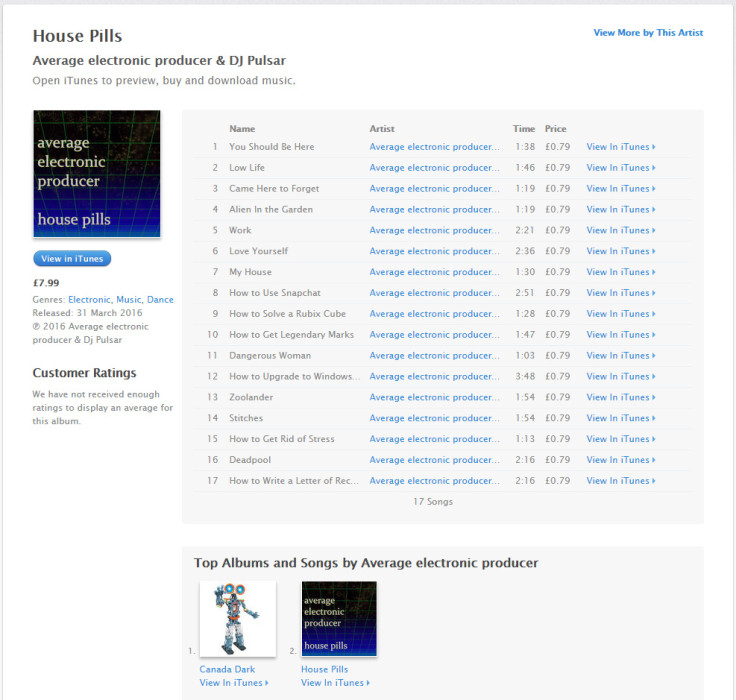 There are also tracks named after popular songs by actual music artists, such as Dangerous Woman (Ariana Grande), You Should Be Here (Kehlani), Love Yourself (Justin Bieber) and Came Here to Forget (Blake Shelton), but it appears the artist has only used the name – the tracks in question are just random snippets of generic house music with no vocals that last between one and four minutes.
A casual Google search showed that 'Average electronic producer' is running a similar scam on Spotify, but since no one uses Spotify to search for web requests, we assume this is what the music tracks named after popular songs are intended for. Meanwhile, 'DJ Pulsar' actually seems to be a real artist in Australia, but his official website and SoundCloud page makes no mention of the House Pills album or the tracks listed on iTunes.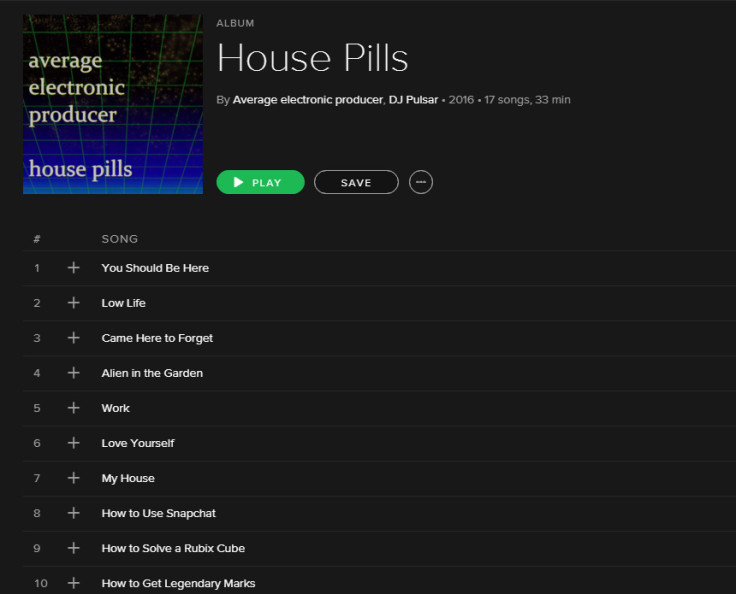 The only song that seems to be replicated from somewhere else is the track How to Use Snapchat, which is a copy of Meet by DJ Pierre Matisse feat. M Caroselli, who has a YouTube channel populated by music distribution company called Awal Digital that distributes music for members of Artists Without a Label such as Die Antwoord. Other than that, DF Pierre Matisse feat M Caroselli has no online presence at all – no Facebook page, SoundCloud or website.
"From what I can make out of it all , it seems like a case of people try to toy with Apple's Siri feature and bank off the fact that people, like me, are going to accidentally stumble upon the mass-produced songs — and then get paid a royalty for each song play," Bottarini writes.
"I can't imagine it's very much — but it has to be paying something, considering there are so many songs published by this single fake artist ."
IBTimes UK has contacted Apple and Spotify for comment about the issue and is waiting for a response.