Apple has filed a patent application which would allow wireless charging in its portable devices .The patent application titled "Active Electronic Media Device Packaging", describes an active packaging which would allow in supplying power, data or both to electronic gadgets while the devices are housed within the active packaging.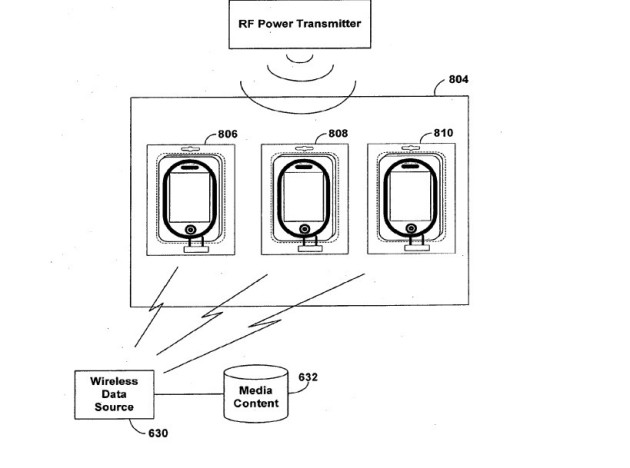 Probably, the tech giant could ensure the boxed devices to remain charged within the packaging via RF power transmitter or an external power. The electronic media devices could include at least one electronic element. It could comprise iPod, DVD players, iPhone, video camera and Personal Digital Assistant (PDA). Power could be transmitted through one or more wireless techniques or by a direct power connection to an external power supply. Moreover, the active packaging could include at least one antenna to receive RF signal from an RF power transmitter. It could be an external antenna or incorporated within the packaging. The RF power transmitter could result an amplified continuous wave (CW) or pulsed RF signal.
The electronic gadgets could include POM sensor. POM sensors, which are incorporated with or attached to the device, could detect several movements. For instance, it could contain single-axis or multi-axis accelerometers, motion sensors and more. Once the device is powered, one or more POM sensors can detect the direction of the electronic media device.
According to CNET, when the gadgets are charged they can be powered on to a display content which is similar to how a television will look on display at a retail store. It describes a feature that is able to determine which package is in front of the stack.
According to AppleInsider, the purpose of using a packaging system is to receive the wireless power would avoid the need for the device to be recharged wirelessly. The new system would allow Apple to include software updates directly in the store, even when the product is sealed.
The patent application was published by US Patent and Trademark Office on 5 April, which was filed on 12 December 2011 by Apple. The credit is given to Michael Rosenblatt .