Apple has been developing a handsfree iOS control to be mounted on a car steering wheel, according to a patent design released this week detailing the scroll wheel-inspired device.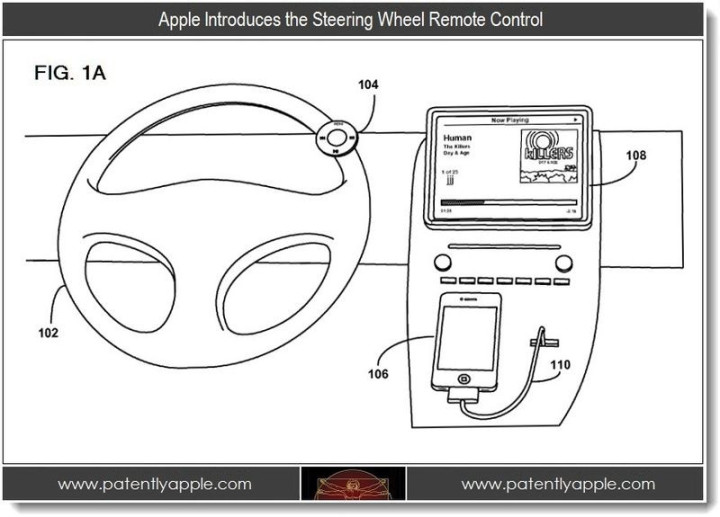 Borrowing its design from the iconic iPod scroll wheel - now only seen on the iPod classic - the steering wheel-mounted device wirelessly connects to an iPhone or iPod touch to offer control of music playback without distracting the driver from the road.
The patent came with 20 others in a recent release by the US Patent and Trademark Office and is surprising, as we'd have thought Apple would be investing in voice controls through Siri to handle handsfree track-skipping while at the wheel.
The device is described as being touch sensitive as well as rotatable, while an adjustable clip on the back ensures it can be fixed to steering wheels of varying thickness.
In car entertainment manufacturers have offered iPhone and iPod integration for some time, but many simply output the music, rather than offer control through the car's interface, Patently Apple explains: "Some in-vehicle entertainment systems don't include the control functionality but rather only output information provided by the portable media player.
"In such in-vehicle entertainment systems, the user has to control the portable media player using the controls on the portable media player itself... Such distraction can be dangerous and can lead to accidents."
Although the patent was originally filed in the first quarter of 2011, we can't see this device becoming a reality with Siri tipped to be getting some love from app developers later this year, thanks to the anticipated release of APIs at WWDC next month.
With the release of Siri APIs, we're hoping to see developers from TomTom and others add voice inputs to their apps, providing a way of interacting handsfree with your iOS device while driving - and without the need for a one-size-fits-all steering wheel mount.
Apple has a habit of filing many patents for products that will never see the light of day, but act as a way of protecting its intellectual property in case certain elements of a design come in use years down the line.
Just this week, Apple's dispute over patent infringement with HTC has led to the One X and Evo 4G LTE smartphones being held by US customs indefinitely, causing stock shortages across America.