Apple is set to launch the iPhone 5S, iPhone 5C and the final version of iOS 7 at an event in its California headquarters.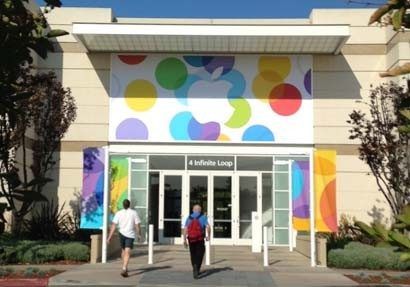 Apple has begun decorating its own campus in Cupertino where a media event will kick off on Tuesday evening at 6pm UK time, ­where the technology giant is widely expected to launch two versions of its hugely popular iPhone smartphone.
Colourful banners have been erected at Apple's Town Hall venue at 4 Infinite Loop in Cupertino which reflect almost exactly the media invite sent out last week. The banners show a series of colourful dots, which on the invite were accompanied by the tag line:
"This should brighten everyone's day."
The colourful image almost certainly relates to the iPhone 5C, which is widely reported to come in a range of colourful cases, similar to the iPod nano.
Debating
The iPhone 5C is said to be a cheaper version of the iPhone, featuring a plastic case and lower specs than the flagship iPhone 5S which is also set to be launched on Tuesday.
The iPhone 5S is set to be very similar to the current iPhone 5 model,
Analysts have been debating how much cheaper the iPhone 5C could cost, with some arguing that an iPhone costing less than $300 would be tough to sell to US carriers who already offer the iPhone 4 'for free' on contract.
However if Apple is looking to make gains in poorer, developing countries then an iPhone costing over $400 will mean the iPhone 5C will remain out of the reach of most customers in those countries.
China
One of the most interesting aspects of this iPhone launch will be the possible announcement of a deal between Apple and China Mobile, the world's largest mobile phone operator with some 740 million customers.
Currently no iPhone model is available through the operator which is mainly due to previous iPhone models not supporting the China-specific 3G network used by China Mobile. Apple is holding a media event in China for the first time, which has added weight to the rumours, which began when Tim Cook visited China in July.
Apple is also expected to announce a deal with Japan's largest operator NTT DoCoMo which will give it another boost in sales in the coming quarters.
Cook and Apple are coming under increasing pressure from shareholders to reverse the downward slide in the company's share price which has seen an almost 30% drop since hitting a high of $702 last September.
A tall order
Apple has lost its position as the number one smartphone platform to Google's Android operating system, with the iPhone seen as a premium product, Apple will be hoping that a cheaper iPhone will help expand its reach into the mid-range market - though the budget market is still going to be well out of its reach.
"Apple needs to demonstrate in the coming months that it has other product lines which can start to make up for slowing growth and falling margins in (the) iPhone and iPad," said Jan Dawson, chief telecoms analyst for Ovum Research.
"That's a tall order."
Apple is also coming under fire from fans to come up with new and innovative products and while there are numerous rumours about products such as an Apple smartwatch (the so-called iWatch) and Apple television set (iTV), we are unlikely to see either of these announced this week.
What will be unveiled however is the final version of iOS 7, which was first unveiled to developers back in June at the company's Worldwide Developer Conference. The updated software is the most radical redesign of its interface since it launched back in 2007, and the new look is down to Sir Jony Ive, who took charge of the mobile software last year following the sacking of Scott Forstall.
Read more: