Apple has today released iOS 5.0.1, a software update that will hopefully fix the poor battery life that some iPhone users have been experiencing.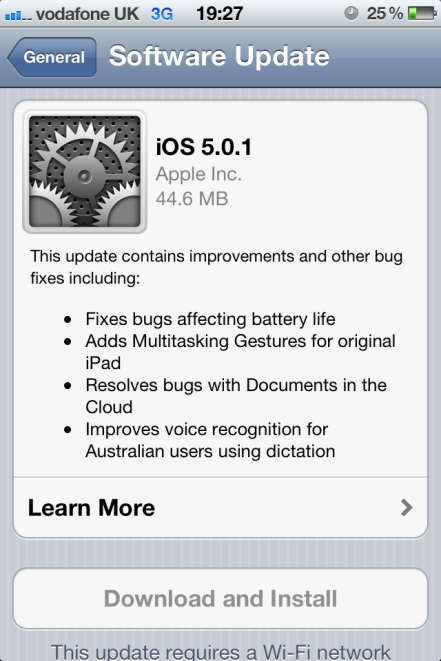 Many users have noticed poor battery life after upgrading to iOS 5, released last month alongside the iPhone 4S, and blame was put on the location-based services, which would check the phone's location and time zone frequently, dramatically reducing battery life.
Users will hope that iOS 5.0.1 fixes these battery life problems, and also a less common bug affecting the camera app shortcut on the Home screen, which was causing issues for some.
The update also brings four- and five-finger multitouch gestures to the original iPad, where a swipe sideways switches between running apps, a swipe up reveals the multitasking bar and a 4-fingered pinch returns users to the Home page.
iOS 5.0.1 is available via a download through iTunes, and also through an over-the-air upgrade, a new feature of iOS 5 which means that iPhones, iPads and iPod touches can be updated wirelessly over 3G or Wi-Fi, without the need to plug into a computer. The over-the-air update is reported to be around 40-55mb in size, and here at the IBTimes our update was 44.6mb.
Apple states that iOS 5.0.1 contains updates and bug fixes, including:
Fixes bugs affecting battery life
Adds mulititasking gestures to original iPad
Resolves bugs with documents in iCloud
Improves voice recognition for Australian users using dictation