Apple and Samsung have had to reveal the sales figures for smartphones and tablets during their patent trial in California, as the tension between the two sides boils to the surface in front of the jury.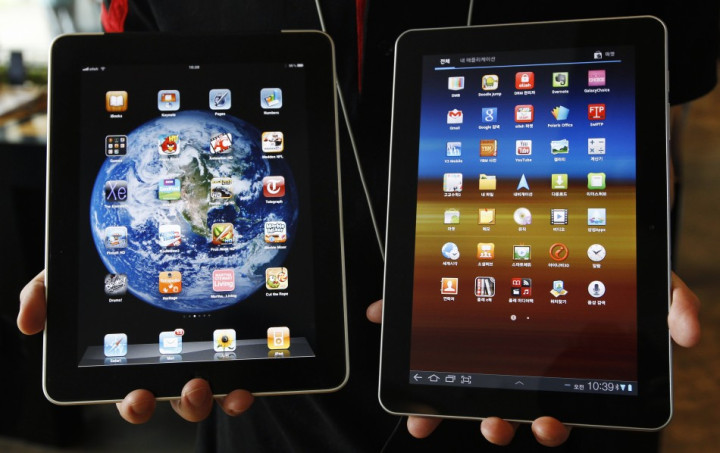 With so much at stake, it was inevitable that the tension between Apple and Samsung would eventually boil to the surface during the patent trial currently taking place in California.
As week two of the historic trial comes to a close, Samsung lawyer John Quinn - who has already incurred the wrath of Judge Lucy Koh once during the trial - mentioned in front of the jury a pre-trial order blocking sales of certain Samsung products.
"That was improper," said Koh.
"I apologise, your honour," Quinn responded.
"I have a difficulty believing that was not intentional," said the judge.
Judge Koh had made it clear ahead of the trial beginning in San Jose that neither side was to mention the sales bans relating to the Galaxy Nexus smartphone and the Galaxy Tab 10.1.
The issue came about when Quinn was attempting to block Apple lawyer Bill Lee from presenting a document to the jury. As he argued his case to the judge, Quinn slipped in the reference to the ban in front of the nine person jury.
Last week Quinn drew the ire of Koh when he released to certain media outlets information that the judge had denied him permission to show the jury. The information related to the F700 smartphone which Samsung says would have shown it was designing phones similar to the iPhone before the original iPhone was launched in 2007.
Apple claimed that Samsung were attempting to "pollute the jury" and Judge Koh asked for a full explanation from Quinn. In a document filed with the court, Quinn took full responsibility for the release, saying the information was already in the wild, having been reported by several publications.
Apple asked the court to punish Samsung for its actions, but the Judge decided against imposing any sanctions, but warned: "I will not allow any theatrics or sideshow distract us from what we are here to do."
The latest slip by Quinn will only serve to heighten the tension between the two parties and the court.
Sales figues
Both parties were also forced to reveal smartphone and tablet sales in the US, with Apple revealing iPhone sales since 2007 and iPad sales since 2010. Samsung only had to reveal information relating to smartphones accused of patent infringement by Apple - which amounts to 23 smartphones and three tablets.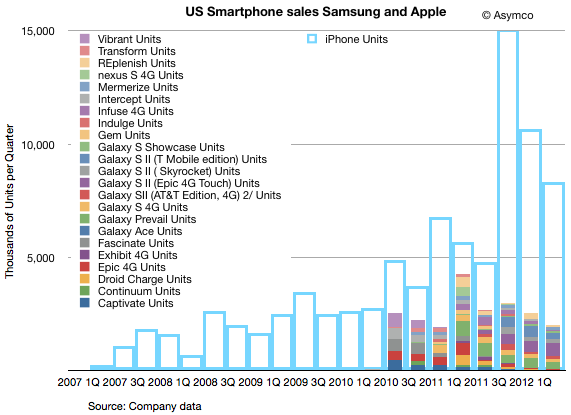 Thankfully, Horace Dediu at Asymco has put all the information into graphical form for us, so we can see how the two companies stack up against each other in terms of sales. It is clear that despite Samsung's huge range of smartphones, it is struggling to compete with Apple's iPhone and iPad.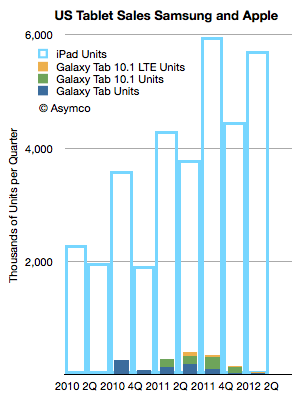 Seminal moment
This trial is seen as a seminal moment in the history of the mobile phone, with success for Apple having widespread implications for Samsung as well as many other smartphone manufacturers. Apple is seeking $2.5bn in damages from Samsung but, more importantly, will be looking to get Samsung smartphones banned from sale in the US.
Samsung claims it did not "slavishly copy" the look and feel of the iPhone and iPad when designing its Galaxy range of smartphones and tablets. Apple began presenting its evidence first, and the jury has already heard from a number of interesting witnesses.
The jury heard evidence from former Apple industrial designer Chris Stringer, who said a group of 15 or 16 designers will sit around a kitchen table discussing various aspects of the design of a range of Apple products. "We'll sit there with our sketch books and trade ideas," Stringer said. "That's where the really hard, brutal honest criticism comes in."
It has also head from Apple's senior vice president of worldwide marketing Phil Schiller, who revealed that Apple spends a huge amount on advertising the iPhone and iPad in order that people recognise the products.
He said Apple had spent $647m on iPhone advertising since it launched in 2007 and $457m on iPad marketing in the last two years.
"If you're driving down the highway 55 miles an hour, you have a split second to see a phone on a billboard," Schiller said. "If it looks very, very similar and is copied, whose phone was that?"
Apple has also called Susan Kare to the dock this week. Kare is a former Apple employee who designed some of the original Mac icons and was called as a paid witness. She said that the similarities between the application screens of Samsung smartphones and the Apple iPhone are "beyond coincidental."
According to an internal email, which has been brought to light by Apple lawyers, Samsung's Head of Mobile JK Shin said: "All this time we've been paying all our attention to Nokia, and concentrated our efforts on things like Folder, Bar, Slide,"
Shin goes on: "Yet when our UX is compared to the unexpected competitor Apple's iPhone, the difference is truly that of Heaven and Earth. It's a crisis of design."