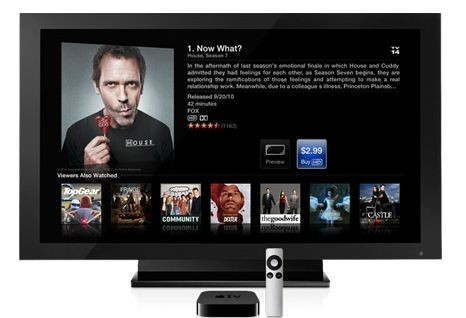 Rumours of an Apple television have done the rounds before and resulting in nothing more than the Apple TV set-top box, that Steve Jobs referred to as "a hobby" after it sold badly.
A second generation model, slimmed down and given iOS with a sub-£100 price raised the bar, but not nearly high enough to satisfy the rumour mills, who demand a feature-packed Apple television.
With it emerging from Steve Jobs' biography that the former CEO had "finally cracked" how to create a television set, stating that "it will have the simplest user interface you could imagine" Jobs had clearly thought long and hard about the future product.
An Apple television would undoubtedly follow the same design as the current LCD Cinema Displays, with their black glass bezels and aluminium backs, and feature something similar to the iOS software found in the Apple TV.
At its heart, as with all of Jobs' creations, an Apple television would be simple to use, stylish and interact fully with other Apple products. The television would connect over Wi-Fi or Ethernet to iCloud for access to the user's entire iTunes and iPhoto library.
The company may even go as far as to not include a hard drive, instead relying entirely on the cloud, or other devices on the same Wi-Fi network, for digital content.
With using iOS, the user interface would be familiar to anyone who has used an iPhone or iPad, and probably offer support to use an iDevice as a remote using Apple's Remote iOS application. Incorporated in this television/iDevice link would be the ability to stream content from iPhone or iPad to television.
Streaming would not just be music and films, but games too, which could be controlled with an iPhone but displayed on the Apple television.
Apple television would of course be tied into the iTunes Store and AppStore, allowing content to be purchased ad transferred to iCloud for viewing on any device, and this would open the door to developers, who could create television apps.
Siri - the voice-controlled personal assistant on the iPhone 4S - could feature in the Apple television, letting users find films and TV shows by saying the title, or director's name, for example. Siri could also provide an easy way to conduct internet searches, check the weather and incorporate a social aspect into the television. Leave comments on a friend's Facebook wall by saying it out loud.
Imagine you're watching a film and want to tell your friends about it. With Siri you could update your Twitter or Facebook status, which would include a link to the iTunes Store where the film could be purchased.
No one is expecting an Apple television to be cheap; with the current 27 inch Cinema Displays costing £899, a television would certainly be more than £1,000 and be in the 40-50 inch size range. Apple never pretends to sell anything less than premium products, and as a result the Apple television would not be a mass-market product, instead rivalling Bang & Olufsen in the high-end TV sector.
Of course, this is all speculation, but seeing an Apple television in some form next year or early 2013 is certainly a possibility- something Jobs was seemingly on the brink of achieving before his death earlier this month.