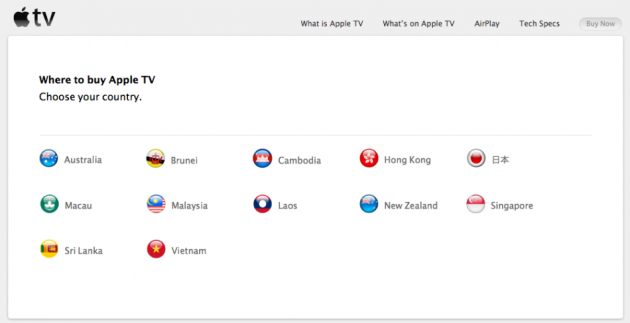 Following its launch of iTunes App Store across 12 new Asian countries, Apple has unveiled Apple TV in nine of these countries.
Earlier on Wednesday, Apple launched iTunes App Store in 12 new countries across Asia including Singapore, Hong Kong, Taiwan, Brunei, Cambodia, Laos, Macau, Malaysia, Philippines, Thailand, Sri Lanka and Vietnam.
As revealed in the screenshot below, the third-generation Apple TV is available in Singapore, Hong Kong, Brunei, Cambodia, Laos, Macau, Malaysia, Sri Lanka and Vietnam. In Singapore, Hong Kong, Malaysia and Vietnam, Apple TV is sold through Apple's online stores. However, since the remaining countries - Brunei, Cambodia, Laos, Macau and Sri Lanka - do not have an Apple online store, Apple TV will be available for purchase through resellers.
According to iPhone Hacks, Apple TV features on the iTunes home page of these countries confirming its launch. Barring India, all other major Asian countries can download music content - both local and international - from iTunes App Store. Featuring an archive of more than 20 million local and international high-quality songs, the iTunes Store makes a good source for music lovers. You will need to download at least iTunes 10.6.3 to be able to access iTunes Store. Indian music lovers are required to wait a bit longer to be able to buy music from iTunes Store as it is not accessible in India at the moment.
Recently Apple launched its App Store across 32 new countries including Laos, Malawi, Nepal, Tajikistan, Bhutan, Sierra Leone, Liberia, Cambodia, Zimbabwe, Fiji, Cape Verde, Swaziland, Ukraine, Gambia, Solomon Islands, Kyrgyzstan, Turkmenistan, Benin, Seychelles, Burkina Faso, Micronesia, Guinea-Bissau, Mozambique, Sao Tome e Principe, Albania, Papua New Guinea, Congo, Palau, Chad, Namibia, Mongolia, and Mauritania. App Store is currently available in 155 countries.