As the Apple vs Samsung patent infringement trial rumbles on, Tuesday saw a senior designer from the South Korean company claim she did not copy Apple when creating the Galaxy smartphones and tablets.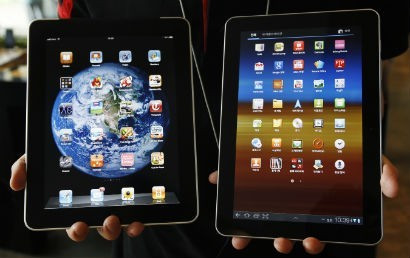 Senior user experience designer Jeeyuen Wang is the first Samsung employee from the company's South Korean headquarters to speak at the trial in person and said, through an interpreter, "not at all" when asked if she copied Apple's iOS icons.
Specifically, she was asked about the phone icons used by Samsung's Galaxy phones and its likeness in design and colour to Apple's icon on the iPhone, but explained that many icons were considered before settling on the traditional phone, as the company thought that would work best with users.
Apple rested its case on Monday and it is now Samsung's turn to try and convince the nine-person jury that it has not infringed on Apple's patents - and that these patents should not have been granted to Apple in the first place.
Additionally, Samsung is hoping to prove that Apple's products infringe on some of its patents.
Speaking about the design and development process of the original Samsung Galaxy S smartphone, Wang said that there were hundreds of designers from different parts of the company working on the device.
"I slept perhaps two hours or three hours a night. That was about it," Wang said, adding that she had recently given birth at the time and couldn't breastfeed regularly because of time demands with working on the upcoming phone.
Cross examination
Under cross-examination by Apple's lawyers, Wang was questioned about internal Samsung documents that compared icons the company used with those on the iPhone.
After further questioning, Samsung's lawyers had Wang say again that she was working to create icons specific to Samsung, and she believed that all designers were trying to create icons that were simple and not confusing to users.
Moving on, Samsung then played a recorded testimony of Roger Fidler, who created several prototype tablets for displaying an interactive newspaper.
Considered to be mockups rather than finished products, these prototypes have design features resembling the iPad, such as a lack of physical buttons, a large touch screen, black bezel and a rectangle shape with rounded edges.
Samsung then called Itay Sherman forward as an expert witness - Sherman is CEO of multitouch company DoubleTouch and was called to contend that Apple's design patents should be invalidated.
Invalidated
Sherman believes they should be invalidated because of existing prior art - he refers to a Japanese design patent that resembles the iPhone, but was issued on 6 June, 2005, before Apple announced its smartphone.
The witness explained that both designs show a rectangular device with rounded corners and a lozenge-shaped earpiece at the top, and added that the Japanese patent should invalidate two of Apple's iPhone-related design patents because it "renders both of these designs obvious."
Sherman explained that using a rectangular-shaped screen - and therefore device - is the only obvious choice for a smartphone or tablet, as that is the best way to view films and web pages; he does not believe that Apple should be able to patent the use of a rectangle shape with rounded corners.
Under cross-examination Apple's lawyers point out that Sherman is an electrical engineer and not a designer.
Arguing that the iPad's design is not obvious and not the only way to present such a tablet, Apple showed the jury a Sony tablet design that uses a rectangular display and rounded corners, but does not look like an iPad because of its teardrop shape.
Finally, Apple's lawyers pointed to a slide of Samsung smartphones from 2008 and 2009 that look different from the iPhone and later Galaxy devices, to show that Samsung itself have designed phones which didn't follow the same formula.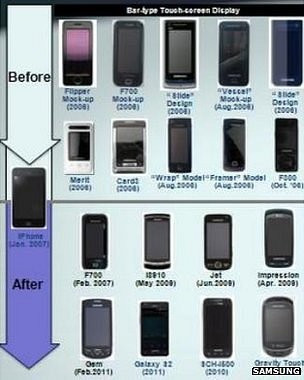 The trial continues.