Apple estimates that Samsung owes it up to $2.75bn (£1.75bn) in damages to cover lost profits from infringing patents, as it claims more than a quarter of Samsung's $30.4bn US sales over two years came from infringing products.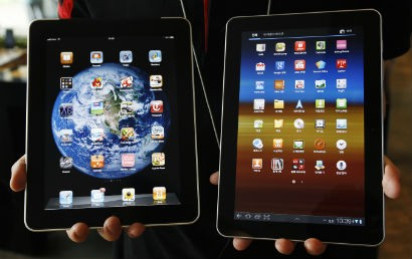 As Apple wrapped up its evidence in the San Jose courtroom, it called accountant Terry Musika to the stand to break down just how much money Apple believes it has lost due to Samsung infringing its patents during a two-year period.
This trial is one part of a global patent battle being waged by Apple and Samsung, with the former claiming Samsung "slavishly copied" the look and feel of the iPhone and iPad - a claim vigorously denied by Samsung.
According to documents displayed before the jury, Samsung sold 87 million devices in the US between mid-2010 and March 2012, and Musika estimates that $8.16bn in revenue from 22.7 million of those sales came from products that infringed Apple patents.
The Apple witness also claimed that calculations carried out by his team of 20 accountants, analysts and statisticians show that Apple lost two million iPhone and iPad sales due to Samsung's alleged patent infringements, resulting in $488.8m in lost revenue.
Musika presented a total figure for estimated damages of between $2.5bn and $2.75bn, depending on whether Apple's lost profits on those two million devices are included or not.
Samsung's attorney Bill Price then set about pulling apart Musika's presentation, getting him to admit that the damages could be split up and calculated in many different ways.
Price also pointed out that Musika failed to break the damages down into per-patent violation figures, so the jury does not know what would be at stake if Samsung was found to have infringed just one of Apple's patents.
Apple's stock shortages after the iPhone 4 went on sale in late 2010 were also brought into the spotlight, as Price argued that due to being unable to keep up with customer demand, Apple would have a hard time calculating lost sales during that period.
"Apple couldn't service its own customers with the iPhone 4, but it could service customers it didn't have?" Samsung attorney Bill Price asked Musika.
Following Apple's conclusion in presenting its case - and after a number of rushed filings by Samsung over the lunch break - Judge Lucy Koh agreed with the South Korean manufacturer that three of the accused devices should be cut from the trial.
The international versions of the Galaxy S and Galaxy S2, and the Galaxy Ace were removed, although these three were never sold directly in the US anyway - 17 devices remain active in the case.
Almost half of Apple survey picked Android over iPhone to stay with their carrier
The Apple vs Samsung trial has revealed plenty of secrets held by the two companies, and the latest is a survey carried out by Apple in January 2011 which found that 48 percent of consumers asked said they chose an Android so they could stick with their network provider.
The US survey was carried out a month before the iPhone was made available on Verizon in the US, where previously the iPhone was sold exclusively through AT&T.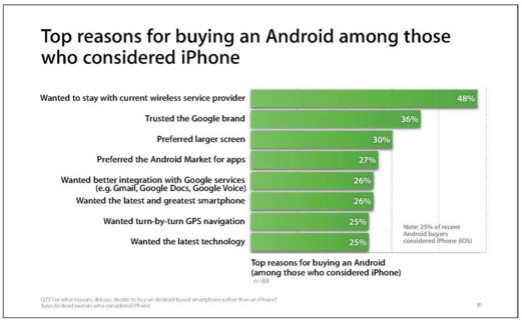 More than a third said they chose Android over iPhone because of a trust with the Google brand, while 27 percent said they preferred the Android marketplace to Apple's App Store.
Thirty percent said they chose an Android for the larger screen sizes on offer and a quarter were swayed by Android's free turn-by-turn navigation.
Samsung will now present its side of the case and attempt to prove the jury that it did not infringe on Apple's iPhone and iPad patents when developing its own smartphones and tablets.