Is Apple's Mac OS X Yosemite Secretly Collecting Your Location Data?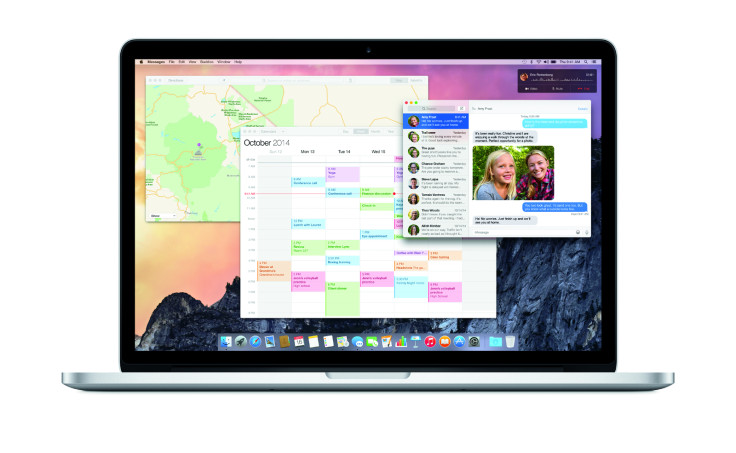 The collection and transmission of users data without their knowledge to parties unknown is one sure fire way to anger your customers.
And so, when the Washington Post published a report on Monday with the title Apple's Mac computers can automatically collect your location information it looked like Apple was in for a backlash from its customers.
The report said that by using the new, revamped Spotlight search function in the company's just-released Mac OS X Yosemite operating system for desktop and laptop computers, users were having their data collected and transmitted to Apple.
Or, as the Post put it:
Apple has begun automatically collecting the locations of users and the queries they type when searching for files with the newest Mac operating system, a function that has provoked backlash for a company that portrays itself as a leader on privacy.
In response to the article, Apple issued the following statement to iMore
We are absolutely committed to protecting our users' privacy and have built privacy right into our products. For Spotlight Suggestions we minimize the amount of information sent to Apple. Apple doesn't retain IP addresses from users' devices. Spotlight blurs the location on the device so it never sends an exact location to Apple. Spotlight doesn't use a persistent identifier, so a user's search history can't be created by Apple or anyone else. Apple devices only use a temporary anonymous session ID for a 15-minute period before the ID is discarded.

We also worked closely with Microsoft to protect our users' privacy. Apple forwards only commonly searched terms and only city-level location information to Bing. Microsoft does not store search queries or receive users' IP addresses.

You can also easily opt out of Spotlight Suggestions, Bing or Location Services for Spotlight.
Turn it off
And Apple is right. Just by clicking a Learn More link in the Spotlight pop-up, a Preferences panel is opened with more information about the location services and Spotlight Suggestions as well as the ability to turn both off.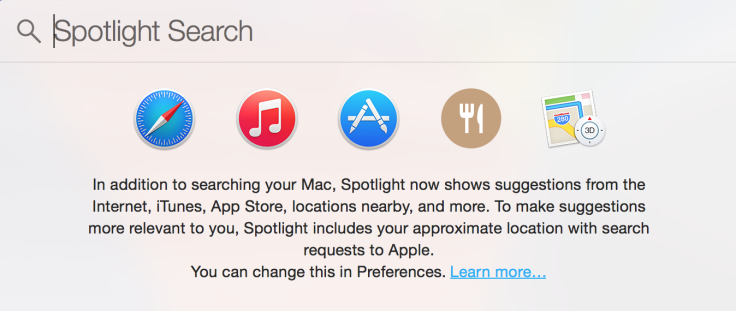 Unlike many other explanations, Apple uses relatively plain and straightforward language to describe what it does with the data it collects.
When you use Spotlight, your search queries, the Spotlight Suggestions you select, and related usage data will be sent to Apple. Search results found on your Mac will not be sent. If you have Location Services on your Mac turned on, when you make a search query to Spotlight the location of your Mac at that time will be sent to Apple.
And while this sounds like Apple is constantly monitoring you, this isn't really the case. According to the privacy section on Apple's website:
To make suggestions more relevant to users, Spotlight Suggestions includes user context and search feedback with search query requests sent to Apple.

Context sent with search requests provides Apple with: i) the device's approximate location; ii) the device type (e.g., Mac, iPhone, iPad, or iPod); iii) the client app, which is either Spotlight or Safari; iv) the device's default language and region settings; v) the three most recently used apps on the device; and vi) an anonymous session ID. All communication with the server is encrypted via HTTPS.
What this boils down to is a question of convenience over privacy. Are you willing to let Apple collect relatively private information about you in order to serve you better search results? If you are then carry on as normal, if not, then you can switch off the features very easily.
This is the same argument people have about websites using cookies to track their movement around the web. It sounds creepy (and at times it really is) but without this the internet as we know it wouldn't work.
In order to get things like Facebook, Google and even Mac OS X Yosemite for free you have to understand that you are paying with your information. The companies involved have a duty to use and store that data safely but at the end of the day, this is what makes the connected world we live in tick.
© Copyright IBTimes 2023. All rights reserved.