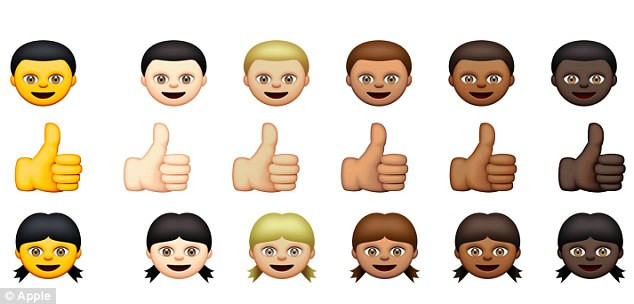 Tech giant Apple has caused controversy with its new range of racially diverse emojis offering the choice of six different skin tones.
The company claims the cartoon faces show its commitment to improving diversity.
"Apple supports and cares deeply about diversity, and is working with The Unicode Consortium to update the standard so that it better represents diversity for all of us," an Apple spokesperson told CNN.
The new beta software reveals over 300 new emoji, including 32 flags of various countries, alternate family types, and the ability to select an emoji and change its skin tone.
However, one emoji in particular has created a debate about the bright shade of yellow chosen for one of the skin tones.
"Are we really that yellow?" queried one bemused social media user on Weibo, China's version of Twitter.
"That yellow is really yellow, how can a man be so yellow?" wondered another.
Jade Tran wrote : "Is the yellow emoji suppose to represent Asians because I have never in my life seen an Asian lookin like that."
Taylor Wofford thought the emoji was suffering from an illness: "It look like it has colic."
An Apple analyst, Rene Ritchie, tweeted, "The yellow emoji aren't meant to represent a skin tone. They're default emoji yellow. Tap to hold to get one of the five skin tone choices."
He explained that Apple is using a Unicode system and the absence of a specified skin-tone defaults in "a non-human color."