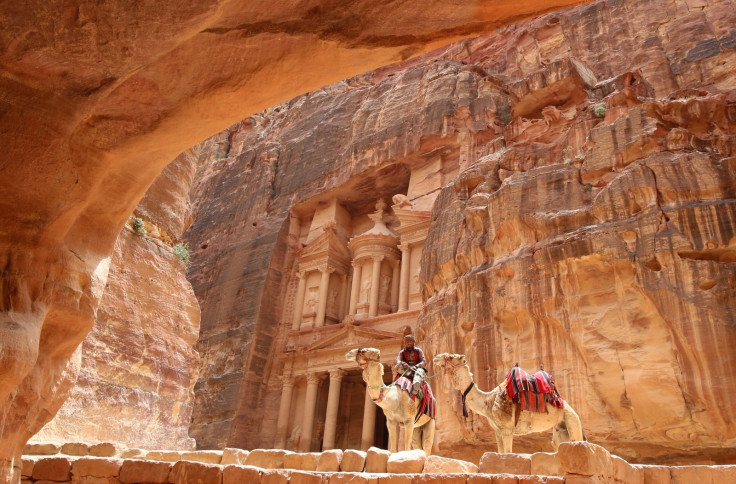 The World Heritage site at Petra in Jordan continues to reveal its secrets to archaeologists. Recently, satellite and drone scanning on the Unesco site indicated a massive monument buried under the sand.
Archaeologists Sarah Parcak, a National Geographic fellow, and Christopher Tuttle, executive director of the Council of American Overseas Research Centers made the discovery and published their findings in the Bulletin of the American Schools of Oriental Research.
The over-head imagery shows a 184ft by 161ft platform, with an interior platform that was paved with flagstones, lined with columns on one side and with a gigantic staircase descending to the east. A smaller structure, 28ft by 28ft, topped the interior platform and opened to the staircase. Pottery found near the structure suggests the edifice could be more than 2,150 years old. The entire monument is approximately the length of an Olympic-size swimming pool and twice as wide.
"I'm sure that over the course of two centuries of research [in Petra], someone had to know [this site] was there, but it's never been systematically studied or written up," Tuttle exclaimed. "I've worked in Petra for 20 years, and I knew that something was there, but it's certainly legitimate to call this a discovery."
No similar structure has been found at the 264sqkm Petra Archaeological Park and was most likely a public, ceremonial space. By comparison to the other monuments at the site, it is the second largest elevated, dedicated display area yet known in Petra, after the Monastery.
The building has not been excavated as of yet, but going by the superficial pottery dating, archaeologists were able to estimate that it may belong to the city's early years. This would mean it could be older than the iconic Treasury and the Monastery, which were built during Petra's second heyday (end of first century BC to second century AD).
Tuttle also recognised the importance of satellite and drone imagery in making the discovery. "Ultimately, satellites allow us to see, think, and visualise past landscapes differently. It appears that they are now a standard archaeological tool, and one that should be used with more frequency, as we take much for granted in terms of what is left to discover, even when monuments are hiding in plain sight," he said.