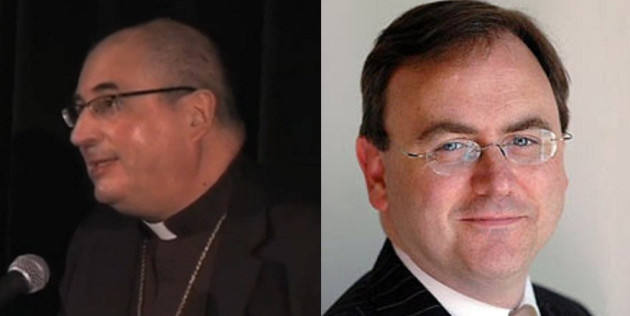 The new Archbishop of Glasgow has caused outrage after appearing to suggest that the premature death of a Scottish Labour MP was connected to his sexual orientation.
Phillip Tartaglia, who has also voiced his opposition to the legalisation of same-sex marriage, appeared to suggest that the death of Inverclyde MP David Cairns was because he was gay.
Former Scotland Office minister Cairns, who served as a priest before becoming an MP, died in May 2011 aged 44. He died of acute pancreatitis, a condition characterised by inflammation of the pancreas.
Tartaglia made the remarks during a conference on religious freedom and equality at Oxford University. While the former bishop of Paisley did not mention Cairns by name, his friends and former partner said it was clear who he was talking about.
The comments were made in April 2012 but are only just coming to light - a day after Pope Benedict XVI appointed Tartaglia as Glasgow's Archbishop-elect.
Responding to a comments from an audience member about homosexual American author Bob Bergeron, who committed suicide having written a book about happiness for gay men over 40, Tartaglia said:
"If what I have heard is true about the relationship between the physical and mental health of gay men, if it is true, then society is being very quiet about it.
"Recently in Scotland there was a gay Catholic MP who died at the age of 44 or so, and nobody said anything, and why his body should just shut down at that age? Obviously he could have had a disease that would have killed anybody. You seem to hear so many stories about this kind of thing, but society won't address it."
The address was filmed and uploaded online, but only came in to light when friends of Cairns were made aware of them.
The comments provoked answer from Dermot Kehoe, who was in a relationship with the late MP for almost 15 years.
Kehoe told The Scotsman: "This is genuinely very upsetting and painful for David's family and friends. I can't believe that someone who claims to be a man of God and is seeking to give moral leadership should speak from such a position of ignorance.
"I don't care what his views on gay marriage are, but to bring in my dead partner to justify those views is wrong."
Cairns's good friend Tom Harris, the Labour MP for Glasgow South, said the 61-year-old's comments were "hurtful and ill-informed".
A spokesman for Bishop Tartaglia said: "Responding to a question from an audience member, Bishop Tartaglia agreed that the health risks of same sex behaviour were largely unreported.
"He mentioned the premature death of a young high-profile gay MP in this context. There was no intention to cause offence, and he regrets that anyone may have been upset.
Cairns was the first former Catholic priest to be elected to Parliament.