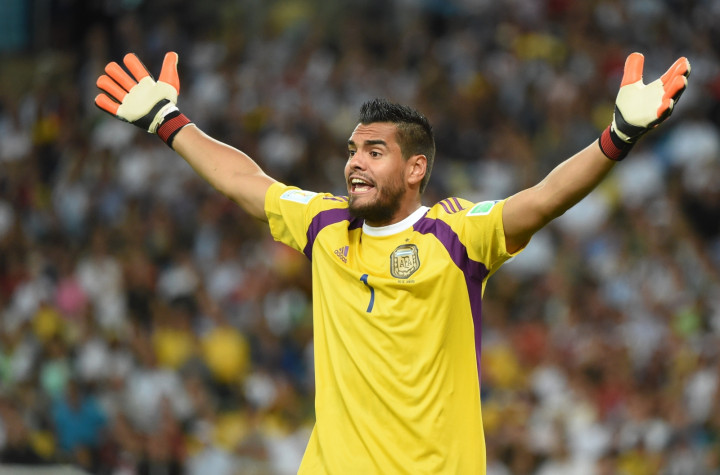 Argentina goalkeeper Sergio Romero has slammed suggestions he rejected a move to Manchester United in the summer.
The 27-year-old shot-stopper found himself linked with a deadline-day move to Old Trafford amid suggestions Louis van Gaal had not been convinced by his back up options for David de Gea in goal.
Romero somewhat surprisingly entered the summer's World Cup as Argentina's first choice in goal despite spending last season warming the bench at Monaco. But the goalkeeper provided a string of impressive performances as his side reached the final in Brazil, only to suffer defeat at the hands of Germany.
Despite his showings for his national team, Romero still faces a struggle in winning a first-team spot at current club Sampdoria and has again denied suggestions he turned down Van Gaal in order to remain in Serie A.
"Many lies have been spread, like, for example, that I refused a transfer to Manchester United," Romero told Radio Nacional. "To me, something like that is crazy."
Romero made just three appearances on loan at Monaco last season. While international teammates Marcos Rojo and Angel Di Maria got the moves they wanted, the goalkeeper missed out and has started the season playing back up to Emiliano Viviano, who himself spent last season without first-team football during his spell at Arsenal.
And should he continue to play second fiddle at Sampdoria, Romero insists he will have to consider a change.
"I can't do this for much longer," Romero said. "The same thing happened to me in France – arriving at a club when the transfer window is nearly closed and having to wait for an opportunity.
"I am happy at Sampdoria, though I will keep showing the coach that I am ready to play and that I do not want to keep sitting on the bench."