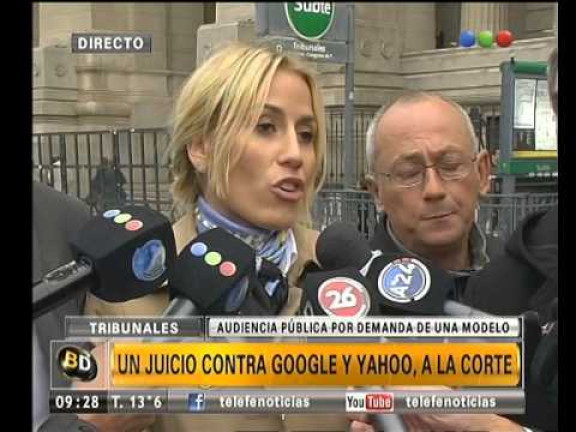 An Argentine model is suing internet giants Google and Yahoo for allegedly linking her name and image to sites containing porn and sexually explicit material.
Maria Belen Rodriguez told CNN that her pictures were used to take advantage of her popularity in Argentina to lure web users to X-rated sites, or in websites that contain explicit photographs of other women.
Rodriguez, 30, launched the lawsuit in 2006, claiming her internet profile was damaging her reputation, and the case has now worked its way up to Argentina's supreme court.
In 2010, she was awarded 120,000 Argentine pesos ($15,000) in a combined judgement against both search engines, but this amount was lowered to around $6,200 on appeal.
"They have ruined my life and now say that what I'm asking for is censorship. It suits them, but not me. Truthfully for me, having to explain every day that I'm not a prostitute is a daily complication, as simple as that," Rodríguez said.
"One day, my dad entered my name on Google and he landed on a porn site," Rodriguez told AFP. "This has caused me a ton of problems. I lost job opportunities because of this."
Attorneys representing Google and Yahoo argued that search engines are neutral platforms that do not create or control web content.
"It is technically and economically impossible to before-the-fact monitor millions of pages of content available on the internet because of their volume and because they constantly change. To argue against this is to favour before-the-fact censorship and to ignore the economic realities," said Alberto Bueres, an attorney representing Yahoo.
However Raul Castex, a lawyer representing Rodriguez, said that the search engines had greater power to block content than they were willing to concede.
"Search engines can find, with their own, diligently designed techniques, websites linked to child pornography they normally block," Castex said.
He asked why they were able to censor content in China, yet were unable to protect his client's reputation.
The Supreme Court is expected to make a judgement within the next few weeks.
Rodriguez, who is a mother of two, is also an actress and TV personality.
She is often mistaken for an Argentine model with the same name who works in Italy.
"I am in favor of freedom of expression, but not the kind of freedom of expression built on lies," she said. "I am an ant fighting a giant monster."