At least two million people are expected to be part of a nationwide rally in South Korea on Saturday (26 November), organisers said. The rally has been organised to protest against scandal-hit President Park Geun-hye.
According to the organisers of the demonstration, some 1.5 million will gather in the capital city of Seoul and 500,000 in other regions demanding Geun-hye's resignation. The 26 November rally is expected to be the biggest since the demonstrations began.
Members of the Korean Peasants League, the country's largest farmers' group, are also expected to join the demonstration in Seoul.
According to local media reports, the farmers — who came on tractors and other vehicles — were stopped from entering the capital. They were later allowed to enter, but on foot.
The farmers had intended to bring around 1,000 tractors and other machinery near the government quarter as part of the protest, but were barred by a court order.
On 19 November around 500,000 people took part in a peaceful candlelit rally, organisers claimed. But police said the number was far lower.
Geun-hye has been embroiled in a political controversy over accusations of allowing her friend, Choi Soon-sil, to access government documents without authorisation. Choi is accused of trying to extract a large amount of money from the country's companies and is under arrest on charges of fraud and abuse of power.
While South Korea's constitution does not allow a ruling president to be prosecuted, under a new law passed by opposition parties using their parliamentary majority on 17 November, it is possible that Geun-hye could be impeached for breaking the law.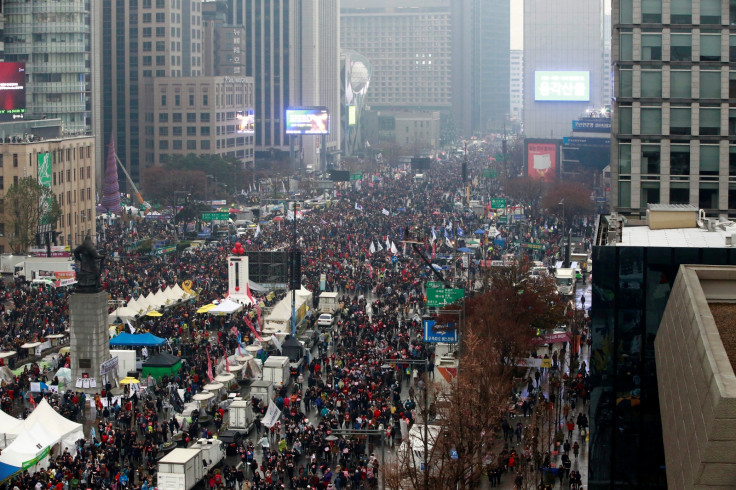 The South Korean president's term lasts until 24 February 2018, but an election must be held within 60 days if she resigns before the presidential election in December 2017.