Arrow star Stephen Amell had earlier teased that the season 4 premiere episode would have "something new" that's never been done before on the show and that it would set the tone for the remainder of the season. Till now, fans were left wondering what this "something new" would be...well, now we know.
Warning: Arrow season 4 premiere episode spoilers below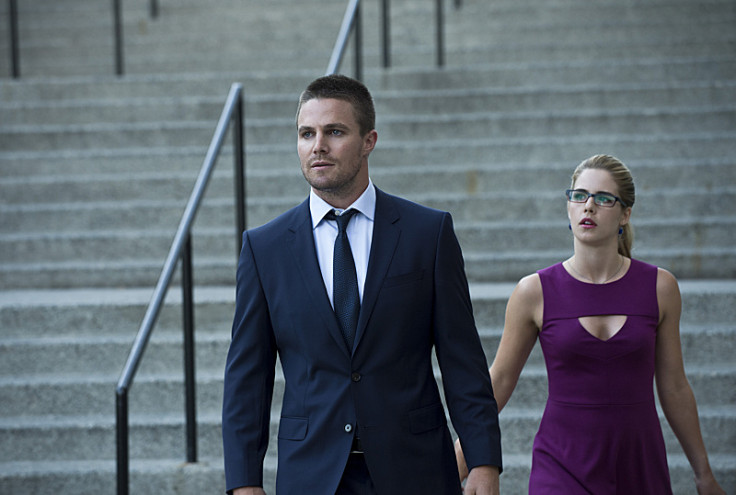 Arrow season 4 premiere episode titled 'Green Arrow' ended with a "six months later" flash-forward showing Oliver as well as Barry Allen aka The Flash mourning at a gravesite. It's pretty clear that the character that has died in the interim period was equally close to both Arrow and The Flash. Could it be Felicity? Incidentally, Amell teased this moment before the premiere episode when he posted an image of himself with actor Grant Gustin, captioning it "Game changing scenes are fun."
#Repost @amelladventures with @repostapp. ・・・ Game changing scenes are fun. pic.twitter.com/jytuKAh92I

— DC TV Universe (@DC_TV_Universe) September 22, 2015
So who dies? Arrow showrunners and executive producers Marc Guggenheim and Wendy Mericle talked to the press last week at the CW headquarters in California to give the best answer they could at this early stage.
One thing became clear -- It's not misdirection. "It's not a fake out," Guggenheim said. "That's not how we roll." (via ComicBookResources) Guggenheim and Mericle also stressed that it was too early in the season for even them to know who was buried in that graveyard -- but they were sure it needed to have a profound impact among Arrow fans. "We want it, obviously, to have resonance," Mericle said. "If it doesn't mean something to the characters, it won't mean anything to the audience, either." Arrow season 4 airs on Wednesdays at 8pm ET/PT on The CW.