Arsenal 2-0 Bayern Munich: Manuel Neuer not to blame for Champions League defeat says Pep Guardiola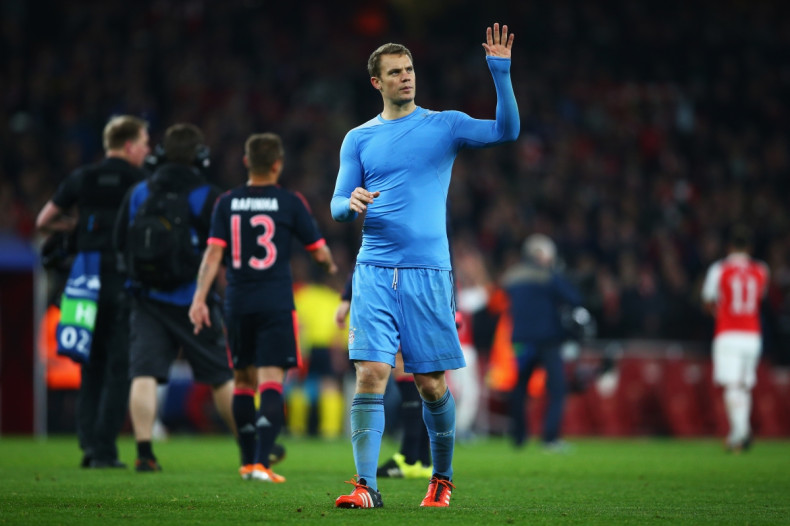 Bayern Munich manager Pep Guardiola has refused to blame goalkeeper Manuel Neuer for the shock Champions League defeat to Arsenal. Neuer missed Santi Cazorla's cross which led to Olivier Giroud's opener before Mesut Ozil rounded off the win with a stoppage time second as the Bundesliga champions suffered their first defeat of the season.
Neuer had produced a fine first half save from Theo Walcott's header to keep Bayern from going behind in a game during which they dominated possession for long periods. At the other end, Gunners 'keeper Petr Cech kept them out with saves from Robert Lewandowski and Douglas Costa.
But it was the mistake from Neuer which stole the headlines on a night where Arsenal reinvigorated their European campaign after two straight defeats. The 29-year-old is the only goalkeeper included on the shortlist for the Ballon d'Or award and Guardiola says his error did not directly lead to Bayern losing their unbeaten record, in a staunch defence of the player.
"In the first half he made some great saves," he told a post match press conference after the 2-0 defeat. "Never in my life have I criticised a player for taking decisions correct or not. We did not lose the match because of Manuel Neuer. That is football."
Before taking on Arsenal for a second time in the group phase on 4 November, Bayern must resume their league campaign and continue the defence of the German Cup against Wolfsburg. Guardiola was without several key players including Ajen Robben but fears he will have another depleted squad come the return match.
"We have two weeks but now we have the league and we have to defend our cup," the Spanish coach admitted ahead of the second game against Arsenal in a fortnight. "I hope we can count on more players for the second game. We are in big trouble. We were in big trouble in the last week in Bremen and now as well.
"I have to explain the bench. We had just two players as the others are injured. Javi Martinez is injured Coman is injured, Jan Kirchhoff after just one year has injuries and he could not play. Hopefully in the next week to 10 days they can recover and we can play more with each other."