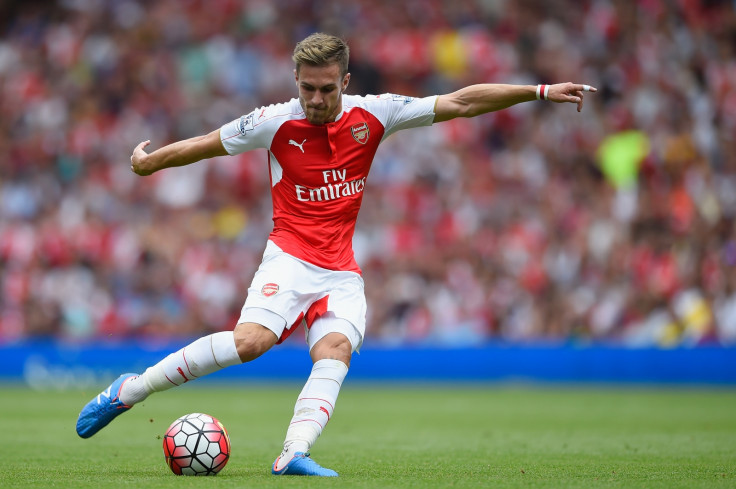 Aaron Ramsey has insisted that Arsenal have to get things right against Tottenham at White Hart Lane after losing two games on the bounce against Dinamo Zagreb and Chelsea within a space of three days. The Gunners lost 2-0 to Chelsea after going down to nine men when Santi Cazorla and Gabriel were sent off in the latter part of each half.
Arsenal currently have 10 points from their first six games, having lost to West Ham and Chelsea, while drawing against Liverpool. They trail leaders Manchester City by five points but are lead of champions Chelsea by three points, who started the season in woeful fashion.
The Gunners have a series of difficult fixtures coming up against Tottenham, Leicester City, Olympicaos and Manchester United in the next two weeks, which can decide their season. Failure to win these will put them out of the race for the title and would hamper their chances of progression in the Champions League.
Ramsey, who did not have the best game against Chelsea, believes that Tottenham will give them the opportunity to right their wrongs committed over the past few weeks. "It's not good enough for a club like Arsenal to lose two games in a row. Hopefully now we can put things right on Wednesday. It will be a feisty game with hopefully some goals in our favour," Ramsey told Arsenal's official website.
"We're always going to create opportunities, but we're just disappointed because we had a bad result in midweek in the Champions League. We wanted to get back to winning ways and have a positive game. We were doing that up until the sending off. I'm sure we'll learn from that and we have to move on and put things right on Wednesday," he added.
The Gunners put in a woeful performance against Zagreb and Ramsey insists that they came to Stamford Bridge hoping to put in a good performance but losing Gabriel midway through the half put a dampener on their chances. Meanwhile, Diego Costa, who instigated the incident will learn his fate on 21 September, following a review by a panel of referees on Mike Dean's report.