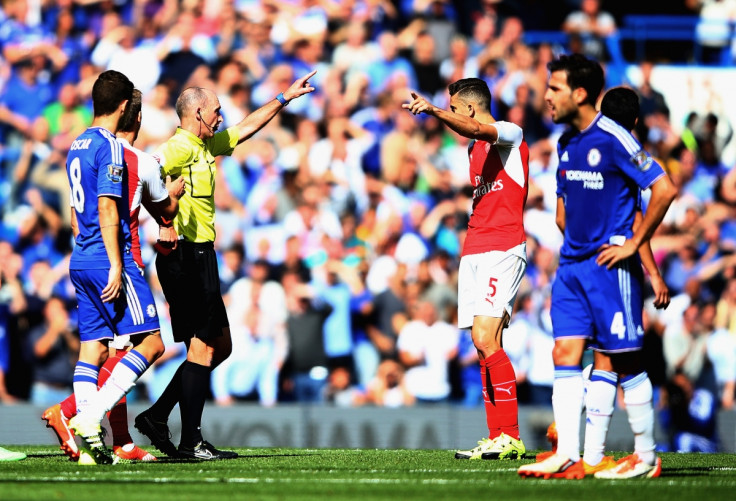 Arsene Wenger has revealed that he is disappointed with Gabriel's decision to react to Diego Costa's intimidation which got the defender sent off and led to Arsenal losing the tie 2-0. The incident happened moments before the half-time whistle and changed the complexion of the entire game.
Both sides were cautious in their approach, with Arsenal sitting back and trying to play on the counter while Chelsea made attempts to break through Arsenal's defensive line. With minutes remaining in the first half, Costa got into an altercation with Gabriel, who was provoked into making a reaction and eventually sent off by referee Mike Dean.
The incident started with Costa throwing a flailing arm at Laurent Koscielny and following that up by chest bumping him on to the floor. The referee did not see the incident and Arsene Wenger, who is under pressure after losing two games on the trot, insisted that the officials should be wise to the antics of Costa and not give in to his theatrics.
However, the manager was more concerned with Gabriel's decision to take a sly kick at Costa as it got him sent off and cost Arsenal the game. Wenger revealed that any enmity between the players should be taken outside the ground as on the field you have to take the best interests of the team into account.
"It is surprising. I tell you something, if I am a referee and I referee Diego Costa, I do not send somebody off quickly if he responds to it because you know he has been well provoked," Wenger said, as quoted by Goal.
"We warn them not to get involved and I don't understand Gabriel because he usually looks a calm boy. You have to be above that. That's part of the game sometimes. To be professional, to me, is to deal with that.
"You can spit in my face and if it's in a game then I will not respond. I do not guarantee that outside of the game. What I mean is that the desire to win has to be above all of that," he added.