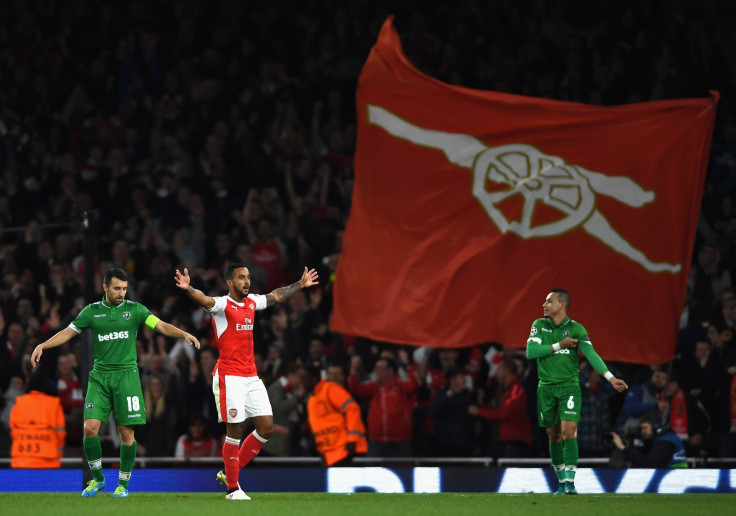 Ex-Arsenal defender Martin Keown has suggested Olivier Giroud is holding the Gunners back. The player-turned-pundit watched Arsenal coast to a 6-0 win against Ludogorets at the Emirates on Wednesday (19 October) and observed that the hosts look more fluent without Giroud in the team.
The 30-year-old Frenchman has been sidelined with a toe complaint in recent weeks and his absence from the starting XI has coincided with an upturn in Arsenal's goalscoring fortunes. In particular, Keown thinks that Theo Walcott – who has netted seven goals in his last six games for the Gunners – has benefited from Alexis Sanchez being deployed as the central striker.
"I think Theo has suffered for some time because Arsenal haven't had a centre forward who can make runs in behind the defence," the former Arsenal defender explained to the Daily Mail.
"Olivier Giroud certainly has his merits, but the build-up play is slow when he plays up front. He's not going to beat a man like Sanchez does, so the wide men have to run from deep to get around the opposition.
"It's hard work and is also less likely to pay dividends than having your centre forward running in behind to stretch the play. The way they are playing this season gives Theo little time to think and forces him to play with instinct. With Sanchez and Ozil both bombing forward around him, it allows him to join in and do what he does best."
Walcott grabbed another goal in Arsenal's one-sided win against Ludogorets and Keown claims to have seen a discernible change in the player's attitude this season. "It's like he's flicked a switch in his head this season – he's not going to be patient anymore and allow Wenger to bring him in and out of the team. Now he is making his mark," Keown said of the Arsenal forward.
Keown also thinks hat-trick hero Mesut Ozil has been helped by having Sanchez play as Arsenal's central striker. Ozil already has six goals to his name this season and Keown is understandably impressed by the German's performances.
"Having Sanchez upfront helps him in this regard, as the Chilean's direct running opens up the space in front of him," he explained. "Sanchez's trickery and industry also means he often creates openings himself, allowing Ozil to get into scoring positions instead of just creating chances for other people, as he did with Giroud upfront."