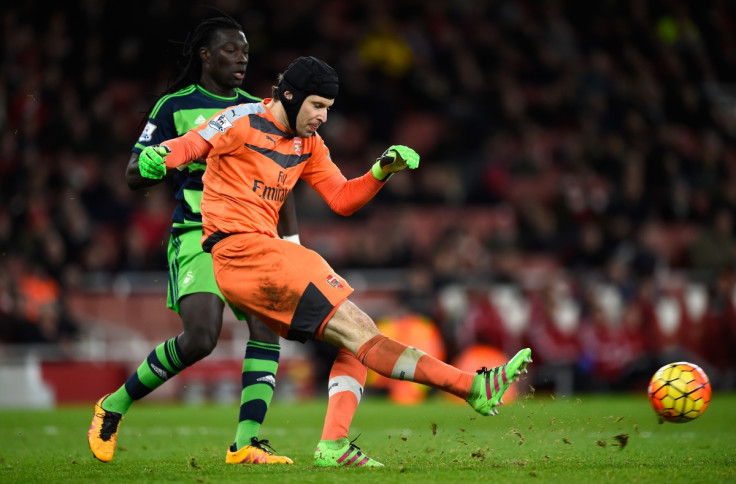 Arsene Wenger has confirmed that Petr Cech will be sidelined for up to a month due to injury. The experienced goalkeeper, who arrived at the club in a £10 million ($14.1m) deal last summer after an 11-year stint with Chelsea, initially appeared to sustain the problem while heading back to his penalty area having joined in with an attacking corner during the closing stages of a damaging 2-1 home defeat to Swansea City in midweek.
Arsene Wenger confirmed after the match that the issue was with his calf, further revealing that Cech had actually been bothered by a groin complaint in the build-up to that fixture. It had already been established that he would miss the pivotal north London derby clash against Premier League title rivals Tottenham at White Hart Lane on 5 March, although his manager has now confirmed that such a lay-off is expected to last for three or four weeks. Defender Laurent Koscielny is also out with his own calf problem.
"Petr Cech is out and Laurent Koscielny is not back," he told reporters at his pre-match press conference. "We have to check this morning that everybody who played on Wednesday [2 March] is a available tomorrow.
"Koscielny is out. He has a small injury but he is out tomorrow [5 March] and Tuesday [8 March] next week. It's a grade one, so it's a very short period. I don't think he'll be available on Tuesday [against Hull] but next Saturday [12 March] he should be alright."
When pressed further on that first injury, Wenger, who will be without Cech for the Champions League last-16 second-leg clash with Barcelona later this month, added: "It is a calf injury. Cech had a little groin problem but declared himself 100% fit. You trust the player. He is 33 years of age."
Cech has featured in all of Arsenal's league games so far this season, with deputy David Ospina limited to just five outings in the cup competitions. He was fiercely criticised in September after his calamitous own goal contributed to a shock 3-2 loss at home to Olympiacos, but Wenger claims to have total trust in the Colombian international.
"I have complete confidence in David and I'm not worried at all on that front. Yes [Cech is a big loss]. On the other hand, if you look at the win rate of Ospina, it is very good as well. I'm not worried at all."
Arsenal's injury woes have rarely been off the back pages of late. Earlier this week, Santi Cazorla took to social media to insist that his recovery from knee ligament damage remained on schedule despite Wenger having claimed that he was being restricted by a flare-up of tendonitis on his achilles. Alex Oxlade-Chamberlain and Tomas Rosicky remain sidelined with serious knee and thigh complaints respectively, although the manager reiterated that Jack Wilshere could finally be in a position to return after the upcoming international break. The England midfielder has not played at all since fracturing his left fibula during an accidental training collision in August.
"It's going on plan," Wenger added. "He's doing well but we still think three to four weeks for him. After the international break, maybe he will be available."