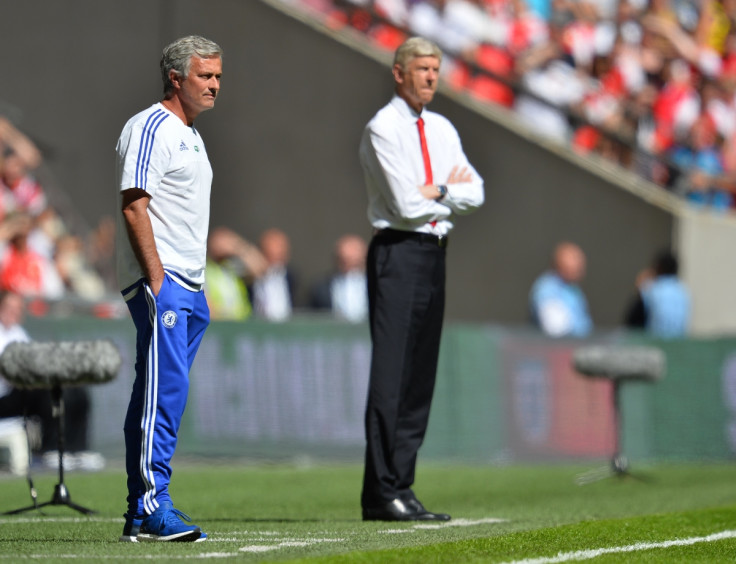 Arsene Wenger has refused to embroil himself in another battle of words with Jose Mourinho, who took yet another thinly veiled swipe at the Arsenal manager following Chelsea's 2-2 draw with Newcastle United. The manager insisted that Wenger was the only man in the Premier League who was not under pressure to deliver results as he does not have a sword hanging over his head.
The Blues have started the season in disastrous fashion, taking only eight points from a possible 21 and are looking very different from the resurgent force which swept away the title last season. Chelsea defeated Arsenal 2-0 at Stamford Bridge but the game was marred by controversy as Gabriel was sent off after provocation from Blues striker Diego Costa. The decision has since been overturned with Gabriel's ban brought down to one game while Costa was handed a three-game retrospective suspension for his antics on the pitch.
Both managers have been involved in innumerable battles over the past few years, with Wenger getting the better of Mourinho for the first time ever in the Community Shield owing to a goal from Alex Oxlade-Chamberlain. In the latest feud, Mourinho has suggested that the Arsenal man feels like a king for the lack of pressure he is under to deliver results.
"No, I feel I have just done my job with the team and for our fans. That's what you want. Honestly I'm not too much concerned about the other results. Thirty years in football now, and I know that what is important is to play football well," Wenger told Sky Sports, responding to Mourinho's comments.
The Gunners fought back after a disappointing week where they lost back-to-back games against Dinamo Zagreb in the Champions League and to Chelsea at Stamford Bridge. Mathieu Flaimini led their upsurge by scoring a brace against Tottenham which knocked them out of the Capital One Cup and followed that up with a 5-2 thumping of the then unbeaten Leicester City, with Alexis Sanchez scoring a hat-trick.
The Gunners have another important week coming up ahead. They have a must-win game at the Emirates against Olympiacos, followed by a top of the table battle against Manchester United at home.