Arsene Wenger has revealed that Arsenalhad made an attempt to sign Granit Xhaka last December but were thwarted in their attempt by Borussia Monchengladbach and had to wait till the end of the season to complete a deal for the Swiss international. The Gunners were heavily handicapped during that period in midfield, with the likes of Santi Cazorla, Jack Wilshere and Francis Coquelin all out with injury.
"We tried in December last year," said Wenger, as quoted by the Telegraph. "He already has experience abroad and that is reassuring. He was captain at his young age at Monchengladbach, which is not a small club, so he has leadership qualities."
Arsenal, eventually bought Mohamed Elneny from Basel in that window but failed to sustain a title challenge and were out of reckoning by the end of March.
The Frenchman goes on to compare Xhaka to Arsenal legend Emmanuel Petit who sits back and has the range of passing to ping long balls, compared to other players who are more suited to a short brand of passing.
"He is a guy who plays naturally behind the ball, a bit similar to Petit in the way he plays football. He likes to sit, give good long balls and be available for the centre-backs. He has a good mixture of short and long balls, and in midfield it is important for us to sometimes stretch defenders. We have a game that is based on shorter passes than other teams so sometimes you have a player who can kick the longer ball gives us a chance to get some oxygen and some space," Wenger said.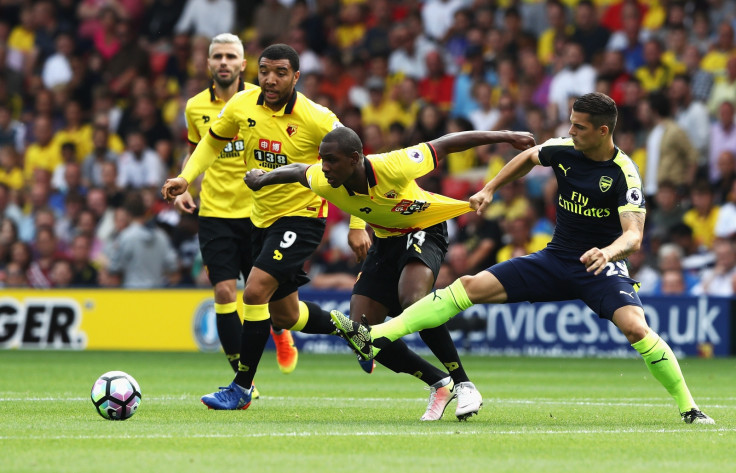 Xhaka started alongside Santi Cazorla in the base of the Gunners midfield against Watford, with the Swiss international dropping deep to cover the Arsenal defence while Cazorla had the license to bomb forward and combine with Mesut Ozil, who was given his first start of the campaign. The north London club caught the Hornets unawares and went three goals up in the first half, effectively sealing three points for the first time this campaign.