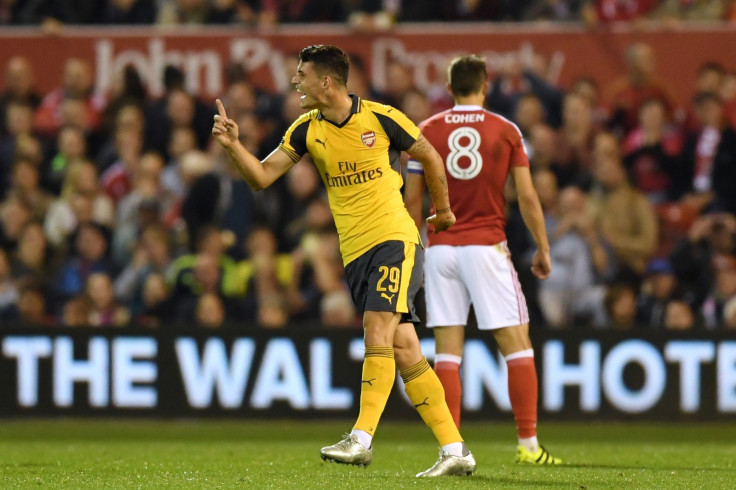 Arsenal manager Arsene Wenger has admitted his surprise at Granit Xhaka's ability to score spectacular long-range goals. The 23-year-old midfielder added to his recent strike against Hull City with another long-distance goal against Nottingham Forest in Arsenal's EFL Cup tie last night (20 September).
The Switzerland international has had a relatively modest scoring record during his career, having generally been deployed as a deep-lying playmaker. But Wenger has admitted to being pleasantly surprised by Xhaka's shooting ability.
Asked if he had known Xhaka was capable of scoring eye-catching goals, Wenger said, according to ESPN: "Honestly, not really. I knew he had a good shot. But he played very deep last year [at Borussia Moenchengladbach] and didn't get forward a lot. But I hope that will give him the taste for more. It's great for him to get confidence as well and to know that he can score goals."
Xhaka has been slowly introduced to the Arsenal team in recent weeks, but Wenger recently said he is confident the midfielder will ultimately have a big impact on the Premier League. "It's not about his quality at the moment, he adapts to the pace of the English game and for me it's about pairs as well who work together," Wenger said ahead of Arsenal's clash against Hull City, as quoted on the club's official site.
"You know, [Francis] Coquelin and [Santi] Cazorla have worked well together but [Xhaka] will play games and every week he is stronger and better. I think he will have a huge impact as a player. He can of course [impose himself], he has the stature, the power, he has the strength. What we want is for him to use that in a very efficient way.
"I personally prefer him as a box-to-box player because he has the engine, the power and he has the long pass. He likes to come deep and distribute the game. I think as well he has the engine to have an impact with his runs," the Arsenal boss explained.