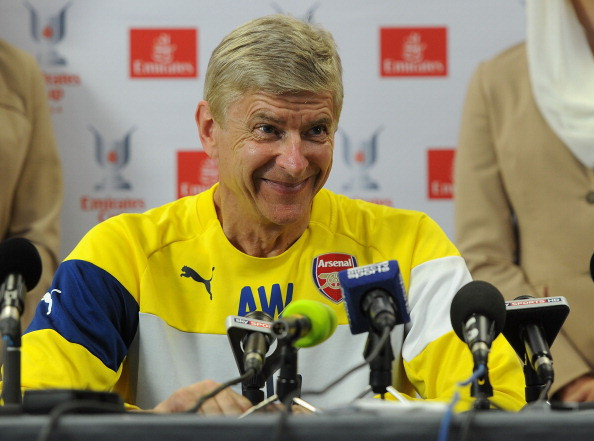 Arsene Wenger has claimed that even though Calum Chambers "has done extremely well" in his first appearances for Arsenal, people should still be patient with the youngster.
The North London side stumped up the cash earlier this summer to secure his services for around £16m even though the 19-year-old defender had made ony 25 appearances for Southampton in the top flight.
Wenger was said to see in him the potential to be the long-term leader of the Gunners' defence while valuing his versatility to play as a right-back, centre-back or in a more advanced role.
Nevertheless, with Per Mertesacker unable to begin the season due to his lack of fitness following the World Cup, Chambers took the opportunity to prove his talent in the Community Shield final and as well both debuts in the Premier League and Champions League.
Wenger has been impressed by how the teenager has dealt with the pressure while some pundits have even started to suggest he should be in Roy Hodgson's squad to face Norway at Wembley on 3 September or Switzerland in the European Championship qualifier five days later.
"I will say 'Hang on, Roy', yes!" said Wenger as quoted by Arsenal official website.
"It's very difficult for me to say that because I do not want to stop Chambers. Every player dreams to play for England. I do not want to say that he is not to be selected. I'm very happy if Calum Chambers is selected for England,"
"What I mean is, that the player gets the opportunity to show he good he is is fantastic. That the player gets the feeling they have already made it is much more dangerous. I think Chambers is intelligent enough to make a difference in that because he has only played two or three games at centre back at the top level."
Nevertheless, Wenger is still cautious about the teenager future and asks that he isn't rushed.
"He has done extremely well. But I think as well in England you have to be a bit more patient. He has played three games and I think it is important for the development of the players that it doesn't go too fast.
"Not so much on the football front but psychologically as well. That players feel that hurdle after hurdle they feel stronger and it doesn't go too quick for them. For me that is something that is very important in development."