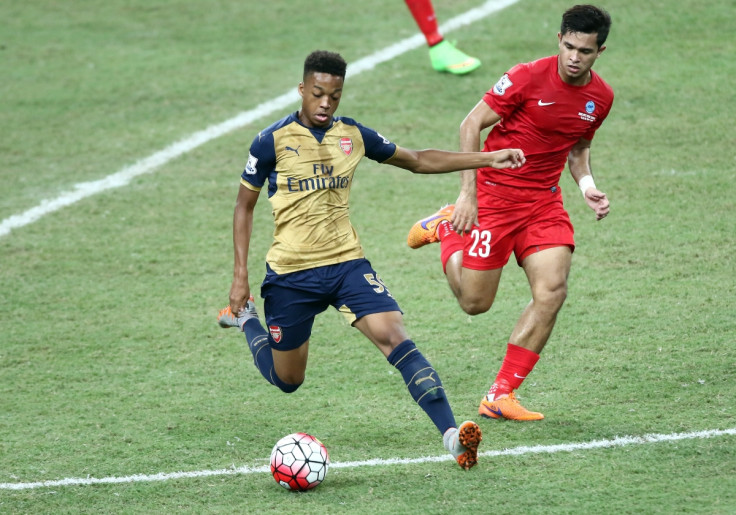 Arsenal winger Chris Willock has revealed that he is learning a lot while training with the first team, which is a level above what he is habituated to with the reserves. The 18-year-old revealed that working out with the big boys helps him analyse his own game and uncover his strengths and weaknesses.
The player represented England in the U17 World Cup in Chile, which was a profound learning experience for the youngster, staying away from family and playing on the undercooked pitches there. Willock is now working with the Arsenal physios to build his upper body strength and legs, which will help him retain the ball efficiently and run past defenders.
The youngster spoke to Kieran Gibbs about his experience of how difficult it was to try to beat a Arsenal first team player compared to what he was accustomed to in the U18 and U21 levels. However, he reserved his best praise for Arsenal's new signing Mohamed Elneny, who made his debut against Burnley in the fourth round of the FA Cup at the Emirates Stadium.
The midfielder was missing from the first team squad in the last two games as he was with his wife who was expecting their second child, but should be back in the mix against Leicester City this weekend.
"I have trained quite a bit with them lately and that makes you become quicker and sharper because you have to make sure that everything you do is cleaner and more precise. When I've played on the wing in 11 v 11 games I have been up against Kieran Gibbs whose experience is clear," Willock told Arsenal's official website.
"You cannot get away with any mistakes as he will take the ball from you or stop you using it properly. At under-21 or under-18 level you can get away with a lot and not have to think so much about how to beat defenders. Standards are raised when around the first team and that translates itself into the under-21s too," he said.
"It was good to see how the players in my position do things close up and I have been able to pick up a lot from them. I also trained with our new signing recently Mohamed Elneny.
"I was very impressed. From what I saw he is an excellent player who can break down opposition play and solidifies the midfield. I personally want to become more and more involved with the first team for the remainder of the season and look forward to playing for the first team again," the winger added.