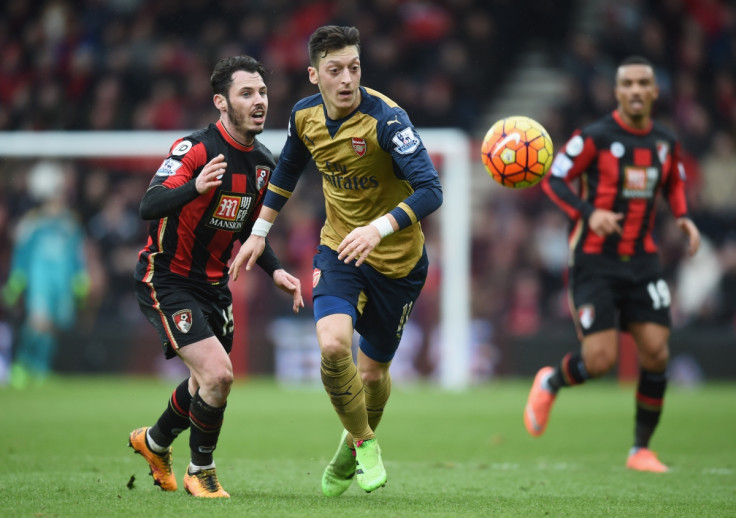 Arsenal star Mesut Ozil admits it would be "incredibly difficult to stop" Premier League table-toppers Leicester City. The two clubs play each other in a potentially decisive game at the Emirates Stadium on Sunday (14 February).
Ozil, 27, revealed he has been thoroughly impressed with Claudio Ranieri's men so far this season. And he anticipates a stern test when they host the Foxes at the weekend, having recently seen them overpower title rivals Manchester City 3-1 at the Etihad Stadium.
"It'll be incredibly difficult to stop them. They were up 3-0 at Manchester City after 60 minutes. It's brilliant what they accomplish with their team," the Arsenal star told the German wire service SID. "You have to have the greatest respect for that. Our job is to at least for now get Leicester off this unbelievable wave of euphoria."
Ozil admitted that Leicester's impressive run of form has come completely out of the blue and is one of the biggest surprises seen in European football in recent years. "That Leicester lead the Premier League by this margin in February is one of the biggest surprises in the European top flights in the past few years," the Arsenal man shared.
A gambling expert recently claimed Leicester winning the Premier League could cost bookmakers in Britain as much as £50m ($72.5m). "After being as big as 5,000-1 at the start of the season, Leicester are the new favourites to win the Premier League title in what would be an incredible story," John Hill, a spokesman for bookmaking giant Coral, told IBTimes UK. "Several small stake punters could be set to win big on the back of the Foxes' remarkable campaign, leaving Britain's bookmakers set for a £50m industry payout."
Leicester currently lead Arsenal by five points in the Premier League table, meaning they would go eight points clear of their title rivals if they win at the Emirates.