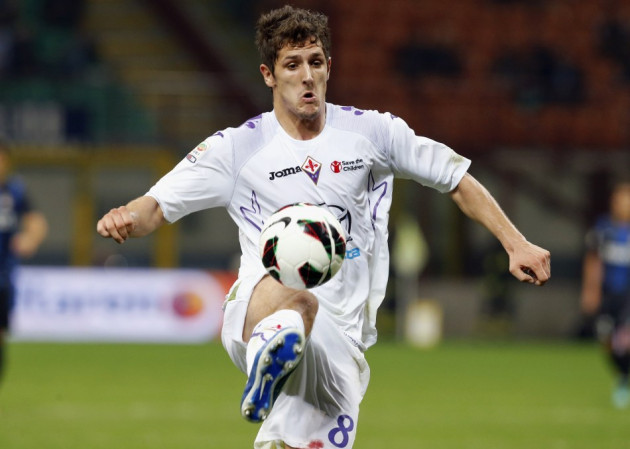 Arsenal target Steven Jovetic is just one step away from making the move to Manchester City as the side look to make up for the loss of Carlos Tevez, according to reports in Italy.
Jovetic was one of the Gunners' top targets for the summer, though since June Gonzalo Higuain and Luis Suarez have also emerged as options for Arsene Wenger.
The 23 year old has starred for Fiorentina since making the move from Partizan in 2008 and last season his 13 goals in 31 appearances put him on the radar for a potential move to a big European side.
Still young and with the hopes of continuing to improve at his next club, Arsenal seemed a likely destination for Jovetic as the club look to build on their attacking line-up. But Sky Italia are reporting that the young star is very close to moving to City, as Manuel Pellegrini looks to build a group of strikers who can recreate the club's title winning season again.
In the last campaign City's strikers proved to be their undoing, with the club gathering less points and goals than in the season before as United strode to exactly the same tally that saw them come second to their rivals in 2011-12.
Carlos Tevez was one of the few shining lights for the squad, helping to pick up the slack of Mario Balotelli's inconsistency and then absence, but the Argentine has now sealed a move to Juventus and Pellegrini will be looking to fill the hole he has left fast.
Edinson Cavani was believed to be high on the manager's wishlist but the 26 year old has been pictured in Paris today as a deal edges closer with Paris Saint Germain.
Jovetic admitted in June that he is ready to leave for a big European club this summer, telling reporters: "I really feel like I've given everything. I'm young and ambitious and it is normal to feel the need to test myself elsewhere. I do not think there's anything wrong with desire."
And as Arsenal look to be pursuing Suarez, with the club making a £35m bid for the Uruguay international, the way is paved for Jovetic to seal a deal with City.