Arsenal defender Shkodran Mustafi gives update on hamstring injury
Shkodran Mustafi was substituted in the first half against Stoke.
Arsenal defender Shkodran Mustafi took to Twitter to give an update on the hamstring injury he picked up against Stoke City on 10 December. The German had to be substituted in the first half and was replaced by Hector Bellerin, who recently returned from an ankle injury.
"Very bitter injury at that point of the season. I'll do everything I can to recover quickly and come back stronger than before," Mustafi said in a tweet.
Gabriel moved in from right-back to cover for the 25-year-old and it is believed that he will miss the rest of the year due to the injury. The Gunners travel to Everton and Manchester City in their next two games and are currently three points behind league leaders Chelsea, having gone top momentarily following their win on Saturday.
The Gunners also have Per Mertesacker out with a knee problem and he will be available after the turn of the year. Mathieu Debuchy has also pulled up a hamstring injury and will not be available for selection in the near future. Speaking after their win over Stoke, Wenger said that he had no idea if Mustafi was carrying a knock and that the injury was pure co-incidental.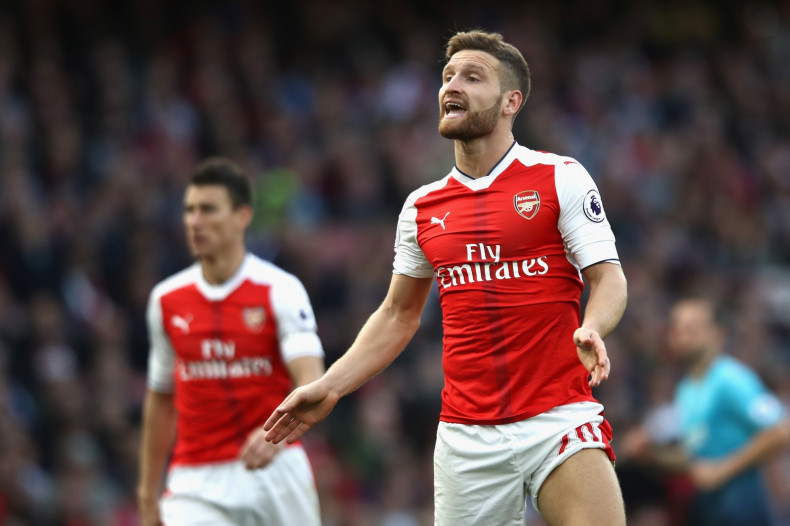 "It's a bad one. He had nothing in midweek. I would not have played him today (if he had). I had Hector Bellerin on the bench. I could have played Holding or Gabriel. He wanted to play in Basel, because he said 'no it's nothing', and it was completely clear. I checked three times and there was no problem for. I don't know why it happened, but it looks a 'good' hamstring strain," Wenger told Arsenal's official website.
"Look, the minimum when you go out like that is 21 days. After that, today is December 10, so you are 21 days, that means he'll have a nice Christmas," he added.