Lukasz Fabianski is looking forward to renewing his friendly rivalry with fellow Pole Wojciech Szczesny as he looks to prove to Arsene Wenger that he deserves to be Arsenal's number one goalkeeper.
The 28-year-old forced his way back into the Arsenal first team for the Champions League tie at Bayern Munich and produced an impressive display which helped the club secure a 2-0 win at the Allianz Arena.
While it was not enough to overturn their first leg deficit, Fabianksi's superb showing allowed him to keep his place in the Arsenal team as the Gunners went on to secure four more victories with the Poland international in goal.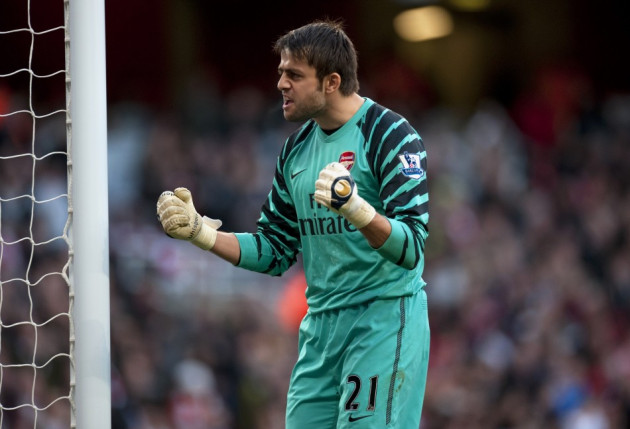 However, a rib injury to Fabianki gave Szczesny a chance to reclaim his place and the younger Pole has since put in some impressive performances as Arsenal look to secure Champions League football for next season.
But Fabianksi feels he has proved that he should be number one and is looking forward to the challenge of getting back in the side.
"I'm hoping that it's going to go my way," Fabianski told Arsenal.com. "I'm feeling really positive about it [the battle to be No 1]. I feel that I'm a better keeper than I was, I feel really confident in myself.
"I put in a lot of work to be fit again, to be stronger. I'm not worried about anything and I think I've made a statement that I'm up for it."
Fabianki's performance in keeping a clean sheet against Champions League finalists Bayern Munich has clearly given him confidence and he believes that the entire Arsenal back line has improved since that performance.
"I had a chance to play my first game against Bayern Munich on the big stage and as a team we did really well. I helped the team as well, I'm really happy that I was back, fit again and that I had a chance to show myself on the big stage," he added.
"It's all about confidence. I think it gave me a boost but I was really prepared for that. I didn't see any difference in my confidence before the game and after the game and before the next game. I think it was on the same level.
"It's just getting that feeling of playing good again, getting the result and that always gives you a positive feeling about yourself for the next game. It gave me a boost but I was confident even before the game.
"As a team we did really well. Defensively we are communicating well, we're defending as a team, we're tracking back all the midfield players. We're aware of the set-pieces. You could see it clearly that as a team we were prepared well.